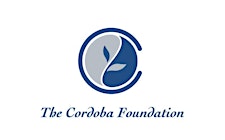 The Cordoba Foundation
The Cordoba Foundation is an independent public relations, research and policy think tank promoting intercultural dialogue and positive coexistence among civilisations, ideas, cultures and people.  It is an advocate of dialogue and action to promote understanding and acceptance of inter-communal and inter-religious issues in Britain, Europe, US and beyond, in particular looking to bridge the gap of understanding between the Muslim World and the West and vice-versa.  It seeks to do this by engaging with a variety of stakeholders in society such as practitioners, researchers, journalists, policy makers and religious leaders.
Our objectives are to:
Promote dialogue and the culture of peaceful coexistence among cultures, ideas and people.

 

Work with decision-making circles for better understanding and clearer comprehension of inter-communal and inter-religious issues in Britain, across Europe and beyond.

 

Provide a new and unique standard of information, allowing decisions and policies to be established upon proper basis and efficient consultation, on a number of pertinent global issues.

Advise organisations leaders and other stakeholders on how to enhance their performance whilst reaching out to understand and accept different cultures, faith and civilisations

Promote conflict resolution and peace building in its entirety and comprehensiveness.
Sorry, there are no upcoming events