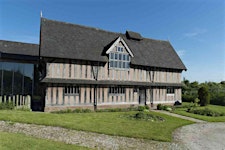 The Friends of the Blackden Trust
The Friends of Blackden Trust support the Blackden Trust which cares for a Tudor house and an acre of land in Cheshire that has been inhabited for ten thousand years. Working in partnership with Manchester Grammar School the Trust discovers and shares stories of this place in ways that enable young and old to meet the people who lived and worked there, and so to look at their own surroundings with new eyes. The Trust is a registered Charity.
The Trust uses the buildings and collections it holds to inspire engagement and participation through interdisciplinary workshops, events and training. Its programmes are enriched by archaeological, scientific and creative expertise contributed from across the UK, span age ranges, enhance the Curriculum, draw on skills from committed and experienced tutors, and link with the work of the author Alan Garner, whose workplace Blackden remains.
Sorry, there are no upcoming events