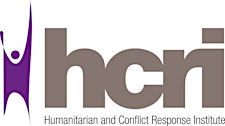 The Humanitarian and Conflict Response Institute
The Humanitarian and Conflict Response Institute (HCRI) is a University of Manchester research institute shared by the Faculties of Humanities and Medical and Human Sciences. HCRI conducts rigorous research on the impact and outcomes of contemporary and historical crises, and provides postgraduate training for undergraduates and professionals interested in the humanitarian sector.
Our work is driven by a desire to inform and support policy and decision makers, to optimise collaborations between partner organisations, and to foster increased understanding and debate within the field.
Bringing together the disciplines of medicine and the humanities to achieve these goals, the HCRI aims to facilitate improvements in crisis response on a global scale, whilst providing a centre of excellence for practitioners in emergencies and conflicts.
The Institute has developed a novel configuration for research and teaching which uniquely associates practitioners, non-governmental organisation (NGO) partners, theoreticians, policy makers and analysts in sustained intellectual engagement. Combining a targeted programme of research with timely analysis on current emergencies, the Institute seeks to develop new methodologies in the emerging field of humanitarian and conflict response research.
Sorry, there are no upcoming events