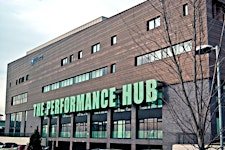 The Performance Hub, University of Wolverhampton
TICKETS FOR EVENTS AT THE PERFORMANCE HUB ARE SOLD BY EVENTBRITE NOT BY THE UNIVERSITY OF WOLVERHAMPTON.
The Performance Hub is the performing arts venue for the University of Wolverhampton, Walsall Campus. The venue opened in 2011 and offers a range of performing arts facilities unrivelled in the surrounding area. The building is the home of the School of Performing Arts, and hosts the performing arts students and courses of the University.
The Performance Hub is the perfect venue to support your activities in the Creative Industries as well as offering a programme of events to take advantage of; whether you need space to rehearse, record or create, the Performance Hub has a range of facilities available for hire to support your work.
The Performance Hub is also an ideal venue to host your performances and features one of the most techinically advanced small theatre spaces in the country.
Sorry, there are no upcoming events