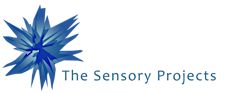 The Sensory Projects
Seeking to contribute to a world where everyone is understood
in spite of difference. 
The Sensory Projects believe that with the right knowledge and a little creativity inexpensive resources can become effective tools for inclusion. 
The Sensory Projects provide training across the UK and consults internationally on sensory engagement and inclusion.
For more information please visit www.thesensoryprojects.co.uk or connect via social media.