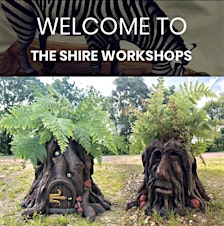 The Shire Workshops
Bob & Joe Stafford
 Freelance Artists/Ceramicists/Designers/Tutors
We aim to have great fun using fantastical ideas and exploring infinite combinations of shapes, patterns and colours, just as nature has done. 
Using clay, we can realise limitless forms, just as the human race have done from the time we became sentient; from the cave dwellers to the classics, from the potters of the streets to the art of the masters who left their imaginings made solid.
Just as nature has, we can be omnipotent as we explore and create our own musings using earth, water and fire.
We believe that all artistic expression is joyful, therapeutic and enriching. That it should be encouraged in all ages, and be a vital part of all our lives.
The Shire Workshops • Market Harborough
£105
The Shire Workshops • Market Harborough
£105