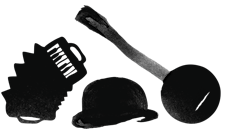 The Three Inch Fools
The Three Inch Fools are an innovative touring theatre company acclaimed for their fast-paced and musically driven approach to theatre.
We have built a reputation for staging bold and vibrant productions - a fast-paced, musically-driven style, using all sorts of different instruments, plenty of multi-roling and many a quick costume change along the way. For each production, we create a completely original musical soundtrack collaborating with composer Stephen Hyde. The Three Inch Fools soundtrack moves between folk music and world music to classical, rock, pop and opera - and everywhere in between!
Our performances take place in the open-air. With people spending more and more time indoors, we have made it our mission to reclaim the great outdoors as a cultural meeting ground for families and communities, at some of Britain's best-loved landmarks.
We combine the best of old and new: the spirit and methods of a traditional touring troupe, with a contemporary vitality that strives to make our work accessible to an audience of all ages, so that everyone can enjoy and engage with theatre.
We spend the winter and spring months at the National Trust's Elizabethan Eastbury Manor House in Barking, where we rehearse and work closely with the local community. Then, through the summer, we embark on a five-month tour of the country ...
 This Summer The Three Inch Fools are touring their outdoor productions of Romeo & Juliet, The Merry Wives of Windsor and Robin Hood - we're dusting off our instruments and getting back on the road! The Fools are in their seventh year of touring, having so far performed at over 150 venues and to almost 60,000 audience members.