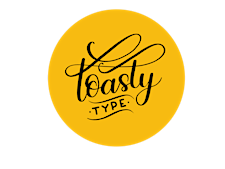 Toasty Type
Hello I'm Toasty Type but you can call me Jen - I'm a Modern Calligrapher, Graphic Designer, Art School graduate, lettering geek, pen hoarder and professional tea drinker! 
I create custom artwork for a wide variety of clients from logo design to wedding invitations, signage, cards, shoes, skateboards, bottles and so much more!
I also run workshops in Modern Calligraphy, Calligraphy for Mindfulness and Private Workshops too!
Sorry, there are no upcoming events