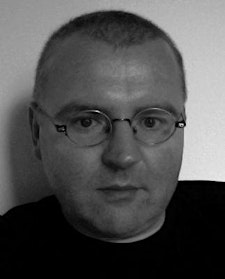 Tomasz Wlodarczyk at Deko Studio
I am an experienced Stained Glass Artist and Restorer who takes pleasure in passing on my skill and passion for this art-form.
I enjoy teaching small groups and have learned that with patience and guidance everyone is capable of learning how to make beautiful stained glass relatively quickly.
I pride mysef on the fact that everyone who attends my beginners workshops leaves with a finished stained glass panel of their own design. Many people choose to return to learn more advanced techniques. 
My aim is to make the day a highly enjoyable and memorable experience for everyone inolved, where you will not only learn a new skill but also meet new people with the same interrests.
"A big Thank You. We had such a lovely day. We both love our pieces and have been showing them off to everyone." Amy & Scott - Camden
"Thank you for your patience and guidance. I never would have thought I could have created what I did!" Simon - Watford
'The best Christmas present I've ever received!' Caroline - Middx
"Great day. I can't believe the panel I made. The food was amazing, too." Sarah - Middx
- See more at: http://www.dekostudio.co.uk/christmas-gift-vouchers.html#sthash.HppVKpVz.dpuf
"A big Thank You. We had such a lovely day. We both love our pieces and have been showing them off to everyone." Amy & Scott - Camden
"Thank you for your patience and guidance. I never would have thought I could have created what I did!" Simon - Watford
'The best Christmas present I've ever received!' Caroline - Middx
"Great day. I can't believe the panel I made. The food was amazing, too." Sarah - Middx
- See more at: http://www.dekostudio.co.uk/christmas-gift-vouchers.html#sthash.HppVKpVz.dpuf
"A big Thank You. We had such a lovely day. We both love our pieces and have been showing them off to everyone." Amy & Scott - Camden
"Thank you for your patience and guidance. I never would have thought I could have created what I did!" Simon - Watford
'The best Christmas present I've ever received!' Caroline - Middx
"Great day. I can't believe the panel I made. The food was amazing, too." Sarah - Middx
- See more at: http://www.dekostudio.co.uk/christmas-gift-vouchers.html#sthash.HppVKpVz.dpuf
"A big Thank You. We had such a lovely day. We both love our pieces and have been showing them off to everyone." Amy & Scott - Camden
"Thank you for your patience and guidance. I never would have thought I could have created what I did!" Simon - Watford
'The best Christmas present I've ever received!' Caroline - Middx
"Great day. I can't believe the panel I made. The food was amazing, too." Sarah - Middx
- See more at: http://www.dekostudio.co.uk/christmas-gift-vouchers.html#sthash.HppVKpVz.dpuf
"A big Thank You. We had such a lovely day. We both love our pieces and have been showing them off to everyone." Amy & Scott - Camden
"Thank you for your patience and guidance. I never would have thought I could have created what I did!" Simon - Watford
'The best Christmas present I've ever received!' Caroline - Middx
"Great day. I can't believe the panel I made. The food was amazing, too." Sarah - Middx
- See more at: http://www.dekostudio.co.uk/christmas-gift-vouchers.html#sthash.HppVKpVz.dpuf