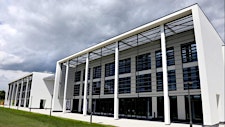 University of Essex Enterprise Zone
University of Essex Enterprise Zone
As a University Enterprise Zone, we are designated by the Government as a centre for nurturing and supporting new digital and creative businesses. Our focus is on increasing business success and job creation by providing budding entrepreneurs with advice and practical support through webinars and 1-on-1 support from our UEZ team. This is paired with access to funding through our innovative equity investment platform, Angels@Essex. Whether you are an entrepreneur, an investor, or a student with a vision, we invite you to get involved.
An innovative support programme, Space to Grow helps budding businesses get investment-ready.
Space to Grow provides businesses with access to webinars and specialist one-to-one support. Our team helps commercialise ideas and supports fundraising to grow your business. Learn more on the Space to Grow page, find out about the latest events, sign up to the Space to Grow newsletter, or get in touch directly at uez@essex.ac.uk.
An equity investment platform to help innovative businesses develop and grow. Angels@Essex is a regulated, invitation-only equity investment platform that links angel investors to entrepreneurs with innovative ideas, fostering the growth of new and exciting disruptive technologies.
If you would like to receive an invitation to join, email uez@essex.ac.uk with your contact details to receive further information on how to invest or apply for funding. Or visit the Angels@Essex page and sign up to the Angels@Essex newsletter.
Sorry, there are no upcoming events