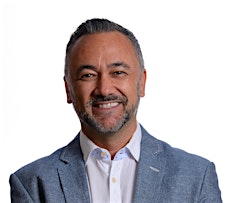 Warren Knight - Think Digital First
Warren Knight
Trainer / Speaker / Author / Coach
Warren Knight, Founder of Think Digital First, is a Social Media Strategist and Author. He's one of the UK's leading professional speakers and trainers in Technology, Sales and Marketing.
As a multi-award winning author, coach and entrepreneur, Warren has helped thousands of companies grow and succeed since 1994, through the strategic use of socially selling to their target audience. By nurturing leads, generating leads and increasing sales using simple and easy to follow strategies. 
EARLY ENTREPRENEURIAL SUCCESS 
After receiving a grant from the Prince's Trust at 22 (following a career as a hip hop dancer), Warren started a successful European music and clothing distribution company. Next he became the director of a global stationery and accessory business working with Disney and Nickelodeon, where he grew the business from a $5 million to $30 million company in a 5-year period, selling to over 30 countries, and achieving $1 million sales in one month.
BUSINESS BUILDER 
Since then, Warren has won various industry awards and co-founded two IT companies. The first, an ecommerce platform that received £150,000 investment via the Seed Enterprise Investment Scheme (SEIS), valuing the business at £1m within two years. The second, an online learning platform, teaching people how to setup and growth their business using Social Media & Digital Marketing. 
INTERNATIONAL SPEAKER, TRAINER, COACH 
Warren is a renowned international keynote speaker and a member of the Professional Speaking Association and CPD certified. He is also a trainer and award-winning coach, and has helped thousands of start-ups and SMEs build their digital footprint, increase sales by up to 500% and grow their business through social media, digital marketing and ecommerce. He also has a passion for up-skilling entrepreneurs to help them be more successful.
PUBLISHED AUTHOR 
Warren regularly writes for various digital marketing and business magazines that have a global readership, and has also written three eBooks on sales, international growth and social media for business, which are available from Amazon. His latest book Think #Digital First, Marketing Book of the Year, Finalist is available to order from www.thinkdigitalfirst.com
CERTIFIED
All of Warren's training is CPD approved and each delegate will receive a certficiate and badge upon completion.
Sorry, there are no upcoming events