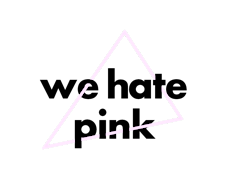 We Hate Pink
We Hate Pink is a community focused platform built to increase the access of women in creative, tech and media to leadership roles, to achieve gender equality in the workplace at all levels.

Founded by Rossella Forle', we incubate, develop and produce stories through an alternative female lens (including female-identifying and trans).

Each event becomes an opportunity to engage our community and create a change that lives offline as well as on. We want to improve gender diversity in the workplace and in the real world. We share what inspires and motivates us. We voice the questions we have and the tensions we see.

We Hate Pink is fuelled by the passion for powerful stories about the complexity of the human condition; passion for the creative force that runs through our lives; passion for media with purpose, intention and humour; and a passion to create a future in which we'd like to live.
Follow us on Instagram, Facebook and LinkedIn @wehatepink 
Sorry, there are no upcoming events