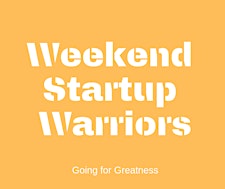 Weekend Startup Warriors
BUILDING A BUSINESS IN YOUR SPARE TIME?
WELCOME TO OUR TRIBE!
Are you building the next big startup or grinding away on your side hustle any chance you can get? We've been there too so we know it can be tough. We all know that starting a new business is not always a walk in the park. Let's face it, things are hard when you are building on the side but billionaire business founder Sarah Blakely and multimillionaire Daymond John are on to something. Working full time while building a business makes sense.