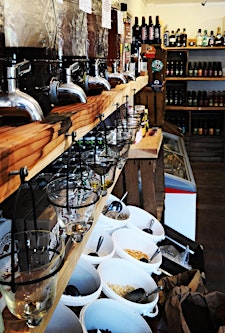 Withies Delicatessen
Withies Delicatessen is an award-winning enterprise at the Willows & Wetlands in the heart of Somerset. It was set up in 2017 by husband and wife Laura and Jamie Jensen, their philosophy being if you buy good food from good people then the world becomes a better place. The shop boasts an impressive array of regional delicacies as well as a dedicated training area upstairs where you can learn how to bake bread, be a better cook or make cool eco stuff like Beeswax Wraps and Funky Reusable Bags. 
The deli is in the tranquil settings of the Willows & Wetlands where you can enjoy walks through the wilderness, guided tours of the site, museums and crafting areas, free car parking and facilities and a number of independent retailers such as Hattys Attic, Edwinas Flowers, Pallker Art Glass, Coates English Willows and The Lemon Tree cafe with it's range of cakes, teas, coffees and light meals. Only 15 minutes from Taunton and 10 minutes from the junction 25 of the M5 it provides a unique shopping experience and is a great place to visit.
Want to learn more? Sign up to Something Heroic About Food to have more stories about my food heroes delivered straight into your inbox!
#epicfood 
Sorry, there are no upcoming events