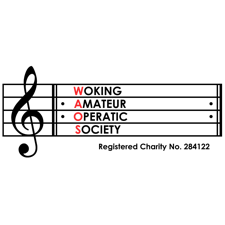 Woking Amateur Operatic Society
Kiss Me, Kate
Tuesday 2nd - Saturday 6th May 2017
7.30pm Evenings
2.30pm Saturday Matinée
Tickets are priced from just £11 (Tuesday opening night), with standard tickets £16 for all other performances. Ticket price does not include eventbrite charges. Group discounts are available on Wed. and Thur. nights and the Sat. mat. for purchases of 10 or more tickets but only for orders placed directly with the WAOS Box Office (07765 006565).
Please note: Online tickets sales will be closed for each performance at 23.45 on the preceding day of the performance. Any remaining tickets will be available at the theatre door at £12.50 (Tuesday) and £17.50 all other performances.
---
WAOS is a local musical theatre group based in Woking. We put on two shows a year in the Rhoda McGaw Theatre in Woking, along with occasional concerts.
New members are always welcome both on stage and behind the scenes and if you would like to know more, please email committee@waos.info or visit our website at www.waos.info. If you're interested in acting, singing, dancing, building scenery, stage management, publicity, marketing, front of house, costumes, make up, props, lighting, sound, or even making the tea at rehearsals, we'd love to hear from you! Our regular shows are cast through auditions for principal parts, which are open for anyone to land a role, and of course all members are free to take part as a member of the chorus.
Woking Amateur Operatic Society is a registered charity No 284122.
Sorry, there are no upcoming events