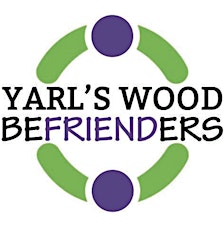 Yarl's Wood Befrienders
We are a small charity based in Bedford, which aims to minimise the isolation and improve the well-being of people detained at Yarl's Wood Immigration Removal Centre, in Bedfordshire.
Detainees can be vulnerable, isolated and frightened. Many are young, some speak no English, and a number of them know no-one in this country. Whether a detainee has recently arrived in the UK or has been here for many years, the experience of detention can be traumatic. They are held for an indefinite period of time, and understand little about the legal system.
Our volunteers undertake to visit a detainee regularly, listening and caring about what happens to them. In this way, although we cannot affect the outcome of their case, we can help to reduce their isolation, acting as a contact with the outside world. 
We can assist with small practical needs, such as toiletries, second-hand clothing, mobile credit, and small grants of money to destitute people being removed (deported).
We are non-religious and non-political and are funded entirely by non-governmental grants and personal donations, enabling us to remain completely independent. 
Sorry, there are no upcoming events