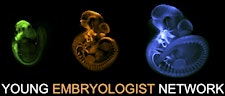 Young Embryologist Network
Young Embryologist Network (YEN), an academic body aimed at improving communication in the developmental biology research environment for Doctoral Students and Post-Doctoral scientists based in the UK.

The overall aims of YEN are to create a diverse research community for the young generation of developmental biologists, and to promote the importance of the field in the UK and around the world. YEN was set up in 2008 by Doctoral Students in the prestigious Research Department of Cell and Developmental Biology at University College London. YEN hosts an annual meeting and seminars across UK research institutions for young researchers with great success. Over 150 participants from many UK and international institutions attended the YEN:2014 annual meeting. In addition, our Network provides career information for those wishing to remain in academia and beyond.

We aim to gather together PhD students and research scientists working in the field of embryology and we hope that the Young Embryologist Network will continue to expand and evolve in the future.
Sorry, there are no upcoming events