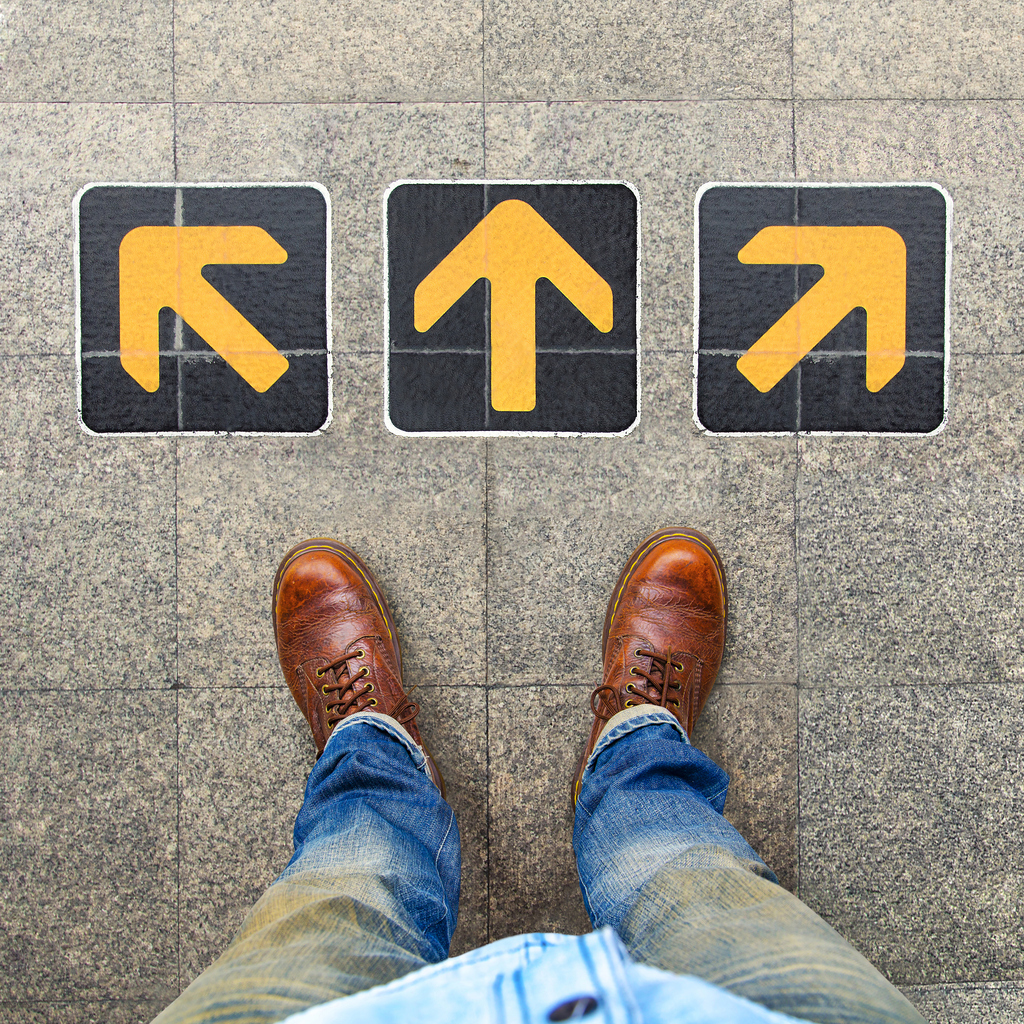 15 Business Leaders on How to Make Difficult Decisions
Being in charge can be highly stressful; your team looks to you for leadership and the success of the business is dependent on your decisions.
Sometimes those decisions can be especially difficult; like letting members of staff go, selling your business or taking the plunge with a new venture. So, what's the best way to tackle big conundrums like these?
We asked 15 business leaders to share their experiences, providing you with inspiration for when you have to make tough choices of your own.
Brad Burton, Founder, 4Networking and Brad Burton Motivational Speaking
"I'm the founder of 4Networking, which now organises more than 5,000 meetings annually. Before I started my own business I was £25k in debt and under pressure from my wife to get a 'proper' job.
"The easiest decision would have been to do just that. But I had to close my eyes and ears to that, deliver pizzas at the weekend and push on through and go on to create a multi-million pound business.
"My advice is this; if you can live with the downside of any decision you should go for it! The faster you make a decision the faster it either works and we win or it fails and we gain experience. Failure is a down payment on better and correct future decisions.
"An expert is someone who has made all the mistakes in a specialist field. So to be the top of your field you need to be an expert. Making mistakes, makes you an expert! Hence the reason I am less fearful about making even the hardest of decisions.
"One of my mentors is Terry Cooper, in my case my chairman, a former director of a PLC. I rely on his experience and lessons from the past to help me to see the things I don't in order to make the best decision.
"My process is to listen to my team, think it over and then make the decision – the worst thing is to make no decision at all. You cannot go forward, learn or progress by avoiding those decisions. That way you will at best stagnate and at worst fail."
Ian Wright, Founder, British Business Energy
"One of the toughest decisions I've ever had to make as a business owner was 'firing' one of our major suppliers because while they were giving us their best deal, it was not competitive with what other suppliers were offering.
"Normally replacing a supplier is not a huge deal, but I'd become friends with these guys over the past two years and I knew me replacing them was going to have a substantial negative impact on their business.
"However, I felt (and continue to feel) that my duty as the founder of British Business Energy is to ensure that we are as profitable as possible since this will best ensure the long-term viability of the business.
"Once I reached the decision, I felt it was only right to tell them face-to-face as soon as possible. So, I arranged a meeting, sat them down and went through all the numbers and why at the current time I had to go with someone else. I did say that if they could find a way to be more competitive in future that I was always willing to listen.
"As expected they did not take it particularly well, but they did at least understand where I was coming from."
Ruth Sparkes, Director, EMPRA
"I run a specialist education PR and marketing agency, EMPRA. And, when you're the boss you sometimes need someone to make you 'have a word with yourself'.
"I have a mentor, Judy. Judy is an ex national tabloid journalist. We meet once a fortnight and she tells it like it is – she tells me if I'm looking tired, or stressed or if I need to reorder my priorities. Sometimes these meetings make me take stock and rethink, sometimes they don't.
"A case in point is a new magazine and website I'm launching. Judy spent time with me sense checking – have I got enough time, energy, expertise to make it work? She's the best devil's advocate but I'm never in any doubt that she's on 'Team Ruth'
"Upshot is that we are going to go ahead but, the website first and the magazine in September. It will just be five issues a year to start off. Our research showed that the audience wants monthly – but the capacity isn't there, yet."
Richard Gundle, Managing Director, Tufferman
"One of the toughest decisions in my career arose when I decided to sell my previous business, Field & Trek. I'd grown the family business to over £20m turnover and 200 staff and was in the fortunate position to have several interested parties and offers on the table. I can honestly say that the decision to sell, particularly the decision of who to sell to was the toughest of my career.
"Many of my staff I knew personally and had been with the company for many years, when my father ran the business. Along with my father, I'd looked to my long-term business coach for support throughout the process – I needed to be sure that whoever I sold the business to would continue to look after my staff, all of whom had helped me achieve my goals.
"I think with tough decisions, it's always important to have a little breathing space. Consult who you trust and allow yourself time to reflect and ponder."
Anis Qizilbash, Founder, Mindful Sales Training
"I'd run a sales workshop for a client and received five-star feedback. The client was pleased and asked if I could run a public speaking workshop. Since I was thinking of offering public speaking workshops as a service, I said yes, thinking I'd figure out the how, later. After a business strategy session on the future and focus of the business, I realised adding public speaking to my services diverted from my zone of genius.
"Seven days before the workshop I was torn between running it or turning it down. Saying no might spoil the relationship, and of course it involved turning down revenue. What ultimately guided my decision was asking, "What's best for the client?" I thought, right now, I can deliver great sales training, but good public-speaking. The client deserved great, not good. The answer was clear.
"A previous boss gave me sage advice: before coming to me with a problem, always find a solution. So before informing the client, I reached out to an expert whose core offering was public-speaking – she was great! She was interested in the gig. I then approached the client, let them know and recommended my replacement. Everyone was happy."
Ed Challinor, First Officer, Smileworks
"Smileworks is a Liverpool-based dental practice. We've grown locally from £0-1m in less than three years and employ a small team of 18 talented cosmetic dentists.
"I am the CEO and lead the team in all non-clinical aspects. The most difficult part of any leader's life is having to let people go from the business. Recently a wonderful member of the team called me upset and told me she'd been looking for other jobs and wanted to leave. I listened to her problems and told her to think about it before doing anything silly. She's a top performer and has a solid work ethic. I was surprised that she wanted to leave but could understand her frustrations. She basically wanted a pay rise and a promotion because she felt undervalued in her current role.
"I spoke with the clinical director that same day and also my business coach. They both said the same thing; if she wants to leave then let her go. You need people emotionally invested in the business and someone who feels undervalued will bring the team down.  Also if you give in to one 'threat' then everyone will be threatening to leave if you don't promote them or give them more money.
"Not changing my mind during the three month notice was the hardest thing I've had to do as a business owner. But this was not possible and not fair on the other members of the team. When she left it did hurt our performance for a time but we hired a great replacement and helped her find a role elsewhere."
Jo Lambell, Founder, Beards & Daisies"A couple of years ago I decided to leave a well-paid job in retail management to retrain as a florist and start my own business, Beards & Daisies. It certainly was a difficult decision. At 35, I'd decided to not only completely change career but also launch a business – I didn't have any previous experience in floristry or running my own business!
"Whenever I make a tough decision, I always write down the positives and negatives of the options I'm thinking about. I find working through decisions much easier when the facts and figures are written down. For me, when it's on paper it makes decision making more of a process and stops me going off track."
Neha Gupta, CEO, College Shortcuts and Elite Private Tutors
"I run two companies where I manage over 30 team members to help coach thousands of kids in their academic success. I remember the day that I decided to launch College Shortcuts. I had to double my entire staff overnight to handle the customer acquisition, the amount of requests and questions we were getting, and ensuring our customers were happy.
"There was a point in time that running a startup within my existing business felt like I was starting all over again. In order to do this systematically, I found a mentor that was used to the online business game, and helped me to not only save a lot of money, but gave me sound business advice every single step of the way. This decision affected every aspect from customers, product design, staff, hiring, and my own personal development."
Nenad Ćuk, Co-Founder & CEO, CroatiaTech
"When I have to make a difficult decision, I think objectively how it will impact our team happiness, loyalty and satisfaction. An example is when I was looking for a specialised developer. There was a really skilled individual I was looking forward to working with, and even had a project in mind.
"But while I was excited, my team wasn't. Apparently this developer had a reputation for being a jerk, and really hard to work with. It was an instance of where it seemed like his ego would sooner or later get in the way, as he even quit in the middle of a project in the past.
"So while I had something he would enjoy working on, just his mere mention of his presence was rubbing my team the wrong way. Not wanting to add anyone that would be toxic to our environment, I went with a different individual that worked out great, and I haven't looked back. The individual I passed on is still getting mixed reviews."
Stephanie Adams-Nicolai, Founder, GODDESSY Organics and Partner, Wall Street Chiropractic and Wellness
"I hire and inspire a brilliant team of staff to do their best and be their best for my wellness practices daily. But one of the most challenging decisions I have to sometimes make is letting people go. It is not done that often, and I did learn how to do so better after abruptly dismissing a disgruntled independent contractor that failed to produce a proper professional license and lied for some time about having one.
"So, for guidance, I simply learn from prior experience, both good and bad, also learning from the elders who truly did it better. With that said, my decision process is now performed the same way my great grandmother ran her 4,000 acre farm, with objective decisions that are subjective to the overall grand scheme of priority. The only difference though is that, unlike my great grandmother, I do not keep my shotgun by the door. Not exactly a good way to make others feel welcome…"
Bryan Clayton, CEO, GreenPal
"I was recently faced with a difficult leadership and management situation with one of my mid-level managers who is excellent in all regards except for the way he dressed. My first rule in a situation like this is to take ownership of the problem. The fact that your teammates are dressed sloppily is ultimately your fault.
"This is how the conversation went, 'You have been performing the supervisor job now for three weeks and I really appreciate the way you took charge and started making things happen. You are definitely the right person for this job. I just realised that I screwed up and forgot to give you some tips for success. I failed to share with you the dress code or appearance expectations with that go along with this position, that is my fault and I am sorry.'
"Weak managers will start the conversation with, 'It's not that it bothers me, but other people.' This approach makes it seem like it is not a problem and then the person you are counselling suspects that their peers are out to get them. Good managers should ensure employees know what is expected of them but in a gentle way. Ultimately, you are doing them a favour because you want them to be a total success."
AJ Saleem, Director, Suprex Tutors Houston
"My number one tip on making tough decisions is to put yourself in the shoes of your idols. My idol is Jeff Bezos so when I want to make a decision, I think, 'What would he do?'
"I was debating whether or not to start expanding my business from just tutoring to a whole new private school. It would require a lot of work as well as a lot of advertising, but in the end, I remembered how Jeff grew Amazon as a result of Amazon Web Services, as well as selling more items than just books, so I decided to go for it. The school is Excelsior Academy."
Huib Maat, Founder, Pairfum
"Be as transparent as possible. Customers, colleagues and suppliers appreciate openness and transparency, both in good times and even in the most difficult of circumstances.
"If your company is going through a tough patch, you will be surprised at how much loyalty and support you receive from your employees and suppliers, as long as you are open about it and answer everybody's questions transparently.
"As an example, a lot of consumers have become very knowledgeable when it comes to perfume, home fragrance and skin care products. They wish not only to understand the exact components of each products and the effects of each ingredient but also how the items have been made (eco-friendly, no child labour, etc.).
"As a company we decided to embrace this quest for information by being completely transparent and open about our products, rather than the more old-fashioned approach of most manufacturers to hide behind an excuse of not wishing to divulge 'company secrets'.
"Sometimes, this transparency sees consumers asking challenging questions but we much prefer this, as it creates and sustains a great degree of trust between us and our customers."
Dave Ramsey, CEO, Ramsey Solutions"One of the core values literally painted on our walls at Ramsey Solutions is that we don't make decisions based on fear. That doesn't mean we're not afraid, but we do not let fear be the driving force of decisions.
"Set a deadline. If your lease is up in August, don't wait until July to deal with it. A guy named Tim called my radio show, The Dave Ramsey Show. He was a web designer. He asked if he should 'get a real job' and close his business. He was only making about $1,000 a month, but he wasn't ready to give up on his dream. As we talked, I gave him a couple of marketing ideas and told him to set a deadline to get his income up to $5,000 per month. We settled on 120 days. He called back celebrating that was making $7,000 a month. His self-imposed deadline forced him to get off his butt and get some customers!
"Make sure the time you take to make decisions is proportionate to the size of the decision. Big decisions should take big time and little decisions should be made instantly."
"Ask yourself, What is the worst-case scenario? I am amazed at how much power it gives me when I emotionally digest and accept the absolute worst-case scenario. Once I know that I am not going to die from making this call—even if I'm wrong—it releases me to act."
Adam Bradford, Queen's Young Leader, Director, Adam Bradford Private Consulting
"Making tough decisions seems to be an unwritten in the modern day entrepreneur's job description. Three years ago, despite my team's high opinion of their colleague, I took a sudden decision to end the contract of a loved employee.
"The decision was difficult because, although they added heaps to the culture and liveliness of the company, what their colleagues did not see was the bad decisions made under the surface which senior management had to deal with the consequences of.
"This could have hugely impacted our team's morale and felt unfair, however I had to take a raft of legal, HR and organisational advice from mentors, lawyers and other entrepreneurs to find an amicable way in which to work with the situation.
"I sometimes feel like I have nowhere to turn, but for me, other entrepreneurs who have been there and done it are a lifesaver. The decision making was a quick process, but it involved a lot of upfront confrontation."
Conclusion
Running a business and tough choices go hand-in-hand, but according to these leaders, having a mentor to turn to can provide the support needed to make the decisions. Discover how to find a suitable mentor for you and your business.