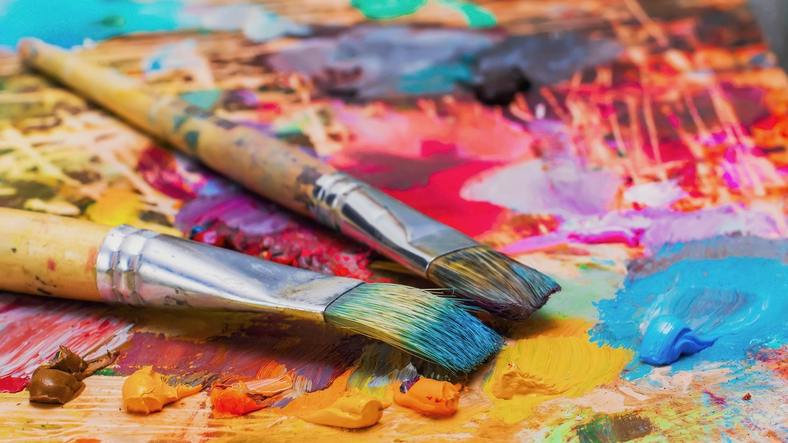 Art Event Trends You May Not Have Considered Yet
The start of a new year signals the making of resolutions for many of us. To welcome in 2018, we asked EventProfs to help us compile a list of smart ways to make your art events bigger, better and more on trend than ever over the next 12 months.
From involving attendees in mass-participation artworks guaranteed to end up in their Instagram feeds, to investing in drone technology and making video a priority, here are some hot tips to take note of.
Tap into the demand for mass participation
Helen Marriage, Director, Artichoke
"People want to be more than spectators. Whether it's immersive, interactive or participatory, there's a need to take an active role in shaping a unique experience. There has been a huge resurgence of interest in craft and opportunities for self-expression, as well as demand for disruption of the mundane. Our next project will tap into all this on a grand scale, putting text and textiles at the centre of a major, mass-participation artwork."
Focus on the customer journey
Justin Crane, Director, The Crane Event
"The customer journey will always be a focal point of any event, whether from a user experience or more literal point of view. Having your guests take a physical journey through your event allows you to control what they see and when they see it. Events this year will combine several journeys such as a formal conference style, through to an exhibition and onto something more experiential. Expect art to spring alive. There will be more tangible and tactile displays on offer, entertainers taking a cosplay approach and interacting with guests and an overall experience of the senses to help create a real show-stopping atmosphere."
Hunt out edgy, industrial venues
Matthew Strange, Artistic Director, MGN Events
"The industrial trend is set to dominate design in 2018. Embrace concrete, steel and exposed structures with a strange beauty of their own. Complement them with palettes of grey, metallic and bright colours, textures and natural elements. Insects will be everywhere too, from iridescent beetles and spotty ladybirds to spindly ants and spiders."
Invest in drones to lure in future guests
Holly Moore, Managing Director, Make Events
"We've all seen epic videos of drone footage across vast landscapes and think they must've been shot on high-tech equipment that is well out of our budget. Think again – drones are getting smaller and more attainable, meaning their 360-degree footage is a great post-event marketing tool to wow future guests. Capture their experience as they walk into your event and use them to see the scale of it. Combine with footage from traditional video cameras and GoPros. Just be careful of the logistics and laws of using drones as you can't fly them everywhere!"
Intelligently marry new technology with art installations
Kila Carr-Ince, Director, Kitu Design Ltd
"The demand for interaction and experiential aspects to event design – and the use of technology to achieve this – has been growing for the last few years. In 2018, this looks to be pushed to the next level by marrying sophisticated tech developments more seamlessly with art. The Tree of Ténéré at Burning Man – a beautiful installation that uses light technology to respond to visitors' movements', heartbeats and brain activity – was a great example. Expect to see social media tools incorporated into the design process, as visitors love to show who, what and where they are. Whether this is live streaming, augmented reality, the latest photo booth, Snapchat filters and geo-locations, we will see these embedded into artworks at conception."
Make video a priority to amplify engagement
Brenna Clarine, Blogger, Valoso
"Event live streams are a way of carrying your event to those who could not attend and streaming will be more commonplace this year. Consider extending your use of video to all parts of an event – before, during and after. Create short video invites to encourage people to attend your event and invite their friends. These can be more fun to share than a traditional social media invitation."
Engage with host communities and play up international appeal
David Jarman, lecturer in International Festival & Event Management, Edinburgh Napier University
"I expect to see increasingly engaged relationships between events and the local destinations that host them, with visitors and tourists also being afforded a more holistic role in the event community. Events fulfil important roles in 'place making', and this is being recognised and pursued more effectively. Festivals and events will play up the international nature of their content and appeal, particularly in post-Brexit referendum Britain. International visitors will continue to be drawn in by the pound's relative weakness, while UK consumers looking for value for money (and better weather!) will head overseas to emerging event and festival destinations."
Partner with like-minded organisations to offer something more
Sarah Monk, Director, London Art Fair
"Partner with like-minded organisations to help develop fresh content and bring in new audiences. In the competitive events market, it's important to continue reviewing, refreshing and growing your offering. Collaborating with an organisation you admire is a great and mutually-beneficial way to do this. To celebrate our 30th birthday this year, the London Art Fair is partnering with Art UK to put on an exhibition celebrating 30 favourite works from the UK's collections, as chosen by five contemporary artists."
Kick start your 2018 art event planning with some on-trend and peer-reviewed tips! Do let us know how you get on and start a conversation with other organisers by posting to our online community, EventTribe.