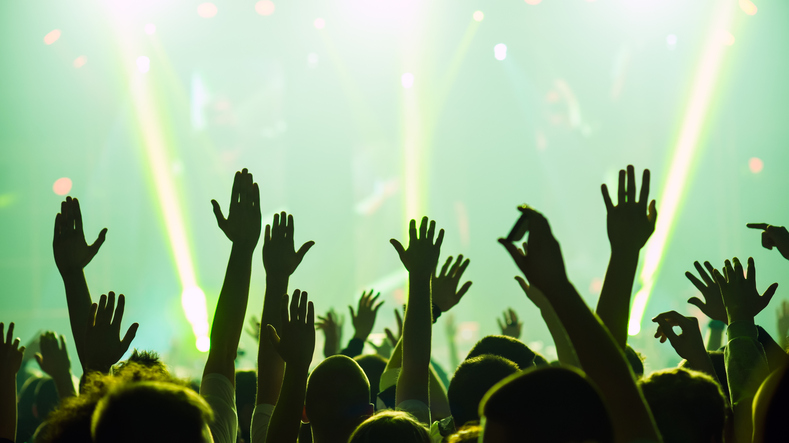 The 2018 Music Event Trends You May Not Have Considered
Music fans are demanding more from live experiences than ever before, meaning organisers must stay ahead of the curve to up attendance at their gigs, club nights and festivals.
From keeping up to date with the latest technology, enabling you to offer attendees unique digital experiences personalised for them, to inviting them to be part of your event's journey, here are some key trends to watch out for and put in place this year:
Take attendees on the journey of organising your event
Dewi Jones, Social Media Specialist, Freelance
"Social media is a great place to take attendees on the journey of organising your event. Facebook has started prioritising video in newsfeeds, so use it to tease your event and leverage FOMO (fear of missing out).
"Build anticipation by showing prospective attendees what happens behind the scenes, from setting up your event to pulling it down again afterwards. Share a 360-degree photo of the blank canvas festival site, club or venue, followed by a walkthrough video sharing your exciting plans.
"Involve followers in the decision-making process. Encourage them to help bands choose which songs to play by replying to a tweet (à la The Killers at British Summer Time Hyde Park last summer). Ask them to vote on decor, catering, branding, merchandise and more through polls. They will feel pride in the fact that you trust them to choose, therefore increasing loyalty."
Take immersion to another level with live actors, food, and smell
Tom Clark, Director, Revive at Studio 5
"Demand for unique and immersive experiences soared in 2017, with panic rooms and cinema re-enactments sweeping the nation. We'll see this trend for immersion applied to music events in 2018, but in a much more multi-sensory way. Expect live actors, amazing food, and even the use of smell to tap into people's emotions and take audience engagement to another level.
"Organisers looking to incorporate the trend for immersion must consider the journey attendees will go on from the moment they step foot into the venue to the moment they leave. Ensure every little detail is in place to help achieve that vision.
"We're bringing immersive concert experiences to audiences through Revive at Studio 5. They will be able to re-live iconic music concerts through HD cinema, concert standard sound and incredible set design. For our Rolling Stones event, the aim is to make people feel like they're walking through Havana to their historic 2016 concert. Live actors will help – paparazzi, extreme fans, custom officers on the entrance. There'll be Cuban food which will make it smell like Havana, too."
Reassure festival-goers by offering charging stations
Jenni Purser, Events Executive, Champions (UK) plc
"The rise in environmental awareness will see music events going green by switching from paper to electronic tickets. Expect to see more charging stations at events as a result, as attendees will need their phones to show barcodes.
"Charging stations are also becoming a tool used for risk assessments by events managers, ensuring young or vulnerable attendees can contact friends or family through apps like Find My Friends.
"Offering charging stations also helps attendees keep their batteries full for posting photos and updates from your event all over social media!"
Opt for sans-serif fonts, bold colours and strong photography in branding
Keir DuBois, Designer, Tight Ship Design
"Music festival brands will always have to deal with a certain sameness. People want to know the date and location, which acts are in the lineup, and when tickets go on sale. Posters must be clear and quick to read.
"Festival typography will stay narrow in 2018. Expect sans-serif fonts in standard or all-caps cases, typefaces that stay legible at small point sizes, and high contrast colours.
"Strong photography will play a key role, too. Think compelling images of wild light shows or vast crowds on verdant hillsides topped off with a monochrome festival identity that doesn't interfere with the colourful imagery beneath. Illustrations, icons, and other imagery will continue as modular items used across the entire collateral suite."
3D audio will bring events into the 21st century
George Sandilands, Creative Director, Okoru Events
"The future of music events in 2018 is into the 3D. In a world of AR, VR, MR, screens with higher-definition than real life, and daily technological advances, the whole world is still listening to audio in stereophonic; a format developed in the 1930s!
"Various tech powerhouses such as Google are ploughing research into ambisonic technology – the best and most commonly used 3D audio, with much better sound quality. This will lead, soon, to open source software being available to music producers at all levels.
"From a studio to live events, the potential for ambisonics at music arenas, festivals and venues is immeasurable once the industry accepts this major shift in technology. We will see more and more major artists turning their hand to production in this format, reflected in brand new 3D audio shows and immersive performance environments."
Curate personal line-ups with event-specific apps
Jade Garrow Newport, Culture and Creative Strategy Director, Wasserman
"Events are no longer a stand-alone physical experience. They now involve a digital experience not just during the event but before, and after it, too. With this expectation from attendees, event-specific apps are now essential.
"Expect to see new technology curating personal line-up recommendations for festival-goers based on their listening behaviours. This will allow friends to share and plan their festivals pre-event. Event-specific apps will also let festival organisers access data that will help them develop more lucrative line-ups.
"Chinese streaming platform NetEase Cloud Music is already using machine learning technology and algorithms to predict what music its 400 million users would like to hear. Why couldn't this apply to festivals?"
Fill your food stalls with vegan offerings
Mary Shelley-Smith, Global Operations Director, Eat to the Beat
"It would seem that Veganuary is as popular a movement as Dry January in 2018! More than 50,000 people are giving veganism a try this month in an effort to purge themselves of their festive excesses. Eat to the Beat caters to many dietary requirements, and it hasn't escaped our attention that plant-based eating is right up there trend-wise, so we expect vegan offerings to dominate festival food stalls this year.
"We've also seen huge growth in requests for organic, natural, healthy, and sustainable foods from our clients and consumers. It goes without saying that we plan to reflect this demand within our menus. It's always exciting to fuse different trends and come up with something new, so don't be afraid to experiment."
Turn event waste into opportunity
James McGregor, CEO, Blue Tribe Co.
"Shows like Blue Planet II have shocked audiences into plastic awareness. This year, we will start to see companies moving beyond zero-waste commitments. Innovative companies will see waste as an opportunity for up-cycling into new income generators that speak to a cause that music fans are passionate about.
"Imagine for a moment that you arrive at your favourite music event and present your beautifully-crafted ticket made from recycled textiles. You grab a mushroom risotto from a food stand which tells you the mushrooms are locally-grown on used coffee grounds and your plate is edible.
You learn that the merchandise shop is selling hats made from recycled fishing nets recovered by fishermen in poor coastal communities in the Philippines.
"Now that is a music event that I would want to go to."
Conclusion
Festival organisers – along with this list to help keep your event on-trend for 2018, this guide to event preparedness and avoiding common festival mistakes might also help. We can't wait to see what festival season 2018 has in store!