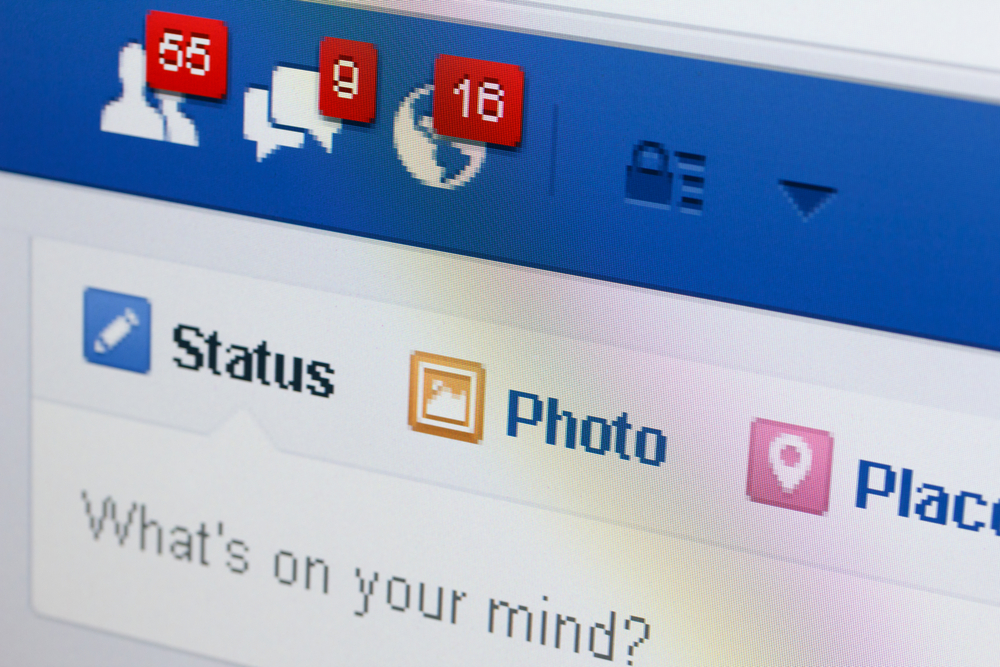 How to Create an Event on Facebook – 7 Best Practice Examples
This post has been updated in 2019 to show how to go live on Facebook, how to create an event on Facebook and more examples of great Facebook event pages!
If you have an event to promote you should be cashing in on social currency to spread the word and help you sell tickets. Facebook is an ideal platform, allowing you to set up your own (free of charge) event fan page and reach out to the site's 1.7 billion plus members. You can also set up private event pages, that will help you to invite only selected guests. Facebook has also introduced a live video feature which allows you to share your event with those who might not be able to attend.
In this guide we'll teach you how to create an event on Facebook, share it and how to make it private or public, depending on your event's needs. We'll also walk you through how to use Facebook Live and best practices on sharing live content. Don't forget to check out the amazing examples below of Facebook brand pages which are using these event features to full effect!
How to create an event on Facebook
Create an event from a personal Facebook profile
1. Log in to Facebook and head to https://www.facebook.com/events/
2. On the left-hand side select "Create event"
3. Choose whether you'd like your event to be private or public. It's important to remember that once you create a public event you cannot change it to private at a later date. Here are the differences provided by Facebook between a private event and a public event to help you make an informed decision:
Private Facebook Event: Only the people who have been invited to this event can see it. Guests can invite their friends if the admin allows it (you get to choose this) and if invited, these people can view the event description, photos, posts and videos. No one outside of those who have been invited can see the event. You cannot share a private Facebook event, only invite people to view it.
Public Facebook Event: A public event is visible to anyone on or off Facebook. Anyone can see things like the event description, photos, event discussion and videos. The event may also be discoverable in search.
Good to know: private Facebook events can only be created from a personal profile. If you are creating an event from your Facebook business page, there is no way to make the event private. All Facebook Business pages events are set to public as default.
4. Create the event
Now you have chosen whether to create a public or private event, you can add all of the details to your event.
This includes information such as:
Your event name
An event photo or video
A location
The frequency (if your event is annual, or reoccurring, you can select this here)
The date and time of your event
Any co hosts (for example a venue that may be hosting your event)
A ticket URL
If you'd like to hide the guest list from the public, or from other people attending the event, you can uncheck the box that says "Display guest list".
With public Facebook events you can also add SEO information to help your event become more discoverable. This includes a category, description and keywords.
For example, if you were running a marketing event you may want to add keywords such as "marketing", "social media" and "London". The next time someone searches "social media event London" they could find your event, helping to increase registrations.
Once happy, you can click "Create" to make your event, or save this as a draft to return to later. To find your draft event revisit https://www.facebook.com/events/.
You can also see under "Event Host" that you can choose whether to host the event from your personal profile, or by a Facebook business page. If you wish to host the event through your business, select the dropdown and choose the business account. You can also set up an event directly from within your Facebook business page using the guide below.
Create a Facebook event from a Facebook business page
Follow these instructions if you want to make a new event on Facebook with a business page as the host. Just remember that this event will be public and discoverable by anyone on, or off, of Facebook (there is no way to create a private event from a Facebook business page).
1. Open your business page on Facebook
2. Use the dropdown next to "Share" and select "Create Event"
3. Add all of your details such as the event name, location, time and description
How to edit your Facebook event
To edit your event at any time, open your Facebook business page, or your personal profile, and you will see "Events" listed on the left hand side.
Here you will see a list of all of your upcoming events. Use the dropdown next to each event to edit, share or duplicate your event.
How to share a public Facebook event
1. Visit https://www.facebook.com/events/ (or choose the "Events" tab as shown above if your event has been created under a Facebook business page).
2. Select "hosting" from the menu on the left-hand side.
3. Under "Events You're Hosting" you will see all of your events. To share the event, select "Share" to invite friends, Share in messenger or Share via the news feed.
4. To share the link outside of Facebook, open the event and copy the URL from within the browser.
How to share a private Facebook event
1. Visit https://www.facebook.com/events/ (or choose the "Events" tab as shown above if your event has been created under a Facebook business page).
2. Select "hosting" from the menu on the left-hand side.
3. Under "Events You're Hosting" you will see all of your events. To share the event, select "Invite".
4. Search for friends by name, email address or phone number.
It is not possible to invite people to a private event without having their name, email address or phone number.
How to add another host to your Facebook event
1. Visit https://www.facebook.com/events/ (or choose the "Events" tab as shown above if your event has been created under a Facebook business page).
2. Select "Edit" and locate the "Co-hosts" section. Here, you can search your friends list in order to add another host to your event:

How to add another host to your Facebook business event
1. Open your business page and select "Events" from the menu on the left-hand side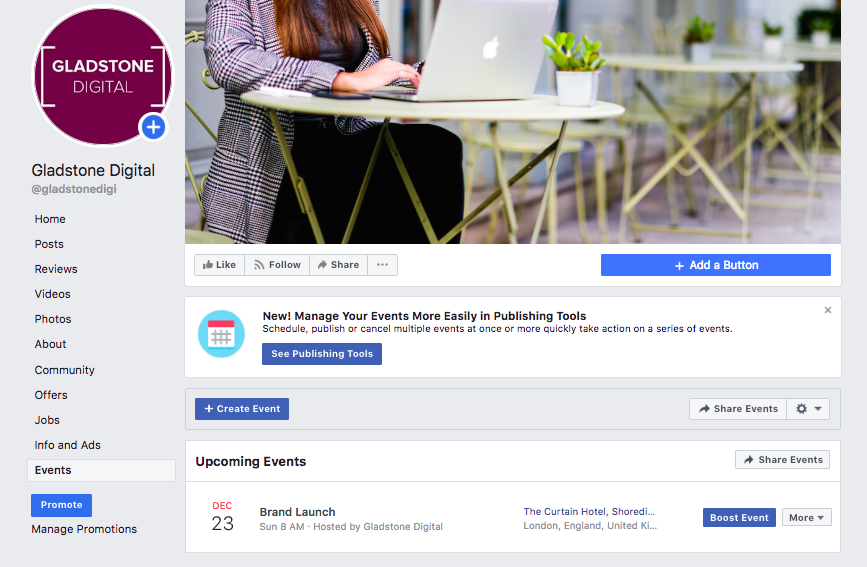 2. Next to the event select "More" and "Edit event"

3. Under "options" you will see a field for "Co-hosts". Use this to search for people you want to add as co-hosts for your events, and select "Save".
How to see upcoming events on facebook
1. Under "Explore" in the left-hand menu click "Events"
2. The top section will show Upcoming Events, with the left-hand menu giving you the chance to select "Hosting" for events you are hosting or other types of event like birthdays
Integrating your Facebook event and Eventbrite
If you're using Eventbrite to promote your event you can easily integrate this into Facebook – with the added benefit that attendees could buy tickets without ever having to leave Facebook. Read the full guide on how to add your Eventbrite event to Facebook to sell more tickets.
How to Use Facebook Live at Your Event
In order to extend the reach of your event beyond its physical walls, you can easily use Facebook to "go live" and connect with a wider audience. Facebook Live is a video stream in real time, that anyone on the Facebook app during that moment can tune into. Here, we walk you through how to use it.
What is Facebook Live?
Facebook Live lets you broadcast video in real time to your followers, as well as directly to an event page or group—all from your mobile phone (or tablet). As you broadcast, people tune in and engage with you through comments and likes.
Since its launch in late 2015, a growing number of brands — from Buzzfeed to Martha Stewart — are turning to Facebook Live as a means to engage their audience and grow their business. During the 2016 Olympic Games in Rio, Facebook Live provided the world with a backstage pass to athletes and opened up a whole new way for their sponsors to interact with customers.
For you and your events, Facebook Live is an opportunity to grow.
The Benefits of "Going Live" on Facebook
A common myth about live video is that it's expensive. But according to Amber van Moessner from Livestream, "live video is a worthy investment for many types and sizes of events." In a webinar on the topic, she explained that livestreaming can be affordable even for small events. Here are the stats:
Live Video is Extremely Engaging:

According to Facebook Live, users spend more than 3x more time and comment 10x more when the video is live.

Live Video Grows Attendance:

30% of people who watch a livestream of

an event will attend the same event the following year.

Live Video is Cost Effective:

It's a common misconception that live video is costly, but thanks to tools like Facebook Live, anyone can leverage the technology and see a positive return on investment.
Getting started with Facebook Live for your event
Facebook Live is easily accessible from your iOS or Android device via the Facebook app. The way it works is simple: just head to your Facebook page, event, or group and instead of typing in text, look for the "Live Video" button. From there, you'll be prompted to enter a description.
But before you "Go Live!" consider the limitations of your mobile device.
As with all video content, the production value is crucial to success. If people can't see and hear what's happening, they're likely to tune out. So refrain from using a mobile device to capture the action on stage. Instead, mobile devices are better suited for giving your audience a sneak peek of your event set up or the behind-the-scenes action backstage.
Here are the tips Facebook gives for getting the most out of Facebook Live:
Make an Announcement:

Build anticipation by letting your audience know when you'll be broadcasting. Facebook finds that a 24-hour advanced notice gets the best results.

Check Your Signal:

If you have a weak cellular or wifi signal, your live video will be choppy or unavailable. So don't go live until you have a strong signal.

Don't Skip the Description:

Facebook Live asks you to create a description before hitting the "Go Live" button. Be sure to write a description that grabs your audience's attention and lets them know what to expect.

Engage With Commenters:

After your live video is wrapped, don't forget to go back through and respond to commenters.

Longer is Better:

If your broadcast is too short, you won't give people enough time to tune in. Facebook recommends being live for at least 10 minutes.
7 Best Practice Examples of a Facebook Event Page
Now you know how to make a Facebook event page and how to use it to "go live", here are 7 examples of events that are making the most of Facebook's event marketing opportunities.
1. Telegraph Ski and Snowboarding Show: Great example of a clear call-to-action
As soon as you arrive on the Telegraph's Ski & Snowboard show Facebook event page, you see the stunning images and immediately after, the 'Book Now' call to action.
A clear call to action is pivotal. There is nothing worse than having to click through on different tabs or different links, just to find the right place to buy tickets for an event. With the example above a potential attendee could arrive on this Facebook event page, and know exactly where to click to purchase tickets.
If you've managed to get someone on to your Facebook event page, and are able to get them excited about the event, enough for them to want to purchase a ticket straight away, a clear call to action means they can find where to purchase a ticket straight away, before they change their mind!
2. Penelope Fox Art Studio: Great example for an event listing sidebar
The Penelope Fox Art Studio offers weekly arts and crafts classes in Pennsylvania, US and expertly utilises Facebook to promote them.
All upcoming events are listed in a sidebar with eye-catching images, while the 'hero' event being promoted is pinned to the top of the page. The studio uses bespoke designed flyers/banners to advertise its events pictorially, recognising that images are the key driver of engagement on Facebook.
In addition, the studio's timeline is full of lively action shots of adults and children painting and proudly displaying their finished works. Using images of participants (with permission, of course) is an excellent way to draw visitors to your page – everyone wants to try to spot themselves or their child in the photos!
Their Facebook event page is updated most days and the administrator ensures all enquiries are answered within minutes, which Facebook rewards with a 'very responsive' label.
Meanwhile, the studio has garnered more than 1,200 likes and 53 reviews giving it a rating of 4.9/5.
Related: 10 Great examples of beautiful design
3. Leicestershire Sausage & Cider Family Festival: Great example for custom service
The inaugural Leicestershire Sausage & Cider Family Festival is held in June and at the last show, the organisers succeeded in getting a lively conversation started online, ramping up the excitement as the festival date drew closer.
Social media provides a great outlet for the fans to discuss events, products and brands… however, it also acts as a platform for complaints, as this festival discovered.
Because the festival was new there were a few teething problems and attendees shared their feedback, but rather than ignoring these comments, the organisers tackled them head on. By showing they were listening to their customers they actually managed to gain more praise.
Another best practice that can be observed on their Facebook event page is the post-festival activity sharing lots of great photos and almost immediately posting details of next year's event (pinned to the top so you can't miss it).
Related: The 10 Best Ways to Promote Your Event Online
4. HTID USA: Great example of using discounts and ticket options
HTID (Hardcore Til I Die) is a hardcore music event organiser, organising events in locations around the world, including the US.
Offering a range of different ticket options, these guys make the most of Eventbrite's features to maximise their revenue and expertly use their Facebook event page to cross promote.
They have tickets at a range of price points, offering different levels of access and to excite their 4,000 plus fans with discount codes and offers of exclusive merchandise (sold through Eventbrite alongside tickets). For example, ticket buyers can purchase a $25 Upgrade Pack including a limited edition event T-shirt, mix CD, poster and branded messenger bag.
They've also taken Eventbrite's reporting capabilities and turned it into marketing tool, by showing a map of ticket sales across the country.
Related: 5 Great examples of social media event marketing
5. Bear Grylls Survival Race: Great for inspirational content
The Bear Grylls Survival Race is a series of running races held in London by celebrity survival expert Bear Grylls. This event is all about inspiring and motivating and its Facebook page echoes this by providing its 23,000 plus fans with daily motivational quotes depicted as attractive graphics and images of 'tough' racers, covered in mud but charging on courageously!
The organisers also use Facebook to promote event sponsors and partners, providing them with added value.
Related: 6 Examples of organisers using video to promote events
6. Replay Events: Great example for SEO 
Replay Events specialises in the organisation of video gaming events across the UK, including Play Expo, which takes place every October in Manchester.
What Replay Events does well is driving fans to their official website by sharing news from their blog to their Facebook wall.
Event details such as VIP guests, attractions and exhibitors are drip-fed, with each update given its own, dedicated long-form blog post and eye catching images.
Not only does this provide plenty of content to share on social media and bring life to their website, it will also be scoring them lots of SEO brownie points.
It's also worth pointing out, that each and every time they share a blog on Facebook they include a call to action and a link to buy tickets in the post.
Related: 5 Examples of fantastic event blogs
7. Goose Island LDN Block Party: Great example for creating FOMO
How do you get people intrigued about an event? Sometimes by hardly saying anything about it! We are too curious for our own good sometimes! As you'll see on Goose Island's Facebook event page, a lot of people were asking a lot of questions. Goose Island answered some, and then used images to answer others.
In these images you can see them letting people know about some of the food and drink options (added bonus for the pairing element!). Images like these were released bit by bit as the event date was getting closer. On the day of the event, images of what was going on were shared, as well as this great production video below, highlighting the whole experience. If the teasers didn't get you at the event, the post-event video definitely brought on FOMO!
Conclusion
By creating a Facebook event page, you'll be able to reach a much larger audience than your own. But reaching these audiences isn't enough. You need to combine all the elements from the successful Facebook event pages above to really engage with all the potential attendees that visit your page, which could then lead to more ticket sales.
Learn how to master social media for events with our free download!