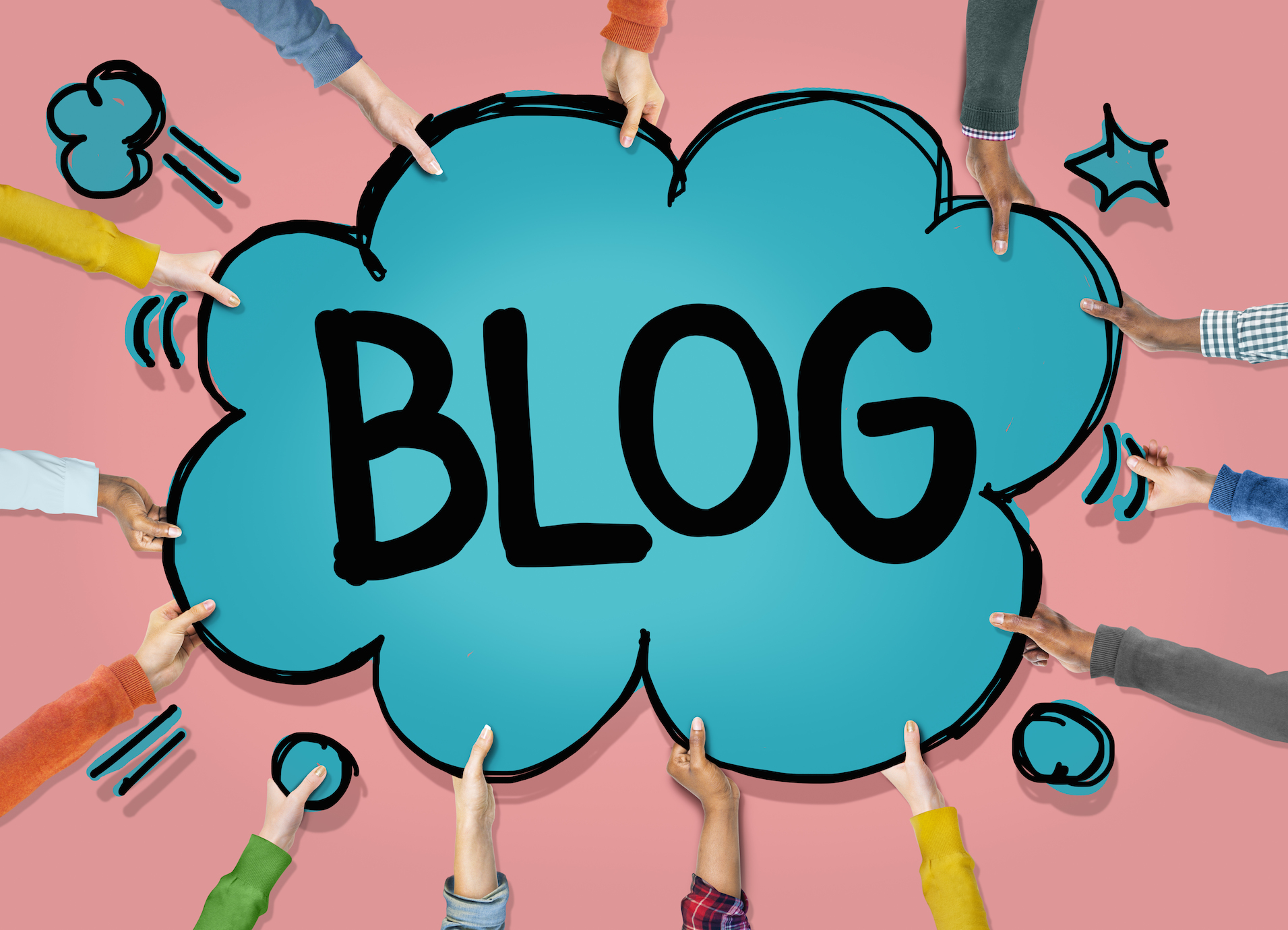 5 Examples of Fantastic Event Blogs
A short while ago we wrote a post about how blogging should form a vital part of your event marketing strategy. Blogging is basically free advertising and can help you build a large and loyal event following.
However, we know that finding regular, compelling content for your blog can be a challenge. To help inspire you, we thought we'd compile a list of event blogging pros.
These 5 examples of fantastic event blogs will show you exactly how it should be done and give you ideas for proven replicable content. You can also gain inspiration over on the EventTribe forum where industry professionals are discussing all things events.
Year after year, Glastonbury is a sell-out success story. This is one event that really doesn't have to worry too much about self-promotion. But does that stop it from having a regularly updated blog? It does not.
The Glastonbury blog is, in fact, a good example of an event blog that keeps up the momentum all year round and does an especially good job of post-event coverage.
Since the festivalgoers packed up their tents on June 28, they've released scores of fabulous event photos and exclusive highlight videos, encouraged attendees to share their own content, as well as promoted merchandise and special offers for future events. That's music to our ears!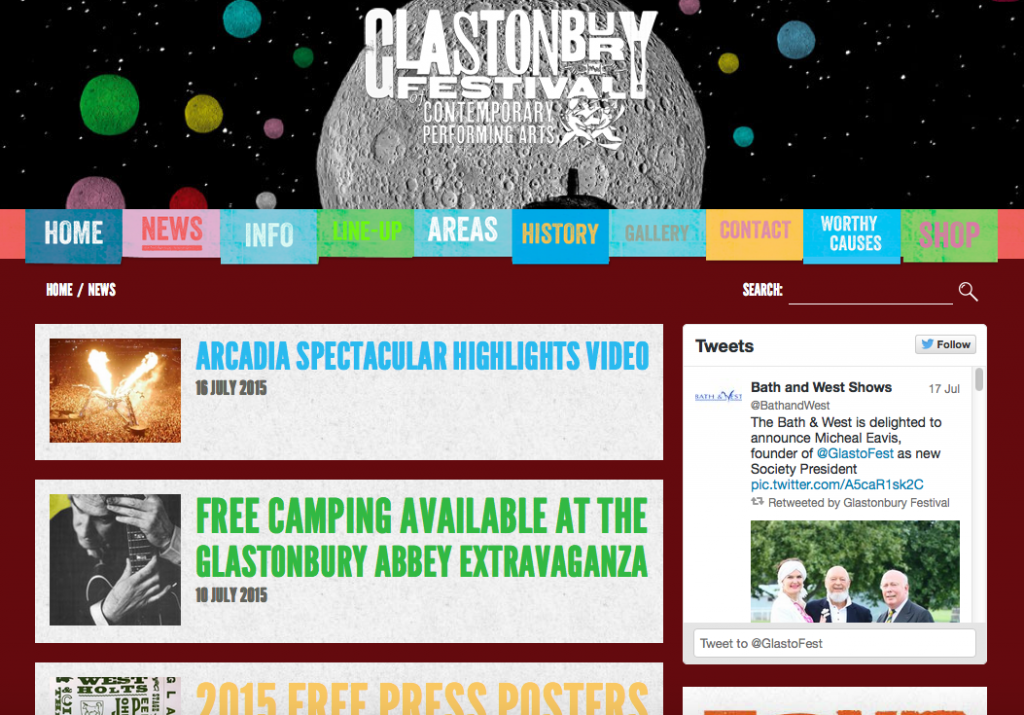 Related: How to write a post-event blog
When you're working with a topic as evocative as weddings, it's easy to build a vibrant and exciting blog. However, the blog for The National Wedding Show, which takes place at London Olympia every September, really is the blushing bride.
It grabs your attention from the off, with a prominent slider featuring the top stories. It's got a 'trending' side bar and eye-catching category selection, meanwhile each post preview boasts great imagery and bold social share buttons.
What's more, before you can even read the blog, you're served with a pop-up encouraging you to register for the event's mailing list. Is this annoying? No, because it's offering the visitor the chance to win a dream wedding dress worth up to £3,000. What girl wouldn't say 'yes' to that proposal?
Related: How to grow your event email list in 5 simple steps
The Mind Body Spirit Festival is the biggest and longest running exhibition entirely devoted to the pursuit of healthier, more creative and fulfilling lifestyles.
The Mind Body Spirit blog is a really great example of using guest bloggers to produce content and do the hard work for you. The organisers have asked every speaker involved with the event to write an inspiring long-form blog post related to their session topic.
The result is a treasure trove of Google-friendly content that draws the reader in, gets them interested in the subject matter and then hits them with the session date and time. Each post concludes with a link to buy tickets and a prompt to follow the event's other social media channels. That's got to be good karma.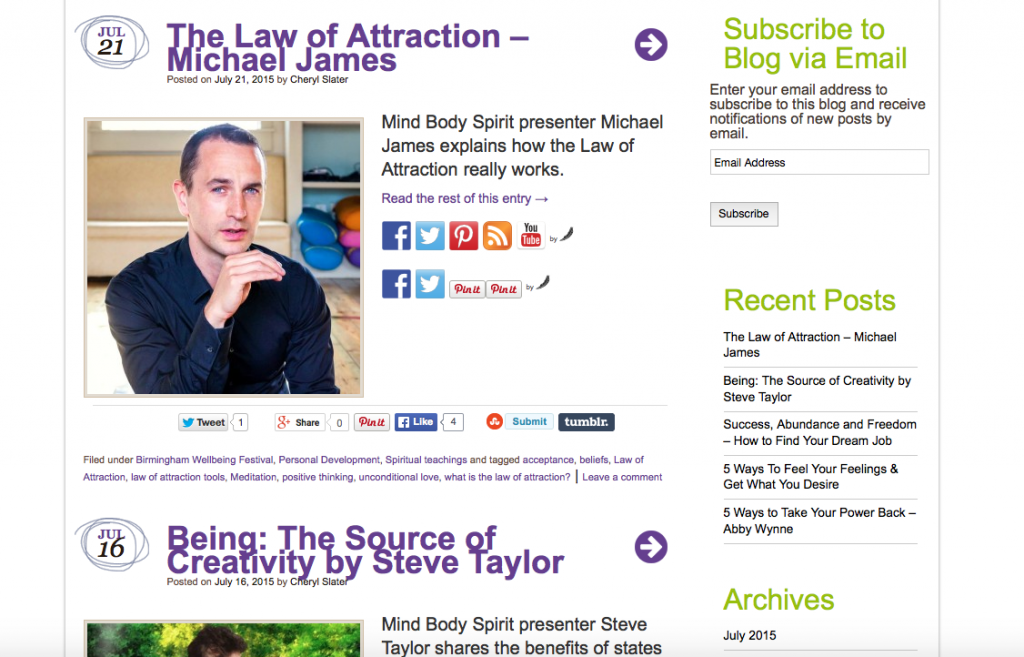 Related: How to work with your speakers for increased event awareness
Staged annually at ExCeL in London, World Travel Market (WTM) is the leading global event for the travel industry, presenting a diverse range of destinations and industry sectors to UK and International travel professionals.
The WTM blog reflects the broad range of sectors the event covers, with fresh content posted most days, ensuring there's something for everyone. The blog is broken down into a variety of categories, spanning luxury travel to medical tourism.
This makes it really user-friendly, with attendees from all the different sectors able to easily locate the news most relevant to them, so there's no need to trot the globe.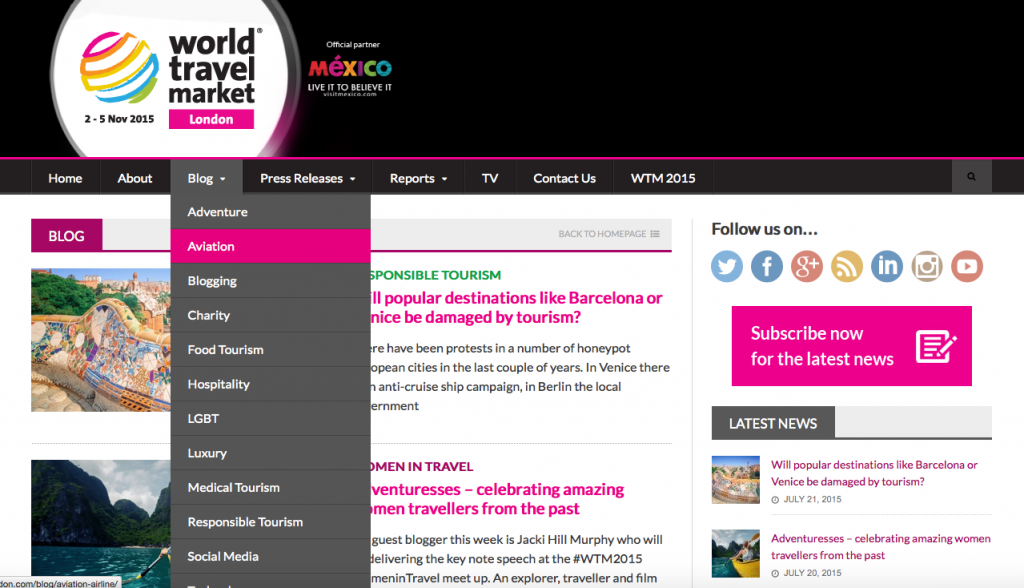 Related: 6 steps to a better blog that builds a loyal event following
MODA
Taking place twice a year at Birmingham NEC, Moda is the UK's largest business-to-business fashion event, welcoming more than 1,450 brands and 12,000 visitors each season.
Featuring a really great mix of show-based content, Moda's blog delivers added value for exhibitors. Content ranges from exhibitor news, profiles and Q&As, through to special offers, guest blogs and topical and educational pieces.
It's all accompanied by stylish images (of course, that's somewhat easier when you're in the fashion biz) and laid out in a clear and easy-to-read format. Definitely a well-dressed blog.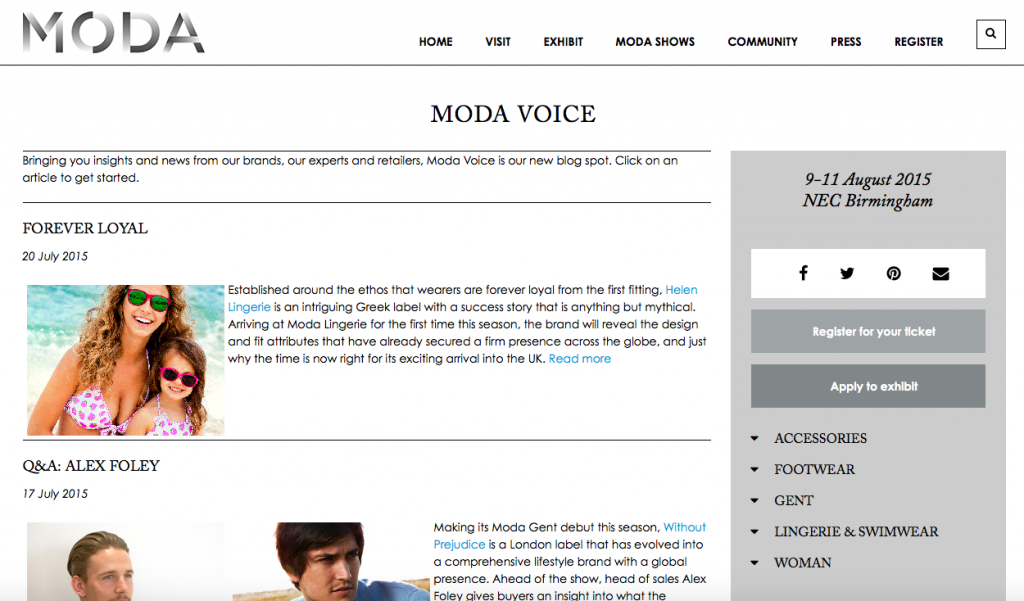 Related: 5 of the best blogging platforms for events
Conclusion
Great content comes in many shapes and sizes. Take inspiration from the above examples to get your event blog buzzing and your till ringing.
Have you spotted any other great looking event blogs? Perhaps your own is already stealing the show? Let us know!