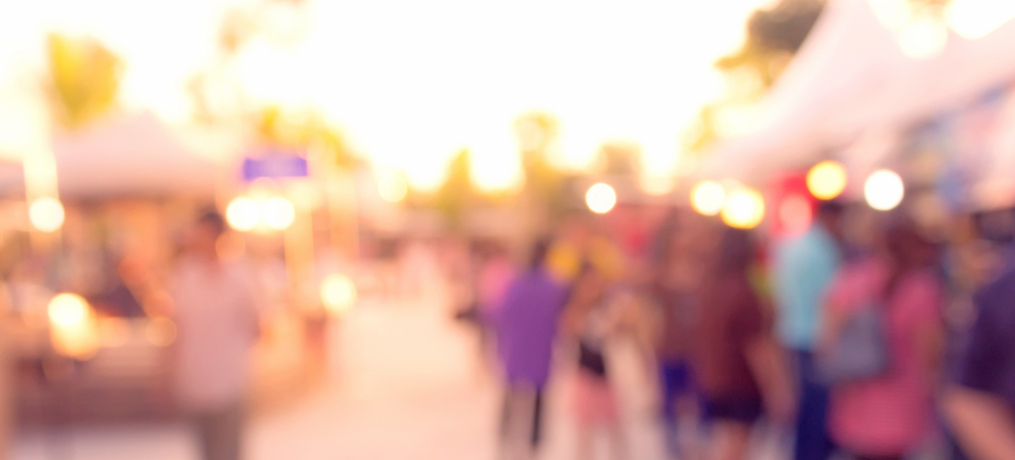 5 Essential Steps to Planning Your Festival Operations
People don't come to your festival because they're excited about the short lines and clean bathrooms. But these details shape your attendees' experience — and ultimately determine the success of your event. And when it comes to planning a festival,  every tiny logistical decision you make counts.
Don't lose attendees to a bad on-site experience — use these five foolproof steps to plan a flawless festival.
1. Visualise the space with a detailed site map
The first step in your on-site logistical planning is to create a detailed, to-scale sitemap of your entire space. That includes planning not only where each vendor, stage, and toilet will go, but also where there will be overflow space or a secure location to store cash and other valuables. Do a walk-through of where the main attractions will be at different times of the day. Make sure the walkways and spaces are big enough to accommodate the expected crowds. And then create a backup plan, in case the traffic flow surprises you and creates a bottleneck.
Keep in mind that vendors and performers will need their own entry points to get equipment in and out of the festival. Backstage areas, kitchens, loading docks — all the unseen parts of the festival — need careful planning, too.
2. Plan entry flow
The entrance to the festival is where lines and crowds are most likely to form. Again, map out the traffic flow, starting from the parking lot or public transit stop, all the way through the gates to the vendors or stages.
Create a strategy ahead of time for managing your biggest rush of check-ins. Think about how you'll staff up, and how you'll adjust according to the size of the crowds. Make sure there is some sort of barrier to funnel fans smoothly into your check-in point. And put security ahead of ticket scanning; checking bags takes longer than checking tickets.
Think through this process as if you were an attendee. What would make things easier for you? Would you find value in an "amnesty box" where you could discretely dispose of contraband items? How about a customer service booth just inside the entry to point you in the right direction?
Don't forget to consider a separate, faster entry process for VIP attendees. You'll also need a process for differentiating fans who are attending multiple days of your festival, like special RFID wristbands.
3. Coordinate volunteers and on-site staff
A vital part of planning a smooth festival experience is staffing entry points and customer service locations within the festival. After you've recruited volunteers or delegated staff, foster a sense of collaboration by explaining how each person is contributing to the festival's success. Then assign each individual a specific task to avoid confusion on the day.
You'll want dedicated team members to check wristbands, IDs, and bags to keep the lines moving. Hire line barkers to make sure people are in the right lines and have their IDs or tickets ready. Designate a trusted staff member to distribute and hold onto valuable inventory like RFID bracelets and VIP lanyards. Assign another staff member who has experience using your event technology to help troubleshoot at the gate.
And don't forget about security as you assign roles and responsibilities to your festival staff. Make sure security knows exactly how and what you want them to be searching for. Most importantly, make sure there's enough of them — hopped fences not only mean lost revenue, they can mean potentially dangerous overcrowding.
4. Get the right check-in equipment
In addition to trained, motivated staff, your logistical success will depend on having the right equipment — and knowing how to use it. Your scanning equipment needs to quickly process a large volume of attendees at the gate. (If you use Eventbrite, you can use the Organiser App to scan in attendees using any mobile device.)
You'll also want dependable WiFi in places like picnic areas where attendees will congregate. That way, nothing will prevent them from posting on social media about your festival as they take a break from the activities. Make sure you have a direct power source for your equipment and WiFi — and a backup source in case it goes down.
5. Be flexible with your plans on festival day
The day of your festival is finally here, but your planning isn't done. Conduct a quick, last-minute volunteer training on the equipment and layout of the event. Walk through the whole space to make sure equipment was unloaded and set up according to plan. Ensure emergency exits aren't blocked, and go over contingency plans with your staff.
Throughout the day, continue to monitor key metrics like check-in, walk-up ticket sales, and total attendance. Real-time monitoring allows you to adjust your strategy and redistribute resources or traffic flow as needed.
Get all these logistics planned out and you'll have a fun, problem-free festival your fans will rave about for the rest of the year. For more tips on how to plan a festival, check out this guide to crafting an on-site logistics strategy.