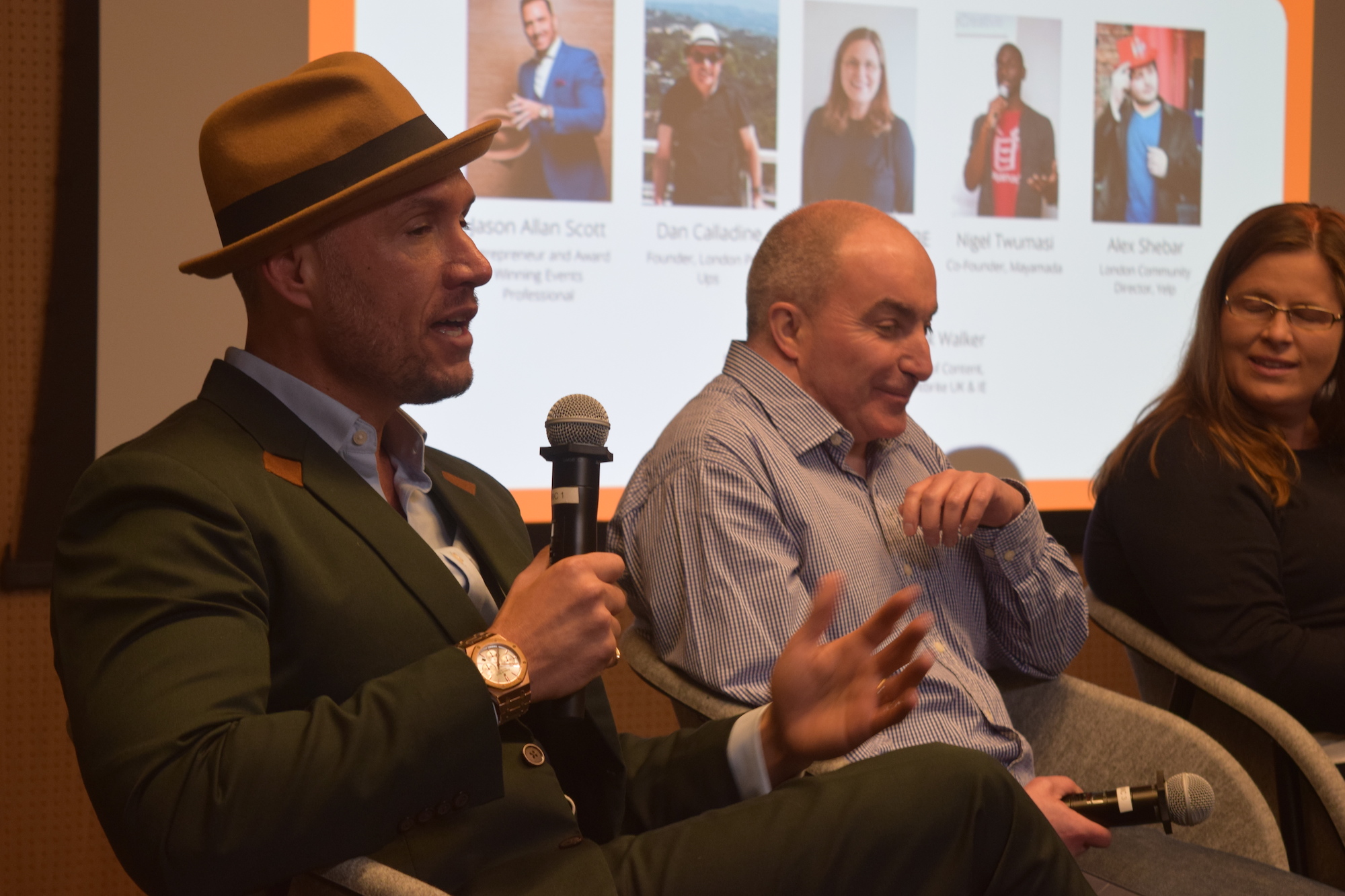 A Practical Guide to Building Your Business with Events
This is a guest post by Jason Allan Scott, an award wining event professional, founder and director of a Sales and Marketing consultancy firm specialising in venue sales, an entrepreneurial consultant, speaker, writer, contributor, start up impresario and a part of Tim Ferris's NR set. 
So I had the great privilege to speak at Google Campus on Tuesday this week with Eventbrite on Lead Generation.
I understand the event was sold out, but there were so many gems that I thought it unfair not to share some of the highlights with you here.
What the full video on how to generate leads for your business with events
So here we go (bear with my memory!):
The first step to making sure you get positive ROI from an event is by acquiring data from qualified leads. To do this, create as many opportunities as possible to engage and scan high-quality leads.
Use a combination of standard demo/experience stations, speaking sessions, and fun engagements like a party and a social media component to amplify the reach of the physical event – like we did for Unilever and Lynx with the Fallen Angel campaign we hosted.
This will help you manage the leads and determine what the follow-up process would look like.
A fellow panellist (with an MBE), Michelle Ovens, the Campaign Director for Small Business Saturday UK, said also to always have great music (music creates atmosphere) and offer cake and chocolate where you can…great ways to engage your guests and make them happy..
Always engage with your leads as soon as possible to keep them interested, was something I wanted to say. I was the first to say the dirty "S" word (SALES) but 90% of events are about sales. And events can be great at generating the leads, but remember that a lead is only as good as the business or relationships it brings with it.
So many events of late look at creating a scoring system to try and analyse the engagement of the lead. I saw an example of this online, 50 points for a booth visit and 100 points for attending a session was the example used and I think it's a great one.
We were then asked about the benefit of "offline" events vs "online" events.
I stated that a key benefit is that events can shorten the sales cycle (dirty S word again) because by responding to your invitation, registrants have expressed interest in your message. Essentially, they have pre-qualified themselves long before the event takes place.
Attending your event can take the place of a first sales call — moving prospects down your sales funnel faster.
The next big winner was that you could reach many prospects in a short amount of time. Other great points I didn't get a chance to mention were that you can use events to convince the audience you know your business, not to mention be viewed as a thought leader in your industry.
I love that events stimulate a buying atmosphere. We know that it creates a buzz for your products and services while introducing and demonstrating new products and services. It can also create joint marketing opportunities with your key partners said our esteemed MBE speaker, Michelle; while opening the door for future sales calls said Alex Shebar, the gent from YELP.
Now though, the truth is these benefits may apply to a variety of online and offline events. We were asked about the benefits of online events and I had to quote my mentor and teacher, Lewis Howes, who has said that hosting a virtual event is easier than ever, so for a second let's discuss the decision to host a Web versus an in-person event.
It relies on a number of factors including your sales channels, audience location, lead time and guests.
If you have a local sales presence it's hard to beat the value of a face-to-face event, this is just a fact plus your offline event probably comes with a cool venue, free food and free drinks (did I also mention cake?!) Virtual has yet to make this possible (digital cakes just don't taste of much).
However, I cannot argue that for a geographically diverse audience, webinars are extremely effective. I know Lewis Howes is still trying to get me to use his methods and see for myself the power of webinars. And I promise Lewis I will!!
However online or offline, there are a few commandments that stay the same; YOU MUST know your audience. Who should you target and what are their information needs?
     

Identifying this information

will determine the type of event you should host. Top executives are most likely to respond to an exclusive, peer-to-peer function while mid-level managers usually look for the most educational bang for their buck. Once you've selected your target, figure out how you will reach them. Do you have good in-house mailing lists or do you need to search for outside lists? Don't forget to tap the personal lists of your sales teams and leverage your friends and family and social media lists.
     

Follow a timetable.

You can begin planning an event six months out or six weeks out. One woman came and asked me about an event just 5 weeks away that she had yet to work through. I said that I firmly believe that your timetable depends on your sales cycle and other internal factors as well as the complexity of your event and registration goals. A multiple day conference for 200 attendees takes more planning than a breakfast seminar for 12. No matter what your timetable, you should map out the major milestones and deadlines before you begin.
     

Create compelling content.

The most obvious principle is to give attendees information they want. Portray your company as a thought leader on your topic, but refrain from using blatant sales pitches. Nothing turns off an audience faster than a commercial for your company. By offering compelling information supported by case studies and valid statistics or results, your audience will turn to you to learn more.
     

Timing: was something touched upon.

The best days for events are Tuesday through Thursday, and the best times of year are February through June and September through early November. The time of day depends on the type of event, location and other local factors like traffic and weather. Also, don't forget to check your calendar for holidays, school vacations, national conferences and other important dates that could affect the availability of your attendance.
     

Create invitations that work

. The first rule regarding invitations is to sell your event and not your product or service. Personalised invitations usually get the best response, especially with an executive audience. Be sure to include enough content for the recipient to measure the value of the event and motivate them to register. Send multiple invitations and vary the media. Finally, you should provide multiple response options like web, phone, e-mail, etc. Plan to capture every lead from your invitations, including regrets. Every person who expresses interest is a prospect for your company.
     

Improve attendance.

Send a confirmation to each registrant immediately upon registration. A day or two before your event, give attendees a reminder with a quick email or phone call. A final reminder an hour before a webinar can have a significant impact on attendance rates. These steps are key to improving your attendance rate.
     

Script your audience interaction.

Determine what you need to know from your audience during the planning stage. Then encourage interaction during the presentation to involve your attendees and learn from them. Ask for questions, and use audience polling liberally. Include an exit survey to gauge your audience's satisfaction and ask for more information.
     

Deliver on your promises.

You can create the coolest invitation and select the hottest venue, but you

must

deliver on your promises to guarantee success. You should leave your audience wanting more information, which helps facilitate your post-event follow-up.
     

Follow up all leads.

Soon after your event, plan to touch all registrants with an e-mail, phone call and personal note. Include attendees and no-shows as well as any regrets. You may want to offer an archive of your event on your website or send additional information about your company or event to all attendees.
In conclusion
Did you ever wonder why so many companies offer events? Because they work, and I for one would love to help you with your next event.
Thank you for reading and those that did, thank you for attending Tuesday night's talk at Google's London Campus.
//