5 Essential Eventbrite Extensions That Will Make You More Productive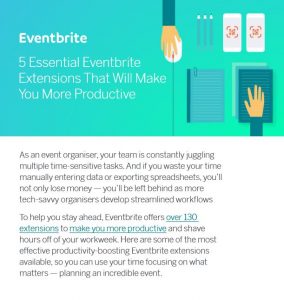 Planning an event means managing a million moving pieces at once. Without a streamlined workflow, details slip through the cracks — and your team wastes valuable time (and money) on manual tasks.
Thankfully, there is a myriad of tech tools that can help you make the most of your time and resources. In this tip sheet, you'll hear about five of the most productivity-boosting Eventbrite extensions available.
Find out how you can use Eventbrite's free extensions to:
Quickly and easily send personalised, targeted emails
Expand your reach and sell more tickets by posting your event to Facebook
Manage all of your event's social media accounts from one dashboard
Fill out the form below to download 5 Essential Eventbrite Extensions That Will Make You More Productive