The Eventprofs Guide to Podcasting: Increase Your Event Audience & Engagement
The Eventprofs Guide to Podcasting: Increase Your Event Audience & Engagement
When it comes to building a marketing plan for your event, many organisers will turn to content marketing as a cost effective channel to drive audience engagement and registrations.
Whilst social media, blogs and video have been rapidly exploding over the last few years, there's another powerful and often overlooked online media channel that event organisers can use to build a highly engaged audience and drive ticket sales.
Podcasting.
Podcasting is huge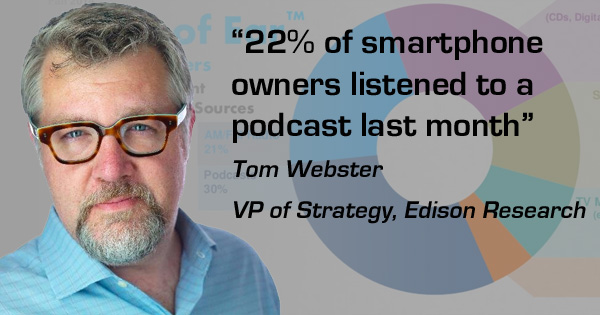 Podcasting had it's first wave of popularity back in 2005 when Apple released iTunes 4.9 with native support for podcasts. At first podcasts were seen as an obscure medium confined to a small group of enthusiasts, however over the last 10 years all that has changed, and podcasting is currently enjoying a widespread resurgence, particularly for businesses and brands.
With recent shows like Serial raising awareness of the podcasting medium, and the independent WTF podcast famously featuring interviews with high profile guests like Barack Obama, podcasting is now firmly established as a mainstream and highly engaging online media channel, and it's still one of the biggest untapped content marketing opportunities for businesses and brands.
Traditional content marketing channels are becoming highly saturated, and whether you're trying to get your message out via social media, blogs or other forms of written content it can be hard to break through the noise and rise to the top. Not so with podcasting where there are still lots of opportunities to own your category on iTunes and the many other podcast distribution channels.
With the incredible growth of mobile devices, connected TVs, consoles and connected media players, including the fast rising trend of the connected car, the way people are consuming content has broadened. They're no longer spending time in front of a screen, instead in the era of mobile, everyone wants their content on the go.
And the research is overwhelming. A recent Edison Research "Share Of Ear" report  found that 17% of the adult population listen to podcasts regularly (more than 46 Million US adults), and 22% of smartphone owners listen to a podcast every month, with these figure continuing to rise every year.
Some of the interesting business insights from Edison Research were around the profiles of podcast listeners
Podcast listeners are from a more affluent demographic (attracting a higher value customer with more disposable income)
Podcast listeners are a highly engaged audience, staying tuned for an average of 22 minutes per episode (5 times longer than reading a blog post)
Podcast listeners are far more likely to follow brands on social media (encouraging social influence and content sharing)
Podcasting for events
So how can podcasting help event organisers engage their audience and market their events?
In the run up to your event, offering a podcast that includes pre-event experiences can build anticipation for attendees, and also help people discover, and engage more closely with your event.
If you run endurance events you could interview health and fitness professionals on your podcast, giving tips on the best way to train for your event, nutrition and diet ideas, or if you've got participants that are running your race for a cause, how about sharing their personal stories on your show to build an intimate human connection with your audience?
Music events are very well matched to podcasting as a marketing channel, especially as concert goers are already using audio as their medium of choice. Jean Michelle Jarre recently ran a series of podcasts on iTunes to help market the launch of his recent collaborative album Electronica 1: The Time Machine.
If you're running a conference there are huge opportunities for you to run interviews with speakers and other subject matter experts around the topic of the conference. If you're running a multi-day conference then why not produce a daily update from the floor that delegates can download to their phone both during and after the conference? Those episodes can be used as promotional tools the following year to remind attendees what an incredible time they had previously, driving repeat signups.
Whilst podcasts have conventionally been an ongoing content commitment, there's been a recent rise in series podcasting where 12 to 16 shows are created around a specific topic. Series podcasting works really well for events as you're only committing time and effort to producing the shows in line with your other marketing activities, although you still have that historical body of work constantly growing along with your events and driving discovery of your future events and your business more permanently on iTunes.
Podcasting can also drive direct registrations and new business too. Chris Scott, owner of Thirty Fifty, a London based company that runs wine tasting events and courses, also produces the top rated UK Wine Show podcast.
When Chris was a guest on the Podcast Power Marketing podcast recently, he called out that he has had many attendees tell him that they found his events and courses through his podcast on iTunes, and there is a lot of social proof that has developed through his iTunes podcast comments, with attendees regularly recommending that others attend Thirty Fifty's events too.
How to get started podcasting
Podcasting can be a faster and more immediate way to release content around your event from a production point of view, and hearing conversations with participants of the event or the organiser themselves creates a more intimate connection with your attendees over text based content. Think of podcasting as an extension of the live experience you're already creating with your event.
It's also very easy to get started with podcasting. Low cost high quality USB condenser microphones are abundant on Amazon, with the Samson C01U Pro proving a popular choice, or you can just get started recording audio on your smartphone using your earbuds, or for better quality portable audio try the Rode Smartlav+.
New apps like Ringr are making it easier than ever to record interviews with guests using just your mobile phone, and innovative services like Blab are democratising access to community based audio and video recordings online.
On the discovery and sharing side, new tools like Clammr are springing up to integrate audio snippets and calls to action directly into your existing social media, building up a multimedia marketing experience for potential new attendees to find out about your next event.
Give it a go…
If you'd like to find out more about producing your a podcast as a marketing tool for your own event, Podcast Power Marketing has put together two great free resources to help you get started.
Free Podcasting Cheat Sheet: The Top 20 Tools You'll Need To Start A Podcast
Free Podcasting Webinar: Start A Podcast For Your Brand: The Next Big Content Marketing Opportunity