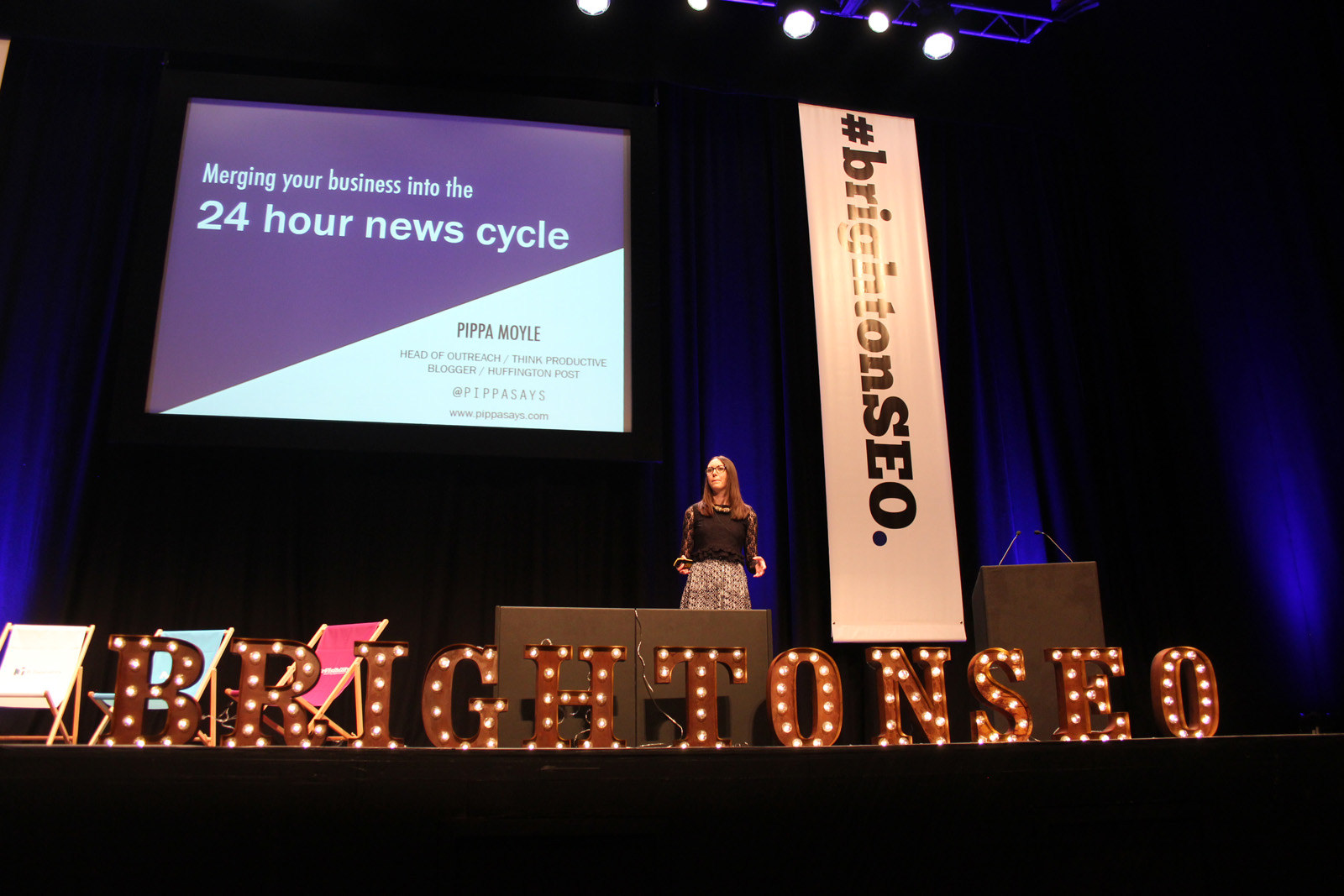 brightonSEO: The Former Pub 'Meet-Up' Thousands are Clamoring to Attend
How do you take a gathering of a few SEO geeks in a pub, to one of Brighton's biggest and most popular events in just five short years? This is what I was eager to find out when I interviewed Kelvin Newman, founder of brightonSEO, a free-to-attend search marketing conference.
I caught up with him shortly after tickets for the April 22 show were released – and sold out in under 60 seconds (that's quicker than Glastonbury!). He could have sold the event twice over; a further 2,000 people have been placed on the wait list.
According to Kelvin not being able to meet demand is a nice problem to have: "It's not the end of the world if a few people miss out on some tickets. It's much better than desperately trying to get rid of tickets that nobody wants," he says.
"A lot of people think free events are not as good as paid ones, so we kind of challenged that and said, "Well, it's free but you've got to be there within those five minutes if you want one of the tickets." It's about creating scarcity and changing the dynamic on the value they're getting."
Still, Kelvin does admit that it's a shame to have to turn away 2,000 eager attendees. It's a problem that will soon be solved, however. The conference, which is staged twice yearly, will be moving from its home for the last five years, Brighton Dome, to a larger venue later this year.
"It's not formally announced yet, but we're going to the Brighton Centre. At the moment we're in the Brighton Dome, which has a capacity of 1,700, but the Brighton Centre can accommodate up to 10,000 people. We're trying to double the size of the event to 3,500. That's a big step for us."
More space will not only allow Kelvin and his team to welcome more attendees, it will also enable them to meet demand for their most popular keynote sessions.
"The Brighton Dome is a great concert hall and they're lovely to work with, but due to the configuration of the space it's very hard to program talks where you know one is going to be 10 times more popular than another."
"The new spaces will be more equal, so all of the tracks will be able to accommodate 400 or 500 people. Since the conference became multi-track, there have been people who have missed out, which is exactly the opposite of what we want to do. That's what has really brought about the move, rather than the absolute numbers going up. It's more about how we make sure everybody that comes along gets to see what they came for."
Kelvin could never have dreamed he would be facing these kind of challenges when he invited a few mates to meet up at the pub one Friday lunchtime to talk shop, but from its humble beginnings brightonSEO has experienced rapid growth.
"The first event was just a few people meeting in a pub for a chat," recalls Kelvin. "We didn't even really have a name at that stage. We just thought it would be great to have a few talks and be able to go down the pub earlier on a Friday!"
"The first event was in an upstairs room of a pub called The Quadrant, which is by the clock tower in Brighton. There was room for about 20 people there, and 30 people showed up. About six months later, we did it again. We got a room for 100 people and about 120 people showed up."
Word about the gatherings was spreading across social media, thanks to the already popular #brightonSEO hashtag used by SEO professionals in Brighton as a way to talk to each other (there's a long running joke that Brighton has more SEO professionals per capita than any other city in the UK).
Says Kelvin: "We didn't have a website at that stage. It was just kind of a blog post saying, "If you're interested in this event, come down if you fancy it." After that we started to take it a little bit more seriously."
Word of mouth, however, still plays a major role in the event's marketing – a strategy that is reliant on the quality of the content.
"Word of mouth for the event is huge. People come back and they tell other people about it and tell them to come."
"We reached a certain tipping point a few years ago where we became the biggest event in search marketing. Now people  come just because they know if they want to see people who do jobs like them, there's a really good chance that they're going to bump into them there. It becomes a self fulfilling prophecy but it doesn't work without doing a good show."
Kelvin says the editorial content at brightonSEO rivals that found at marketing conferences with tickets costing £1,500+, but is made available totally free by around 200 people who have paid to be there and represent their companies. Such is the interest in the show, finding sponsors has always been relatively easy.
"In the beginning it was just sticking £100 behind the bar, but as the event grew I asked friends of the industry if they'd like to support it. Initially, it was a good chance to come along and shake a few people's hands, but now we're a must-attend industry event. If you want to speak to heads of SEO at online retailers you're not going to find more of them in a room than at brightonSEO."
Adds Kelvin: "We're really lucky that the sponsors see it as supporting the event as opposed to necessarily a commercial relationship. They get good returns; that's why they come back, but it's a head and heart decision."
"Because the event has grown in the way that it has, and it didn't start out as this big event, people feel a kind of part of it. They've met people they've started businesses with there, or won their first client and they feel we've had a part to play in their life and career and now support us as a consequence, which is lovely."
Although the event is now a large one, it retains its small and friendly feel, which is aided by keeping the tickets free.
"It encourages this kind of friendliness. That's kind of what it's about; meeting people with similar jobs and making new friends as much as a new business contacts."
Because attendees at brightonSEO are so good at talking to each other, Kelvin has not instigated any formal networking at the conference, but he says moving to the new venue could open up opportunities.
"We do drinks and that kind of thing, but not in any particular format. I think as the event gets bigger we're going to try and do a little bit more and facilitate meetings. We do stage roundtables, which work really well. We get 10 people together who work in marketing at charities or 10 people who work in marketing at financial services companies and let them chew the fat, off the record."
Keeping the event informal and authentic is important to Kelvin, which is why social media still plays a key role in engaging with attendees and shaping the content.
"The hashtag is still the backchannel to the event," he says. "That's how we handle a lot of suggestions that people have of how we can improve the event rather than surveys. On the day of the event we'll get in a social media manager to manage the live feedback that's occurring, on Twitter predominantly. I'm not big on the quantity feedback, I kind of prefer the quality of stuff."
"We often email people back and ask them four questions: "What did you like the best?" "What did you like the least?" "What could we do differently?" "Who would you like to see speaking?" We ask questions like this rather than, "Can you rate the speakers' out of 10."
"I did quite a lot of speaking myself and I'm not sure that's helpful. If I get 7.4 on how knowledgeable I was, it simply tells me I need to get 26% more knowledgeable in the future. That doesn't help anyone really."
"When it comes to evolving the event we try and think, "How can we do that differently?" or "How could we approach it in a slightly different way?"
Kelvin has always adopted a 'suck it and see' attitude, learning by experience and experiment. Having no formal training in event management, he's had to rely on his instincts.
He says: "I did a lot of DJ'ing while at university and played at weddings and organised informal things, but certainly no conferences."
"It was just about knowing the audience and then using tools like Eventbrite to make the event management side of it as easy as possible. When we were starting out I said, "Let's worry about the content of the event, and then worry about the logistics". Because no matter how great the logistics are, if the talk is boring people won't come back."
The event's ability to evolve and adapt has been assisted by its bi-yearly occurrence, says Kelvin: "I know that sounds bizarre but because we're six monthly we're more agile. You learn and adapt and if something doesn't work, we try and do it differently."
"In a way, we're at an advantage over the stalwart once-a-year industry events because we're doing more events and getting more experience and are still small enough to easily make changes."
But with the show set to double in size this summer, things are no doubt set to get a little more challenging?
"There are certainly some interesting teething problems with experiencing such rapid growth," admits Kelvin. "We found that even this week, with the ticket release. We've got about 12,000 people on our mailing list and when you send that many emails they don't all go out at 10 am on the dot. Some people didn't get their email until like two minutes past ten. Although it was only two minutes, for some people, they had already missed out on tickets by that point, because the demand was so high. It's bits like that we're still learning."
"How to physically register that number of people is also still in question. Historically, we would print all the name badges out and 50% of them we would end up recycling, but we might have 5,000 or 6,000 people registered at the next event, so now we're looking at some of the on-demand printing solutions."
"Unfortunately we're finding that they're either really expensive, or not so expensive and not perfect. There are things like mailers that we could do, which is standard for lots of events, but our model is tight so suddenly spending an extra couple of quid on every attendee does sort of make it harder to do."
Overall, however, Kelvin is excited about the opportunity presented by the event's expansion: "More people can come, therefore we can do more with our sponsors. We have more space, so if they want to have their own track, they can do it. If they want to take a huge stand rather than just bring a couple of roller banners, they can. We'll have more rooms that can appeal to more people. There's certainly opportunities there."
The one niggling worry he does have is the impact unlimited tickets might have on the event's exclusive reputation.
"Running a sell-out event is so much a part of our identity. What happens when you remove that scarcity? It's going to be interesting."
However, with delegates now flocking to Brighton from across the country – and across the world – the event's position in the calendar looks secure.
"More and more people are coming from Leeds and Manchester, Bristol and all of those. What's scary but also nice is more and more people are coming even from across the Atlantic. There are people coming from the States who come every year without fail."
"It's nice to feel the UK could be on par, or as good as, an American event. We'd actually love to do something in the States in the future, but that's a whole different can of fish really."
With Kelvin's drive and enthusiasm, SEOs will no doubt be enjoying a Stateside fish supper very soon….
The next brightonSEO conference takes place on April 22 at Brighton Dome. Visit www.brightonseo.com for more information.
 Photography courtesy of www.kingslandlinassi.com