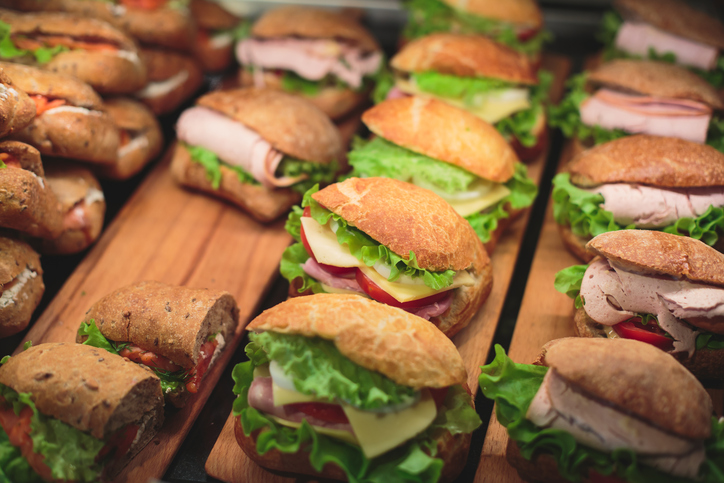 How To Cater an Event on a Budget
Catering can quickly eat up your event budget, but you don't want your guests to go hungry. so, how can you still put on a spread if you're on a shoestring?
From portion control to minimising wastage, here are 10 top tips for cutting catering costs into bite-sized pieces…
1. Choose a pocket-friendly event format
If you don't have the cash to splash on catering it makes sense not to organise a formal three-course meal if you can avoid it. Instead, opt for a more casual drinks reception with canapes, bowl food or food stations.
Have pedestal tables so guests can network and nibble. While you'll be making savings on the traditional sit-down dinner, they'll be benefitting from the ability to mix and mingle – far better for making business contacts than being stuck at the table.
2. Make it self-serve
By opting for a self-serve buffet you can eliminate the cost of hiring serving staff. Talk to your caterer about providing finger food or food that can be cut up into portions and ask for it to be laid out or plated and ready to serve.
Avoid anything messy like spaghetti bolognese that's likely to get dropped all over the table and ask for advice on keeping the buffet fresh and appealing. An unstaffed buffet is a little more work for the organiser but can really help reduce the budget since staffing is a big expense for caterers.
3. Limit hors d'oeuvre choices
Though it's common for caterers to recommend many more choices, you'll save money by selecting a maximum of three prepared hors d'oeuvres. If you're just giving guests something to nibble on before their main meal, an abundance of food is an unnecessary expense. What's more, too many hors d'oeuvres could lead to guest getting full up.
Of course, if you're going to limit hors d'oeuvre choices, it's a good idea to go for ones that are universally popular. Favourites include goats cheese and caramelised onion tartlets, bruschetta and tempura prawns.
4. Use smaller plates
Keeping the plates small helps prevent guests from taking more food than they might eat from a buffet. You can also serve on smaller plates or bowls to control portion sizes on food coming out of the kitchen. This is especially useful for the higher value food on your menu, such as sashimi.
By using an attractive small plate you can achieve beautiful presentation while avoiding serving sizes looking mean. In fact, food can often appear more exclusive and appetising when served in smaller portions so why not make it a feature?
5. Minimise spend on tableware
Look for a venue or caterer that has its own crockery, glasses and table linens that you can use at no extra cost. If you have to hire your own, look for ways to minimise spend by keeping things simple.
You could decide to serve wines, soft drinks and water in one, all-purpose style of glass, or go for finger food only so you don't need cutlery. And if you happen to have rustic wood tables for example, don't cloth them; just put a runner down the centre and let their natural beauty be a feature.
6. Opt for simple dishes
Simple, hearty fare can fill tummies without emptying pockets. Stews, braised meats, curries, pasta and rice dishes can provide a homely taste that people love. It can be helpful to pick a theme for your menu, such as 'A Taste of India' or 'American Diner' to bring it all together.
Where you can, swap expensive cuts of meat for cheaper ones, such as chicken thighs or beef brisket – both delicious and full of flavour when slow cooked. Sticking to ingredients that are in season can also reduce food spend.
7. Bring your own wine
Using a caterer or venue that will allow you to supply your own wine for the event will result in big savings. Even if you have to pay corkage, it can still work out more economical, so it's worth checking out.
If possible, choose a wine merchant that has a 'buyback policy'; an agreement to purchase any unopened bottles back from you after your event concludes. It's also a good idea to have fizzy water or lemonade available so people can have wine spritzers – it's more refreshing in summer, is good for those who want to limit their alcohol intake and results in less wine being served.
8. Serve coffee and tea from the bar
If you want to make hot drinks available in the breaks or at the end of a meal, think about moving out of your event space and to the venue's bar. Serving from somewhere already set up for providing hot drinks is cheaper than paying for an urn to be set up or servers to come round with pots.
It's also an option to entirely forego tea and coffee after a meal. Many people already refuse it so, depending on your audience, it's something you might be able to cut without anyone noticing. Younger people are less likely to expect a hot drink post-meal as a matter of course.
9. Have a dessert station
If you're planning a sit-down meal, rather than serving a plated dessert at the table, have guests get up and go to a dessert station. Serve a selection of cake bites and pastries that they can eat with their fingers.
Not only does this offer guests more choice, it can be presented as a great networking opportunity. Guests can stand and chat while the tables are cleared away ready for dancing.
10. Use knowledge from your past events
Knowledge of your audience is one of your biggest tools when figuring out where to make savings. For example, experience might show you that you can order less for your afternoon catering break than your morning one.
Maybe you know that not many people have a bread roll with their meal, so you can decide to not serve bread. All steps you can take to minimise wastage will cut down your bill and help make your event more green and sustainable.
Conclusion
While catering will always be a major part of your event budget, adopting some of these tips can ensure it won't eat up too much. Simply trim the fat here and there, for an event that still tastes great!