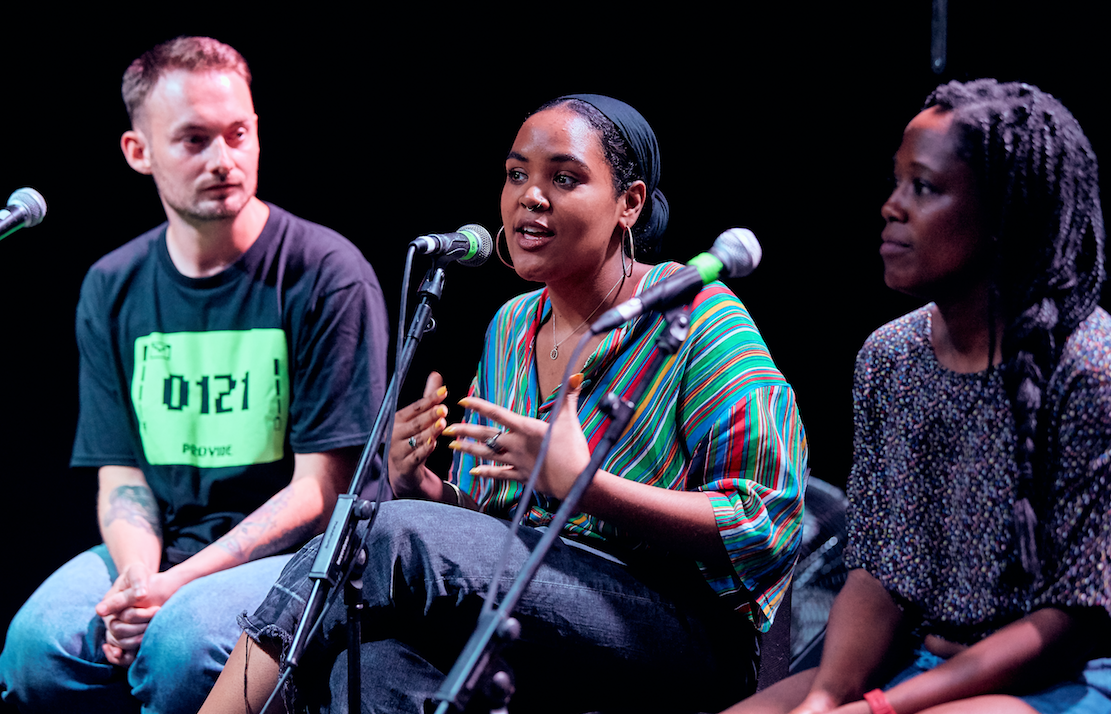 Guest Spot: The Changing Face of Birmingham's Venue Scene
This is a guest blog by Aliyah Hasinah – a Birmingham-based events curator, podcaster and producer who featured in our recent video project GenerationDIY. The events she runs focus on ensuring that people of all backgrounds, particularly those under-represented by Birmingham's art centres and institutions, have a space where they can express themselves and share their talents. 
In the last five years, Birmingham's arts scene has grown tremendously – there's a real DIY vibe and sense of urgency reverberating through the UK's second city. But will it actually build the infrastructure this city needs?
It's hard to comment on the history of the scene before my time (I started working on the scene five years ago), but from conversations with artists and arts professionals all across the city, there is a definite feeling of cyclically stunted development in Birmingham.
Things pop up all the time and then leave. The turnaround of venues in the city is atrocious – we've seen a long history of this happening all across the country, however, Birmingham's unique industrial context hasn't enabled or provided space for these ventures to thrive and continue business.
Many have asked whether the city favouring commercial ventures and chains instead of independent venues has led to this crisis of closing down venues and lost spaces for art, music and culture. Although this happens all over the country, Birmingham's retention of artists, art spaces and venues is particularly bad for a second city. So much so most of the country actually think Manchester is the second city!
Check out this article via Birmingham Mail to see just how many iconic venues have been lost (a special shout out to the Yard Bird).
Generation DIY attitude
The creative infrastructure – in terms of development programmes, venues, support and career development opportunities, that aren't exploitative – often feels very fragmented and isn't established enough to enable people in Birmingham's creative arts scene to thrive. There are many historical reasons for this, one being the centralisation of industry to London during the Thatcher period.
Maybe a DIY approach is the way to go, moving forward?
Brummies are getting bolder and more demanding when it comes to establishing spaces that aren't always temporary or guaranteed to shut down after a couple of years.
There are so many questions I want to ask and numerous blogs I could write but I'll just tackle one specific one here – why does it feel hard for many promoters to prosper in this city, and why is it even harder for black promoters?
North vs. South
Growing up in Aston (hold tight B6), literally next to the Drum, I became aware quite early of how culturally segregated and disproportionate artistic provision is in the city.
Seeing the demise of The Drum was a real nail in the coffin moment for Birmingham's claim to being multicultural; it represented a lack of support for cultural institutions who have built communities and legacy, and who do not conform in the ways expected of them to make money.
Let's not get it twisted – in this case, there were definite governance issues with the Drum's organisation but, in my opinion, the cultural racism of Birmingham didn't help this at all. Not only are most art centres, gig venues, professionally kitted-out venues and places of cultural interest in the south of Birmingham or in the city centre, but the audiences and communities they serve are often white, middle class and expectant of cultural provision.
These same spaces also treat black and brown artists, promoters and producers as a novelty or more so "subjects to be engaged''. How many of us have only seen black people in professional roles in organisations as a 'community engagement officer'? Firstly, what does that even mean? And, secondly, what community? More often than not it is coded language for a move towards attempting diversity. As you can tell, I'm tired of this silent racism that fails to value the exceptional skills of so many under the bracket of "BAME".
The new face of Digbeth
While there is still a threat of gentrification in the city centre and North Birmingham, what currently gives me hope is the creative quarter of Birmingham, more commonly known as Digbeth. With some much-needed DIY spirit, investment and development we're really starting to see space for innovation and hopefully more established and consistent venue infrastructure on all levels in Birmingham.
Spaces like Impact Hub Birmingham have pioneered high-quality DIY ways of working and The Custard Factory's recent and ongoing revamp is adding to the positive energy reverberating in the current scene.
Let us not forget the incredible work of City of Colours Festival that really started, in my opinion, the new wave of Digbeth as a space for all creative energies from 2014 and of course the Rainbow venues historic raves and eclectic programming.
To conclude…
Yes, the cultural, economic, governmental and racial conditions of Europe's youngest city are a bit of a mess and we've only just scratched the surface.
However, it isn't those in positions of decision-making power who will change the city. As always, it will be the artists, promoters, curators, creatives and social innovators who will fix what's broken through their DIY and "just get it done" attitude. That, in itself, gives me HOPE.
Aliyah also features in our Guide to Purpose-Driven Events. Check out her top tips for turning a passion into an event.