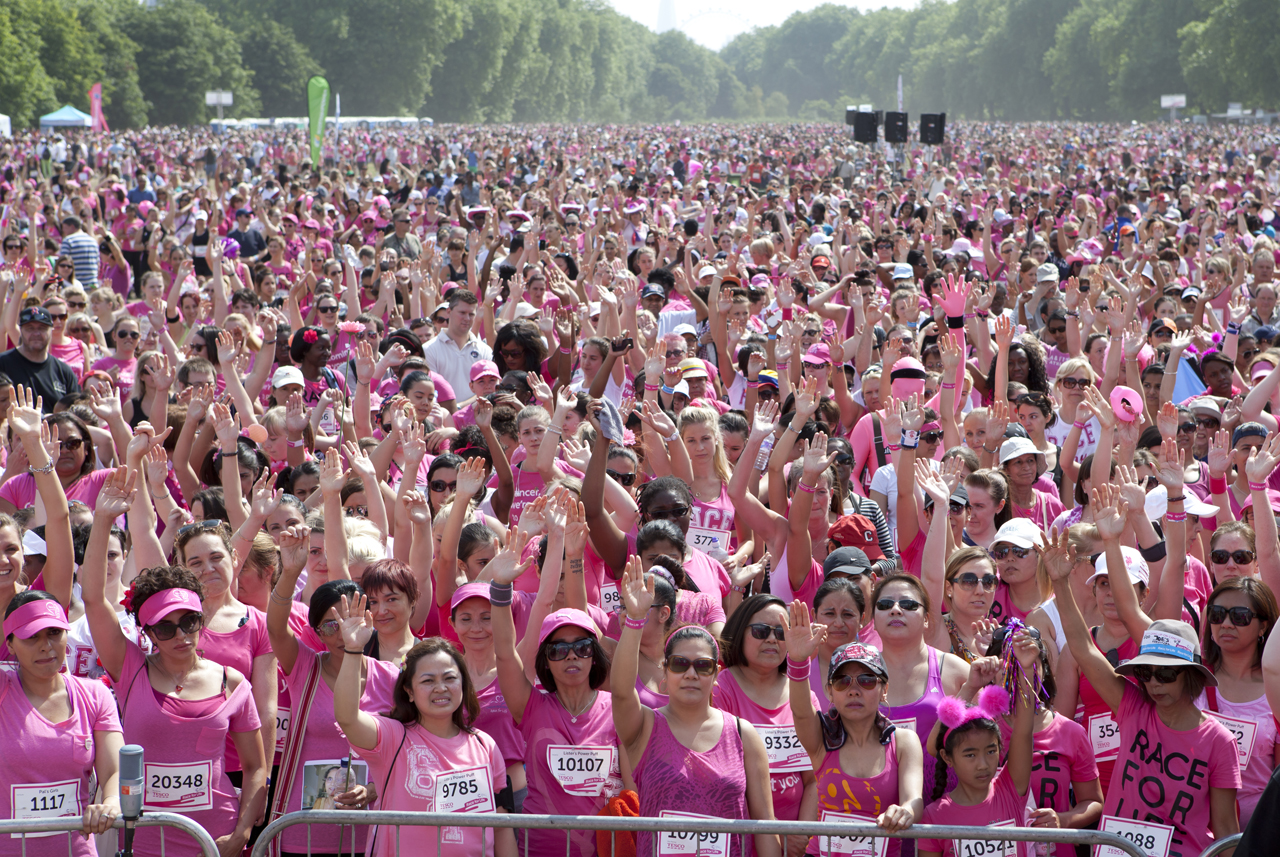 A Race to the Top: Claire Rowney, Cancer Research UK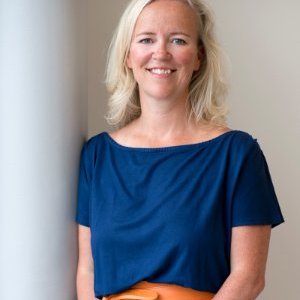 Cancer Research UK's events portfolio is the top grossing in the country, generating a massive £51 million every year. In charge of the charity's 300 plus events, and CRUK's Stand Up to Cancer televised fundraising campaign, is Claire Rowney, Director of Innovation, Campaigns & Events.
Claire has worked for Cancer Research UK for 13 years and, in that time, has helped grow participation in the women-only Race for Life series from 200,000 women to 750,000 annually. In charge of innovation, she has also overseen the launch of brand new events like obstacle course Pretty Muddy and the first all-female marathon and half marathon.
Claire's success led to her nomination in the 'Eventbrite Top 100 Movers and Shakers in Events'. The list, which was released earlier this month, was compiled through peer nominations and recognises outstanding achievements in different sectors of the events industry.
We asked Claire to tell us how she got started in events and about her career in the charity sector.
"I've always been interested in events," she says. "I did my degree in hospitality management before event management was a well known degree subject. I then went straight into events from university and worked as an event coordinator in a conference centre in London.
"I did commercial events for about 10 years and then was very tempted by a role I'd seen advertised at the National Deaf Children's Society, which was a challenge event role.
"It was at the time in charity fundraising when challenges like trekking across China and cycling across Cuba were taking off and so I went and did that. It was a fantastic experience in terms of learning the ropes of fundraising but also in terms of the types of events I was working on, like organising events in Ecuador and Cuba and Mexico and China and so on, it was very exciting."
It was the opportunity to take a senior role in Cancer Research UK's events team that convinced her to give up the jet setting and focus again on domestic events.
"What brought me to Cancer Research UK was Race for Life. Even then it was the biggest fundraising event in the market with about 200,000 participants a year.
"When I joined we had a product that was very new, very attractive in the market and was growing very fast, so the challenge at that time was about how we could create enough capacity in the series to maximise the opportunity of getting women doing 5k runs," she explains.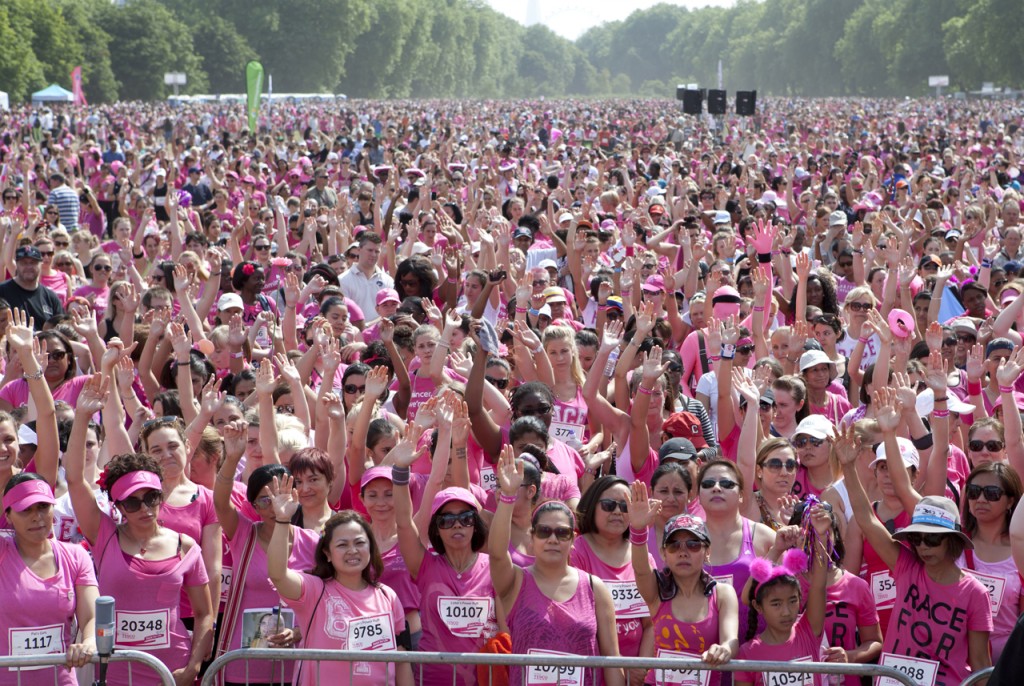 Claire and her 150-strong team met that challenge by successfully growing and developing the brand – Race for Life events now take place in nearly 300 locations across the UK and include both 5k and 10k runs, as well as other new challenges.
Says Claire: "Race for Life has been credited with changing the face of running in the UK. A lot more women are running and a lot more women are running 5k's habitually. When Race for Life started, 5k felt like a really big challenge for people and it doesn't so much now."
She adds: "The challenge then went from capacity building to extending the product to enable us to continue the growth curve so we added the 10k and then Pretty Muddy, about 4 years ago now. That's really exploded, so we'll have over 300,000 women who do that for us this year in addition to our 5k and 10k participants."
Claire and her team realised they had hit upon something special with obstacle event Pretty Muddy when they surpassed expected participation in the first year by a massive 40,000 women.
"I think one of the reasons it's been so successful is that it's taken us back to our roots in the sense that a lot of women 15 years ago didn't do 5k runs but the Race for Life brand made it feel accessible, very safe and supportive and Pretty Muddy does the same thing. The women who do Pretty Muddy wouldn't do Tough Mudder, this is the pink, softer version of the mud and obstacle race. It's been a great innovation and worked very well."

Claire and her product development team aim to extend the Race for Life brand, and come up with other new event products every year. They do this by observing the marketplace and looking at what type of events are showing growth – borrowing, adapting and expanding on ideas they've seen elsewhere.
"A lot of it is inspiration from what we see working in other countries. Race for Life was originally inspired by Race for the Cure, which is an event in America that the Susan Komen Foundation runs. We have a great relationship with them and still go and visit and share learnings.
"Shine, our night time walking marathon, was inspired by the Moonwalk. Our web team came to us saying that Moonwalk was the most searched for product on our website that we didn't have a landing page for so it felt intuitively like the thing to do. We now have about 20,000 people taking part in that."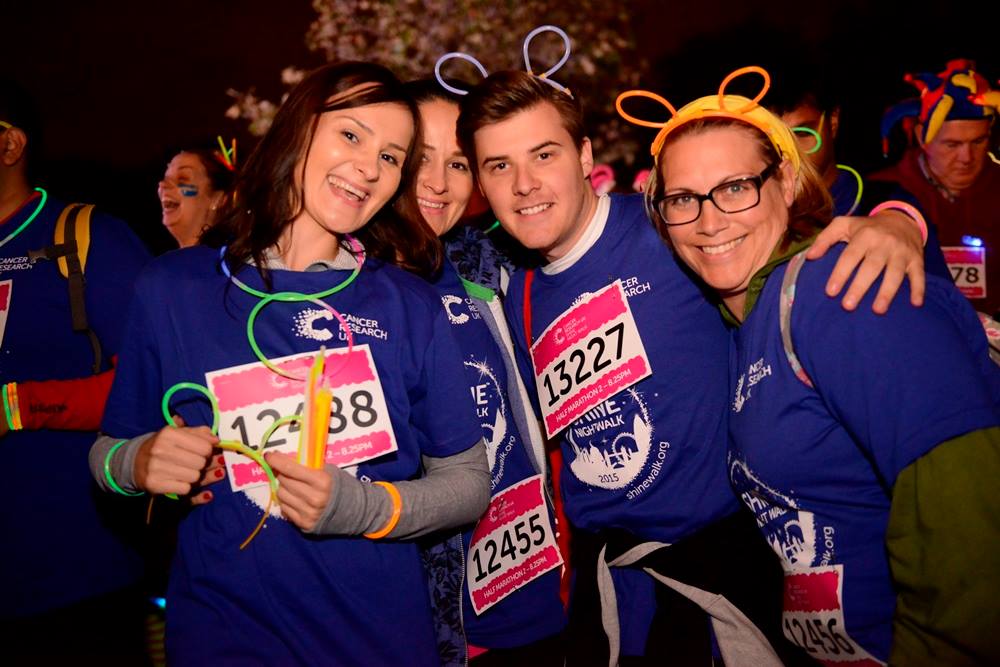 The team has even taken inspiration from an event put on by a supporter: "One of our supporters put on a water slide event in Derry in Belfast and that worked very well. We thought that's something we can deliver more easily than a volunteer so we launched SlideRider, which we trialled last year at the Isle of Wight Festival and Alexandra Palace. Inspiration can come from all over the place."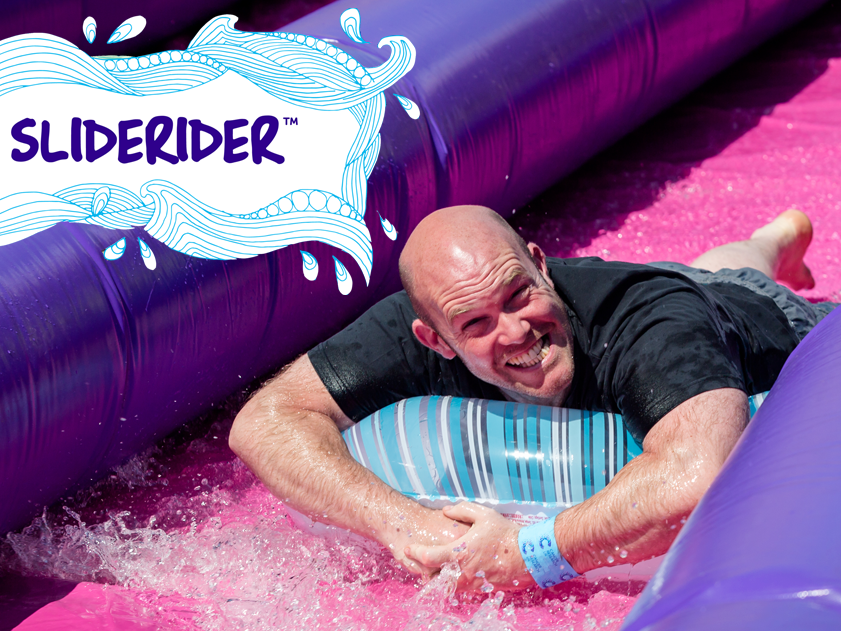 Last year also saw the launch of Race for Life's first marathon and half marathon – the UK's first marathon event just for women.
"That went very well for a first year. We got several thousands woman doing it and it had all the trademark Race for Life activity. The first woman who crossed the finish line was over 60 years old, which just felt perfect for us."
New for this year is Tough 10, a more challenging 10k run that's open to men as well as women.
"We wanted to give the guys something they could engage with," says Claire. "It's off-road, on the beach, across country or over undulating terrain. There are different things that make the courses tough and we've graded the toughness."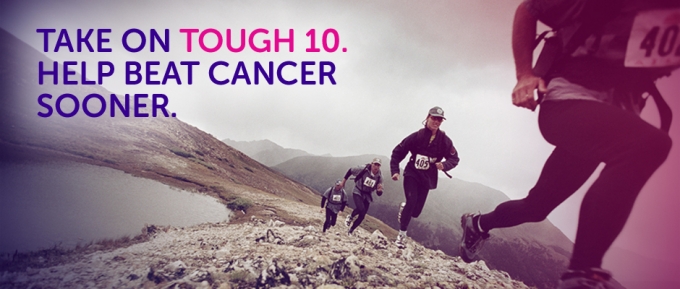 An important part of product development, says Claire, is providing follow on events for participants to ensure they continue supporting Cancer Research UK.
"We're also launching a hike in the Peak District later this year to target the walkers that do Race for Life, because we don't currently have many follow on products for them. We've got Shine but the night time element of it makes it not feel so accessible for some women."
I ask Claire if managing such a large and diverse portfolio of events is a challenge.
"I have the most amazing and experienced team. The senior managers and my Head of Department have all been here for such a long time. They're an incredibly strong and resilient group of people who I can rely on and trust so it's not as hard as it could be," she laughs.
What remains challenging, she says, are the things that are out of the team's control – including the death of cancer sufferers supported by the charity.
"Part of the event experience on the day is we'll have a patient on stage talking about how Cancer Research UK has helped them. We work with a lot of patients and survivors of cancer on regional press activity.
"It can be really motivating but sometimes unfortunately people who we've known for years and who have been fighting cancer will pass away, which is really sad. It's an unusual part of an event professional's job but kind of goes with the territory – there is jeopardy in a cancer patient's journey."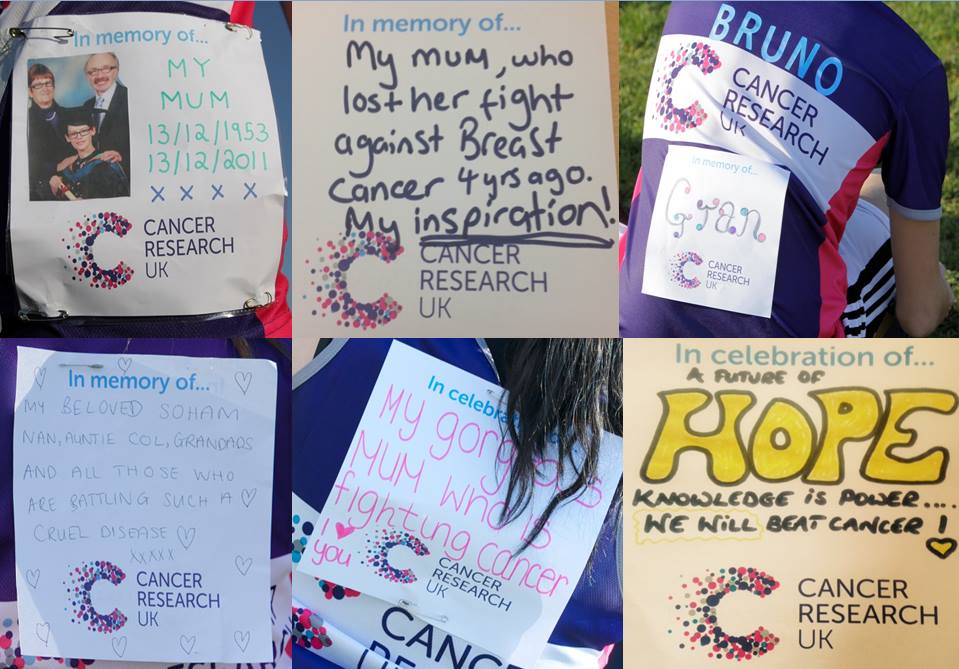 Meanwhile, other acts of God make the job an unpredictable one. Claire explains: "Sometimes our whole event series can be disrupted by things that are happening in the environment. When we had the foot and mouth outbreak a few years ago that disrupted so many of our events.
"Lots of farmland and parkland was closed and we often run through farmers' fields or park in them, so those sorts of things can be enormously challenging just because of the sheer number of events that we have and the number of changes we have to make under those sort of circumstances."
Despite it's challenges, Claire says the job is full of rewards – especially when you get to see first hand the difference made by the funds raised.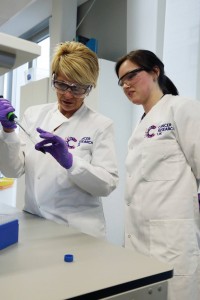 "You very quickly get bitten by the bug of raising funds to further our research," she says. "I've seen products that have been funded by Race for Life during my tenure that have already saved hundreds of lives and have changed the treatment path of lots of cancer patients.
"The greatest achievement is the impact we're having on survival rates because of the work that we're doing. I think the really lovely thing for the event team is they really understand how the work they do impacts Cancer Research UK's wider aims."
Looking ahead, the Cancer Research UK event team aims to continue it's impressive growth – it's aiming to generate £55 million in funds this year alone.
"We have a five and 10 year plan about growth. The event portfolio is a much greater part of our total income than is anything like standard in any other charity. It's a really important income and acquisition channel so the strategy is about maintaining that."
In order to do that, Claire recognises the need to continuously innovate – or be left behind.
"When we started we Race for Life, it was quite easy to be the number one event product in the market because there weren't loads of other offerings there, but now there's lots happening and lots of choice.
"We know the younger demographic want to be involved in the experiences more but we also know there's lot more on offer to them. People become tired of products more quickly – the most we could expect is four or five years before we have to completely refresh it. But we know that now and are on top of it."
Claire ensures she keeps her finger on the pulse by taking part in Race for Life events herself as well as other third party events.
"I'm doing Sport Relief Mile this weekend because it's important for me to see what other people are doing," she reveals.
"I'm definitely motivated by the new, which is part of the reason I've developed as many products for Cancer Research UK as I have – and hopefully will continue to do so!"