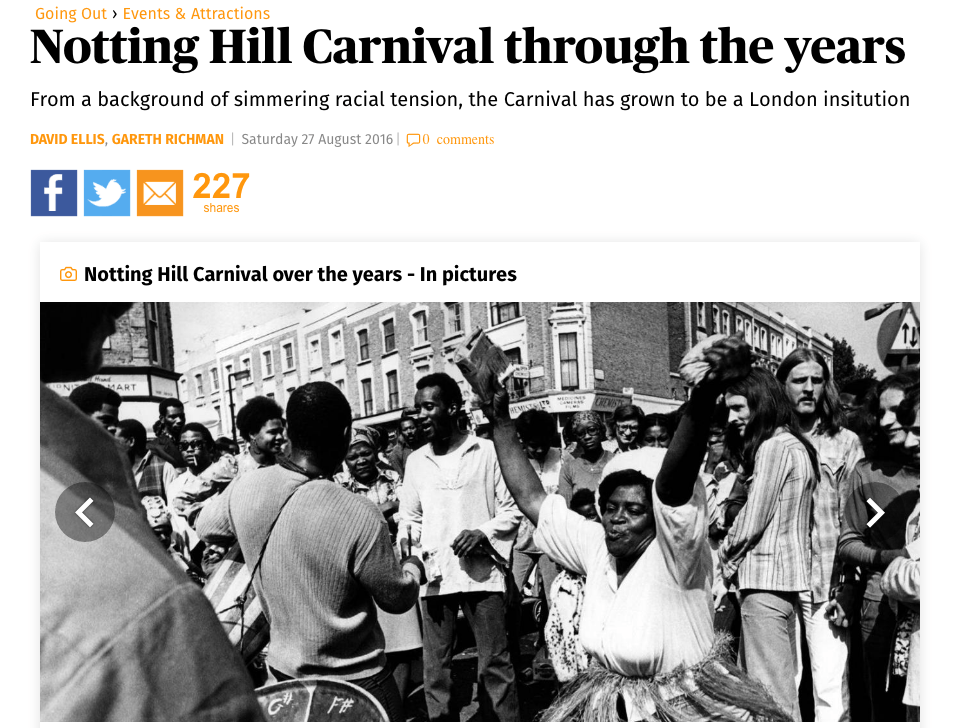 How to Create an Event Inspired by Notting Hill Carnival
Notting Hill Carnival events are a fantastic way to add to the celebration of history, culture, and freedom of expression epitomised by the West London extravaganza. The annual Caribbean diaspora festival has been a fixture in the city since the 1960s, and its messages of diversity, equality, and cultural appreciation are still celebrated today.
Event organisers will know that Notting Hill Carnival events can inspire guests to learn about the history of the carnival itself, celebrate its ethos, and add to the joyfulness of the occasion. When planning Carnival-inspired events, it's important for organisers firstly to be aware of the history and cultural context within which the festival takes place. After that, you'll need to carefully plan how your event fits into that context to ensure its success. This guide will help you to do both, so read on to find out how.
What does Notting Hill Carnival celebrate?
The first Notting Hill Carnival in 1966 took place against a backdrop of racial tension and violence. Devised as a street party for neighbourhood children for the purpose of promoting cultural unity, London Free School Co-Founder Rhaune Laslett set up the first organised outside event.
The event turned into a carnival procession when Russell Henderson's steel band went on a walkabout around the area. Steel pan music was a fixture of the indoor 'Caribbean Carnival' events first held in 1959 by Trinidadian journalist and activist Claudia Jones. Jones had started the events in her capacity as the editor of an influential London-based newspaper aimed at the Caribbean diaspora, The West Indian Gazette.
Today, the annual Notting Hill Carnival continues to espouse values of togetherness and community while heralding Caribbean culture in the UK. It's one of the world's largest street festivals, with an estimated 2.5 million attendees every year.
Types of Notting Hill Carnival events
Notting Hill Carnival itself is a landmark event in the British national calendar – so much so, in fact, that it was voted onto a list of English icons in 2006. Here, we look at types of parallel events that can coincide with the street party and add value to this joyous occasion in a number of different ways.
Notting Hill Carnival educational events
Educational events explore the history of the carnival and the local area, looking at the cultural importance of the first carnival and the lead up to it. These events are unlikely to be held during the actual carnival as they cover serious topics that can seem at odds with a party atmosphere. These events could include talks or local walking tours.
Anyone looking for inspiration for the latter would do well to review the approach taken by Black History Walks, who offer guided tours of London. The Notting Hill Black History Walk includes information on the race riots in London during the 1950s and 60s (particularly in Notting Hill in 1958), the arrival of the 'Windrush' generation of migrants from former British colonies, and their fight for equality through groups like the Black Panthers. The walk is so highly regarded that its content was subsequently used for a Pearson GCSE exam text book.
The history of the festival is, of course, just the starting point for Notting Hill Carnival events focusing on education. Engaging younger audiences about the ongoing relevance of the festival in today's multicultural society is an effective approach for this sort of event.
Pre-carnival events
Pre Notting Hill carnival events are an established tradition that date almost as far back as the festival itself. These parties offer a way to ramp up the excitement before the big day, and are often a kind of mini-festival in and of themselves.
Typically, these parties will have a Caribbean theme. They can be organised in different parts of the capital, or even outside London, as a way to engage those who otherwise might not be able to enjoy the atmosphere of Notting Hill Carnival itself.
Key components for successfully organising pre-carnival parties include getting the right music and making sure that the dress code matches the occasion. A Notting Hill Carnival-themed event should adhere to the traditions of the iconic festival, so Calypso music and a Caribbean island dress code are must-haves. Have a look at Invasion Parties'
Island Mania pre-carnival club nights for some style and music inspiration. These events often include goodie bags or giveaways with things like flags and whistles to take to the carnival.
Events during the carnival
Many events during the carnival celebrate Caribbean music, food and culture. While the festival itself is a non-stop adventure, smaller events taking place on the day can be a chance to take a step back from the action – especially if the venues are close to the carnival itself.
Zaiah Arts' Wotless event provides carnival attendees with a gift package, security, and drinks service on the road during the festival. Get Mad Entertainment host a Caribbean fête at an inside venue on the carnival route with a dance show, smoke machines, and DJs playing up-tempo, carnival-friendly music like Soca, Dancehall, Reggae, Bouyon, Afrobeat, and more.
While many carnival events take place in local pubs, bars, and clubs, some make use of alternative venues such as boats on the Thames. One such organiser is Live in Love Events, the creator of Strut Notting Hill Carnival Cruise. The cruise's founder, Oliver, explained why a cruise event works so well during Carnival:
"In Trinidad my friends and I hosted a cruise every carnival and it has always been a staple part of the carnival diary. Sun, sea, and carnival parties go well together! So when thinking of an event that had a link back to the islands but would also have a London twist, a cruise on the Thames seemed ideal."
Asked what advice he could offer to anyone wanting to create an event with true carnival spirit, Oliver said:
"Getting the right people and the right music – although rum helps as well! We aren't interested in customers coming to be grumpy or sit around. Come to jam!"
Notting Hill Carnival afterparties
Afterparties offer a chance to carry on the carnival fun into Monday morning. These can include club nights or afterparties in bars with special guests from performance artists and DJs.
Notting Hill Carnival events are renowned for their vivacity and exuberance. An afterparty keeps the celebration going in a secure, licensed venue for the safety and enjoyment of all late-night ravers and revellers.
Every year since 2010, event organiser Sun Bailante has put on The Hot Carnival Party, a Notting Hill Carnival afterparty that stays open until 5am after the street party finishes. Founder Jay says that the key to a great afterparty is, firstly, about the music:
"Get people to behave crazy on the dance floor with Soca, Dancehall, Afrobeats, Shatta, Bouyon, Kompa, Zouk, and more…! What we do is recreate the carnival in a club environment."
Just as important, though, is his insistence that event creators should understand and appreciate the cultural significance of carnival before trying to replicate its spirit in an accompanying event:
"Get your inspiration from the Carnival itself! I am… from the French island of Reunion. Our music is very similar to the Caribbean islands', and we've got many things in common. I've been to Trinidad and Tobago to experience their carnival, and I've spent many years going to Notting Hill Carnival.
"[You have to] do something true: respect the culture and people who have been doing it for over 40 years now."
Join the celebration by creating a Notting Hill Carnival event
Sign up with Eventbrite to get started on your Notting Hill Carnival event today, and find out how our tools can streamline the event creation process.