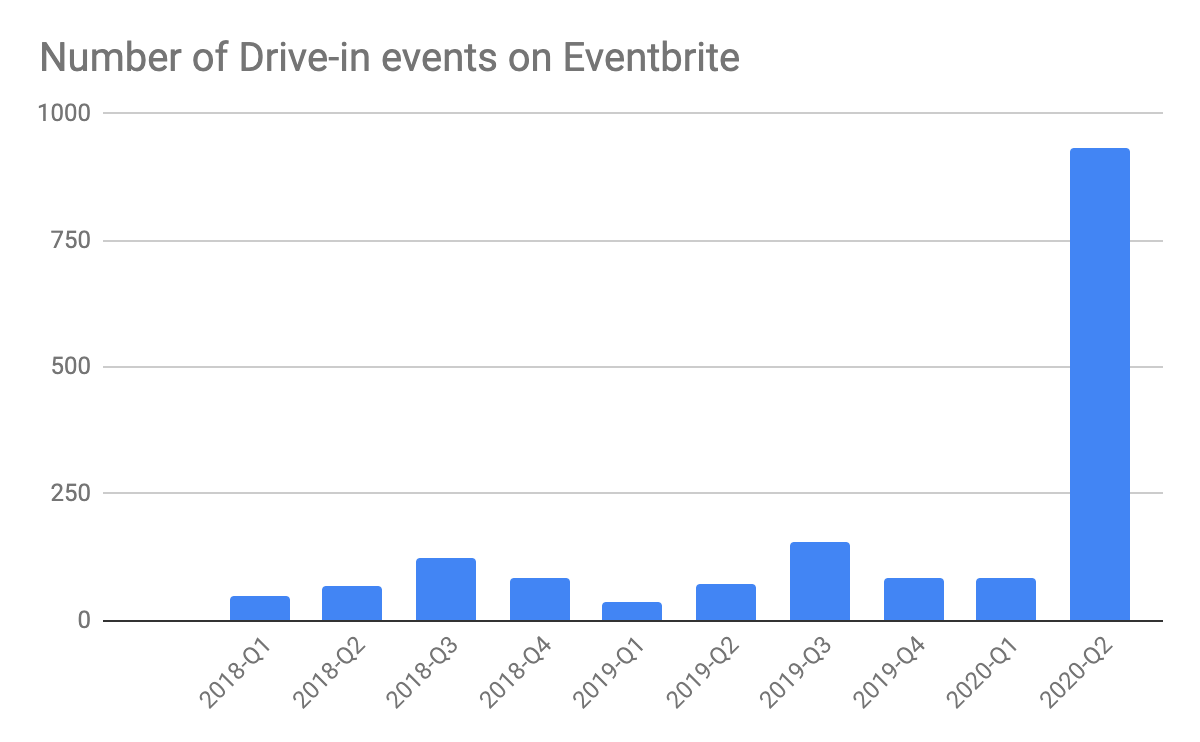 Drive-in Events Boom as UK Starts to Emerge from Lockdown
As the UK lockdown gradually continues to lift, Brits keen to get out and experience anything reminiscent of the in-person entertainment of pre-COVID will be thrilled with the news that from this week, we're able to attend drive-in events again.
The current choice of drive-in events is unprecedented: As well as the traditional cinemas of days gone by, creative hosts have started offering alternative drive-in events as diverse as church services, live concerts, comedy shows, and even fitness classes. You can find a selection of various drive-in events around the UK here. 
On our platform, we have seen a boom in drive-in events around the globe since lockdowns were implemented. We've already hosted more than a thousand drive-in events this year – more than nine times as many as in the same period of the previous two years. And with the busiest month for drive-in events typically being August, numbers may continue to rise well into the summer.
Drive-in events "green shoots of a revival" 
Sally Pigott, who leads outdoor events at Eventbrite UK, commented: "These numbers are really exciting for event creators. They represent the green shoots of a revival – the beginning of the comeback of the live events industry, which has been under so much pressure over the past few months."
"Drive-in events really are the perfect interim step for consumers. They give people a chance to get out of the confines of their living rooms and experience something fun together with other people, all the while maintaining the clear social distancing that comes from being within your own vehicle."
Max Fox, Director of International Shows said: "In the thick of lockdown I was thinking that once the restrictions are lifted, venue owners are not going to open up all the theatres, nor the cinemas, and customers are going to be scared of visiting venues where they're close together. It was from that moment that I came to the realisation that drive-in cinemas would tackle the problem.
We've got a really detailed process of how we're getting people in and out," he explains. "It's pre-bookings only. They'll arrive, they'll be scanned contactless with a QR code scanner, and they'll tune into an FM radio frequency to capture the sound." And when attendees fancy something to eat, Fox has a solution: "We're currently having an app made so people can get food and drink delivered without leaving their car."
Are you a journalist?