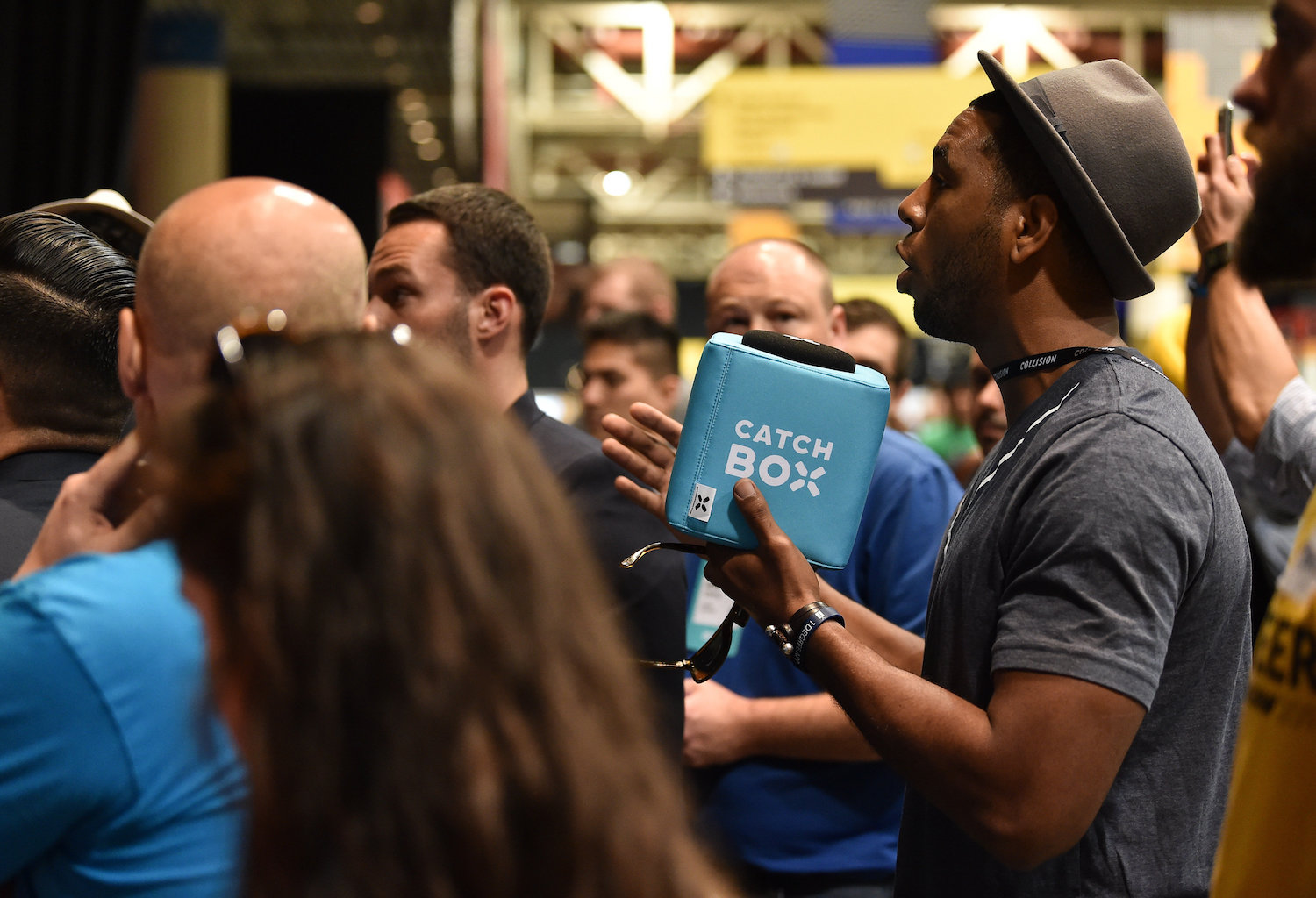 Six Tips To Enhance Audience Engagement At Your Next Live Event
This is a guest post from Martins Vilums from Catchbox.
Have you ever been to one of those conferences where you're bored out of your mind? The speaker drones on, reading from their notecards or plain white powerpoint slides, and it takes ages for the microphone to be passed from audience member to audience member while everyone waits in awkward silence for the next question?
Yeah, we've experienced moments like that, too.
That's why we wrote this article.
We think that audience engagement at live events could use a little bit of improvement. Engaged audience members participate more, learn more, and are happier. If you want participants to keep coming back to your event, engaging your audience is key.
To get your audience engaged, you want to get them thinking, spur their emotions, and make them feel important. How do you do that? We've got six tips.
1. Prepare ahead of time
You can't just jump on stage and hope for the best. Even the most famous public speakers don't just wing it. Make sure that you plan ahead by assessing who your audience is, why they're attending the event, and what their questions or problems might be.
This point, more than any of the others, is going to create massive engagement. Nothing else matters if you struggle at this point.
So how do you do it? Speakers need to tailor the content to their audience. You'll speak differently and include different information when speaking to college students versus software developers. Smaller events are easier to control, so if you have the option, aim for a smaller and more connected audience.
When possible, make sure to also review the technical details of your speech beforehand.
What will the lighting be like?
Will there be time for Q&A?
Can you walk around and interact with the audience?
What type of sound system and microphone will be used?
The more details that are settled beforehand, the smoother everything will go.
2. Choose key speakers wisely
Your key speaker should be the main event. With that said, charisma isn't enough for a key speaker. You want to make sure that your key speaker has some celebrity status, is knowledgeable about the topic they're speaking about, and is interested in interacting with the event participants.
Encourage audience engagement by allowing your key speaker to interact with the audience through a Q&A session or moderating a panel. Provide your key speaker with as much information about the main focus of the event and the audience members as possible so that they can prepare and tailor their speech to encourage audience participation.
3. Work the room
Not every event and speaker has to be featured on a big stage at the back of the room. Consider setting up the room in the way that will encourage audience engagement and enjoyment.
Make sure that the space is comfortable for sitting long periods of time, isn't too cold or hot, and that everyone will be able to see and hear the speaker.
4. Stage a live poll
Want audience engagement? Then ask them for their opinion.
There are a few ways you can hold a live poll. This can be as simple as asking a question and having audience members raise their hands in response. Or, maybe you stage an online poll. Ask participants to respond to online questions using hashtags on social media or a survey that's projected onto a screen.
When you make audience member's feel like their opinion matters and that they get to contribute to the conversation, they feel special and more engaged with the speech and speaker.
Bonus: the data you collect can be included in a future event!
5. Use the right technology
Technology can be a benefit and a hindrance to audience engagement. We can now have larger events because of the sound technology that was invented. We can also use recording equipment to broadcast the speech online or record for others to watch later.
But then there are also the drawbacks. We all know the feeling of waiting and watching the event staffer who's been tasked with passing the microphone through the audience during the Q&A session. Ugh.
There's a solution for that. Catchbox, a soft, wireless microphone can be tossed from audience member to audience member. It solves the problematic awkward moments between questions and adds a little laughter and levity to any event.
6. Provide tweetable moments and hashtags
When you're trying to encourage audience engagement and participation, you want to make it as easy as possible. One easy way you can get your audience participating is by providing hashtags and tweetable moments.
Hashtags help to curate and collect all of the social media posts made by the event participants. It also helps people see what others at the event are posting about. A tweetable moment is a deliberately-said short sentence that summarises the content being discussed and is the right length for people to quote and post on Twitter. This gets the audience posting online and interacting with the event speakers.
In Conclusion
No matter what your event is, you want your audience to enjoy it. One of the easiest ways to improve your audience's enjoyment of an event is to enhance the audience engagement and participation. We hope that these six tips help you to make your next event the best one yet!