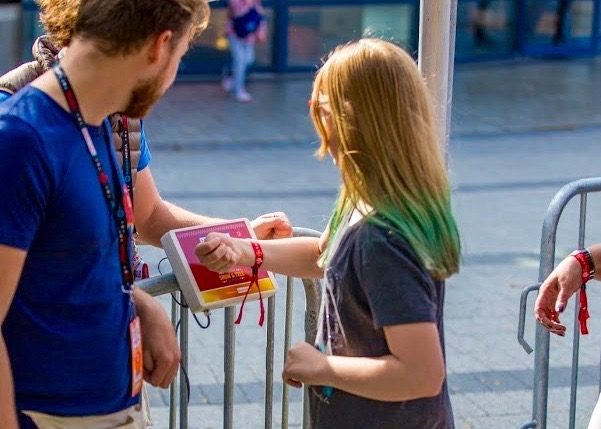 Entry Management – Getting it Right at Your Event
Large events with high volumes of attendees mean hundreds, if not thousands of people trying to access an event site at once. Sophia Schenkel is Eventbrite's in-house expert in entry management for Europe, working with event organisers to make sure everything runs smoothly.
Sophia uses her experience to act as an operational consultant in areas like the design of entry gates, establishing the right ratio of staff, addressing security needs, and recommending the best technology for the job. We asked her to share her advice for getting entry management right.
What goes into the successful planning for entry management at large scale events and how far in advance does it need to start?
"Understanding where the attendees will be coming from and how they will access the site is the first thing. This needs to happen at the point when you find the site of your event; a year ahead.
"You need to consider where the bulk of the traffic will come from and how you're going to manage that. For example, you might have more people coming through a certain route because it's closer to London. It's possible to get permits for traffic control to make sure entry points have evenly distributed numbers of attendees coming through them. Planning how many gates you're going to have is the second step."
How do you work out how many gates are needed?
"The number of entry points you need depends on traffic and the number of attendees you're going to have. There isn't a mathematical formula because every site is different and every infrastructure of field and event locations pose their own challenges.
"It's understanding things like how many car parking spaces you have and how many people will be coming through the door and when. What's your line-up like on the first day? Are you anticipating crowds will come really early because you've booked some great artists early or have you booked them for later on so people can trickle in? Are you incentivising people to arrive early, for example by offering a souvenir at the door? All these factors influence it."
Are there any other considerations that come into gate design?
"In good entry management it's important to think about the experience you want attendees to have. If you are providing different tiers of tickets i.e. VIP or premium, do you want everybody to come through the same gate? If you do, then that's quite easy, but if you want VIPs to be fast-tracked and you want to accommodate things like having a disabled entrance, you're going to have to think about having more staff.
"You also want to think about the demographic that's attending your event – how heavy does security have to be? For example, if you have an event where the security has to be quite tight, you have to bear in mind that patting someone down and doing a bag search can take a couple of minutes, versus scanning, which takes seconds. In that scenario, you may need five security officers going into one ticket scanning lane. Those things are vital in making sure there isn't any major build up and the lanes run efficiently.
"Another thing is making sure you have the gates set out adjacent to the infrastructural needs, like shelter from bad weather, power and internet. You need to design somewhere your staff will feel well equipped and comfortable working for up to 16 hours a day."
What are the options for checking attendees in?
"If you're using Eventbrite for ticketing, you can choose whether to print your ticket or not. You get your ticket as a PDF in your email confirmation and you can put it into your iPhone's wallet, the Eventbrite app or use the Facebook app if you purchased them that way – it's really up to the attendee and not the organiser. We can handle any form of ticket once it's got our QR code on it, which can be easily scanned using any mobile device with our Organiser app.
"There are different styles of check-ins for different events. With running races, for example, we have this feature called 'secondary code assignment'. We scan the attendees' tickets and their bib number, which also has a QR code. That means we're pairing their race number with their ticket so if for example they have a medical emergency and the attendee is unable to communicate, we're able to identify them just by scanning their bib."
Eventbrite now has an RFID access control solution. How important is RFID going to be in entry management?
"RFID revolutionises access control in that it really limits the opportunity for fraud and secondary ticket selling. The chips are encrypted with the attendee information and you can't clone them. This is going to be a game-changer.
"The other main benefit is you can send out wristbands in advance which really minimises the need for a customer service team onsite. On the gates there are tap portals with one member of staff able to manage up to three posts, which means you can really cut down on staffing costs. Mapping your site into several zones to really understand what the attendees' movements are like is what I find really interesting. It gives organisers the power to redesign their festival site and evenly distribute attendees to avoid bottlenecks for future events.
"RFID can also facilitate cashless payment. Attendees just top up their wristband with cash and can use it to pay at the bar or merchandise stalls. The wristbands will store attendee information including someone's age, so for a festival where children are attending, the risk factor of serving alcohol to minors is minimised massively."
What's the biggest event you've helped manage, and what did you learn from that experience?
"We've worked on lots of large events with many thousands of attendees, the largest having 50,000 attendees. Often these attendees are all arriving in a few hours, so it's vital that things run smoothly.
"We work with the organisers to help speed up the entry process, by doing things like putting scanners onto holsters so staff don't have to try to hold the scanner, ticket and wristband all at once. We also have a really well thought out policy on entry, and customer service so there's no confusion what staff should do in certain scenarios; for example if the attendee doesn't have the right name on their ID."
Do entry management requirements differ depending on the type of event?
"Yes they do. Entry is not the same for every type of event even though you might be processing a similar volume of people. Approaching each type of event or type of customer in a different way is really important.
"Just in the festival world there are so many different styles of festival, for example a festival on a farm that attracts older people with an interest in agriculture. These attendees might not necessarily be as stressed about arriving onsite at a specific time, but just want is to be well informed and get good customer service. They might even want to stop to have a chat with you, so the entry will be far more relaxed and staffing requirements will be lower.
"Understanding your audience is super important, especially for large events. You need to think, what would be the smoothest and easiest entry experience if I were attending this event?"
In your experience, how long are attendees willing to queue for?
"In the UK, people are quite used to queueing but elsewhere in Europe they get pretty upset if they queue for longer than 20 minutes. Queuing is never ideal but solving this potential problem also requires resources from the organiser; like how many staff and security they can get.
"As great as our technology is and as fast as we can scan tickets we need the right amount of people to facilitate a smooth entry."
What are your top three tips for anyone trying to run their own entry management ops?
"Firstly, when you're setting up your Eventbrite event page, enter as much information as possible. Help attendees to really understand things like directions, give advice on appropriate footwear, or inform them to expect a certain road to be busy and consider taking an alternative route. It makes people happy knowing these things in advance.
"Communicate with and engage your attendees in advance of the event. The worst thing is when people turn up to the gate and have already had a bad experience because you haven't been forthcoming with them. This also holds up the lines as you'll find your scanning staff acting as information resources.
"My second tip is to hire people that enjoy working at events. They're going to want to go and see the festival after their shift and they're going to treat your customers really well – that's half the job.
"Thirdly, as I mentioned earlier, have a really good set of processes for customer service. Try to anticipate the problems customers might come up with at the door and decide how you want to deal with those in advance of the event. Make sure staff are well prepared for various scenarios and empowered to make decisions when they need to."
What are the most common problems that arise?
"People forgetting their tickets or people buying tickets fraudulently. A lot of fraud happens at festivals. Another common one is people turning up at the wrong entrance with the wrong ticket, i.e. a general admission ticket holder at the VIP entrance or vice versa. If you're using Eventbrite, our Organiser app makes it easy to restrict certain ticket types to particular entrances so that you can avoid any confusion or confrontation around the attendees' access level.
"Then there are the people who want to file a complaint or get a refund. It's having staff with those soft skills who can deal with irate customers in a calm way and deal with problems efficiently, without unnecessary drama, which usually gives the customer their expected resolution."
How can Eventbrite help large scale events get their entry management right?
"Whether you're using RFID, a regular scanning event or you're selling tickets at the door, it all happens in one app. You can control your entire event from the Eventbrite Organiser app and you have all the information to hand. For example, if someone has lost their ticket and you want to resend it and make sure the person in front of you is the original ticket holder you can ask for their credit card details, address, emergency contact – anything you asked for during the ticket purchase process is all there.
"You can check-in attendees using hundreds of devices simultaneously and see in real time how many people are being checked in at various locations. Organisers can see how many people are being processed per hour and how their sales are going. They don't have to physically be at those locations to find out. That's huge, and that's why organisers love it."
Conclusion
There are many factors to think about when it comes to access control and entry management at large events. If you've never run the event before, these can sometimes be hard to predict.
You'll undoubtedly learn by experience, but if you could use some additional expertise, Eventbrite can provide on-site consultancy and staff training, helping ensure you get it right from the start. Speak with an expert today!