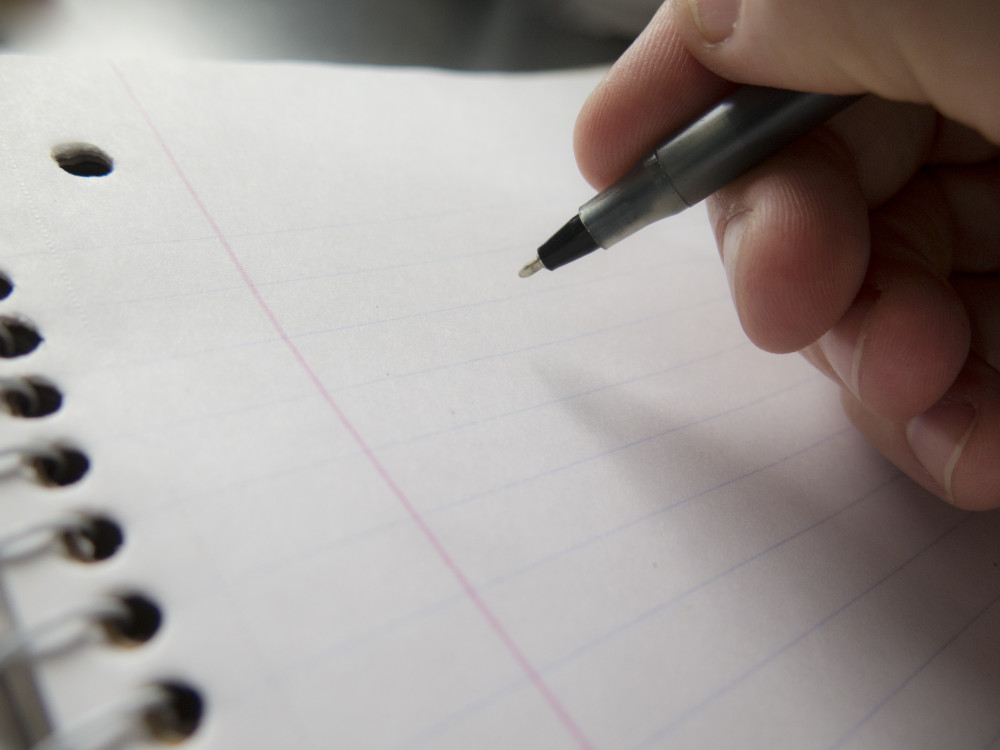 10 Event Pages with Stand Out Copy to Inspire You
Setting up your free Eventbrite page is very simple when it comes to the technical side of things… but you're not alone if you find the thought of writing copy for your event a bit daunting.
Perhaps you know what you want to say but don't quite know how to get the words down on paper? Getting the details in the right order, finding a strong angle and generating excitement is all part of the art of copywriting.
One of the best way to hone your copywriting skills is to look at what others are doing, find examples you like, and imitate (while adding your unique take on them). To get you started, we've compiled 10 examples of Eventbrite events with excellent copy to provide the inspiration you need to get scribbling!
(p.s. Don't forget to also download our Ultimate Guide to Copywriting for Events for a full-on tutorial on writing killer copy.)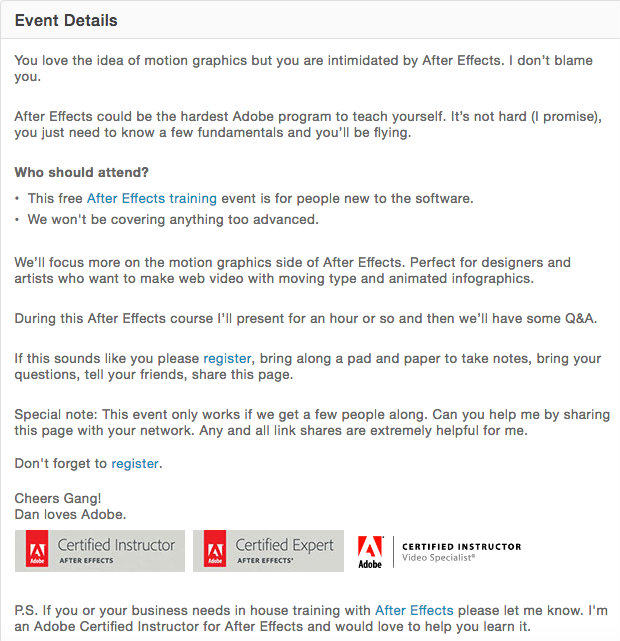 Specialist computer software programmes can be intimidating for those unfamiliar with them, but the title of this event works to put the reader instantly at ease.
An awareness of the emotions readers may be experiencing is shown too in the first line, by identifying their problem and showing sympathy.
The writer takes pains to reassure the reader, promising it won't be too hard and writes in a friendly, personal manner. It's a very low-pressure approach and feels kind of like a mate asking you to hang out for an afternoon.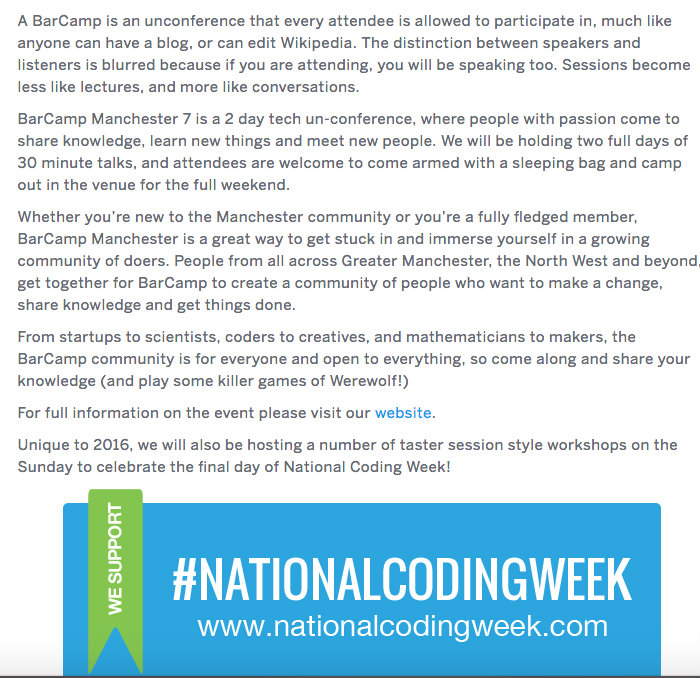 The best events are interactive ones, where participants are given a chance to really get involved. BarCamp makes it clear that the attendees are the star of this show, clearly explaining the collaborative concept.
The copy makes potential attendees feel they themselves may have something valuable to offer the event. All too often sales copy is only focused on what a product or service can offer a consumer.
BarCamp's copy also includes some fun alliteration and humour to set a bright and breezy tone.
Digital & Democracy – Talk from Obama Digital Director & Panel Discussion, Dublin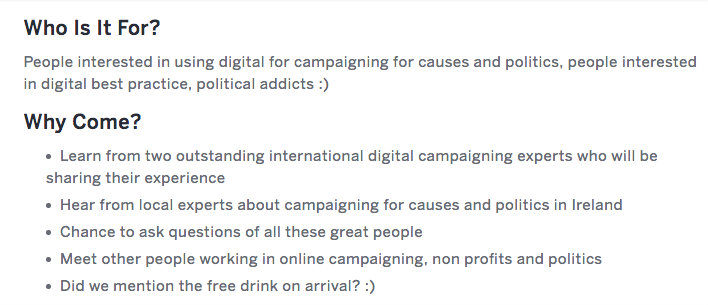 Name-dropping might be considered brash when it comes to social chatter, but for attracting attention to your event it's a smart move. This talk includes a speaker who worked on the Obama campaign, which they've highlighted in the title.
Another noteworthy aspect of this event's copy is the way it is broken down to answer the questions of the reader. Quickly and effectively it tells you who the event is aimed at and why you should want to come – two very important areas to address in any event description.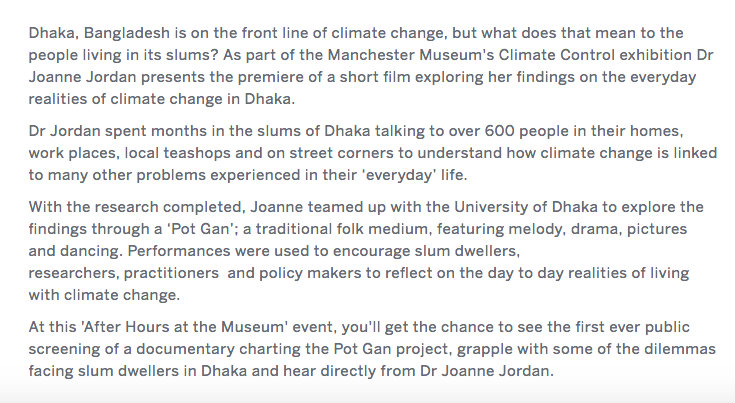 Thinking about a talk on climate change might give rise to visions of dry scientific fact presented in a stark lecture hall. This event dispels that notion by spelling out that it will be a 'lived experience' of climate change i.e. it will tell the true stories of the people affected.
The copy itself paints a picture, describing evocatively how Dr. Jordan went about her work. Meanwhile we get a feeling of a far away land and a culture different to our own through the description of the 'Pot Gan'. It's clear this event will be much more than a standard lecture, challenging the attendee to put themselves in the position of the slum dwellers and 'experience' the proceedings.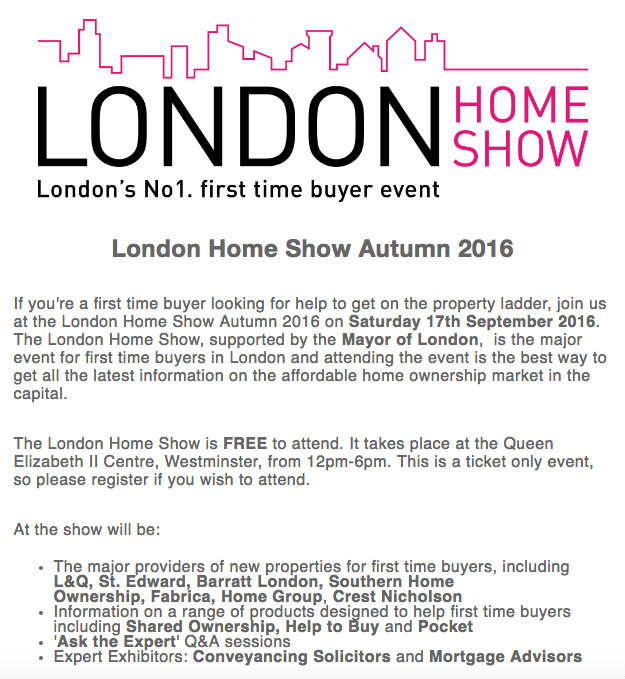 You don't have to write reams of copy to get attendees interested in your event. The London Home Show does a great job of summing up who it's for and what its got to offer them in just one short, compelling paragraph. It takes the "does what it says on the tin" approach, without any unnecessary waffle.
The writer also helps guide the reader through the text by using bold, upper case and bullet points to draw attention to the show highlights.

The description for Showtime brilliantly embodies the event's character. It's fun, it's flirty and instantly gives you the flavour of what's in store if you buy a ticket.
It embraces tongue in cheek superlatives like 'sumptuous' and 'dazzling', giving it an almost tangible voice (I'm hearing Dame Edna Everage, I don't know about you?) The lesson here is don't be afraid to give your event a personality!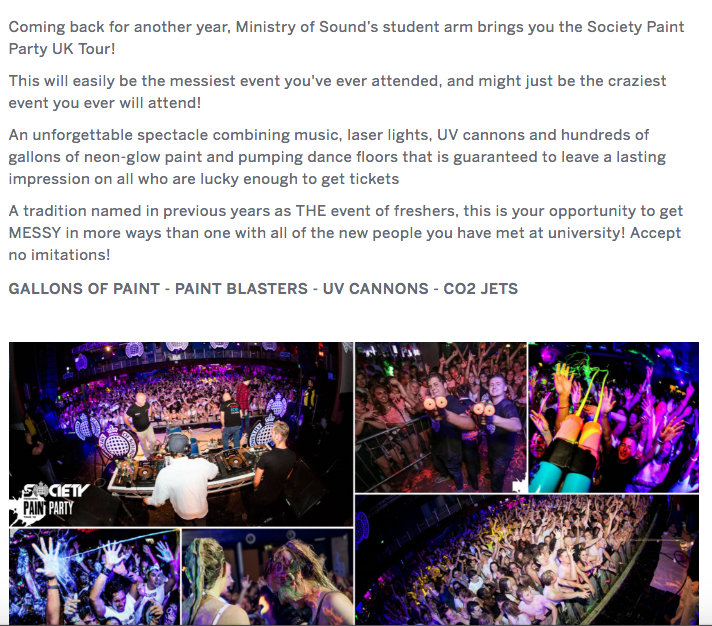 If you're targeting a younger demographic, it's important to use language that will really excite. You can leave subtlety at the door and 'go crazy' with the exclamation marks!
While this type of copy might seem a little cheesy, it's just the ticket to get hoards of freshers hyped up about the event. To reinforce the night's most important features, there they are repeated – in bold upper case – at the end: GALLONS OF PAINT – PAINT BLASTERS – UV CANNONS – O2 JETS. Sounds fun, eh?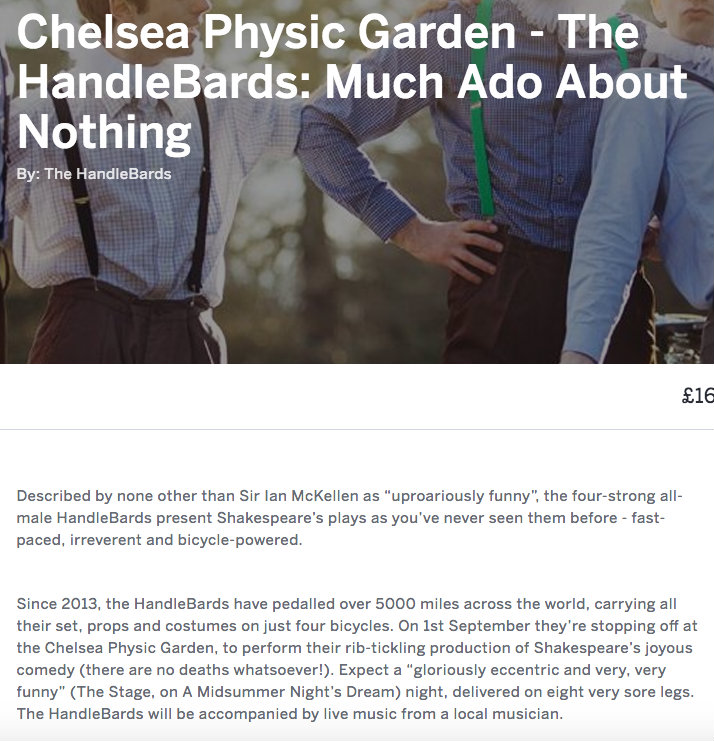 Testimonials and reviews can have a real influence on potential attendees' decision to buy a ticket. Including 'social proof' in a prominent position is always a good idea. The Handlebards have used their most powerful piece of praise in the very first sentence, also benefitting from a bit of name-dropping as it comes from no less than Sir Ian McKellen.
They make a second use of the tactic later in the text, with another great quote from The Stage. Combined with the Handlebard's own well-written, humorous and engaging copy, this makes for a winning event description.

Here's another good example of consumer-centric copy, tapping into the desires of the potential attendee right from the off and calling them to action. It goes on to detail all the things attendees will be able to do at this show, using plenty of action verbs such as 'explore', 'speak', 'meet' and 'discover'.
When writing your event copy, always ask yourself these questions: 'Why does it matter to my target audience?' 'Why should they care?' When you're so close to your event, it's all too easy to lose sight of this and create copy that's lacking in relevancy to your customer.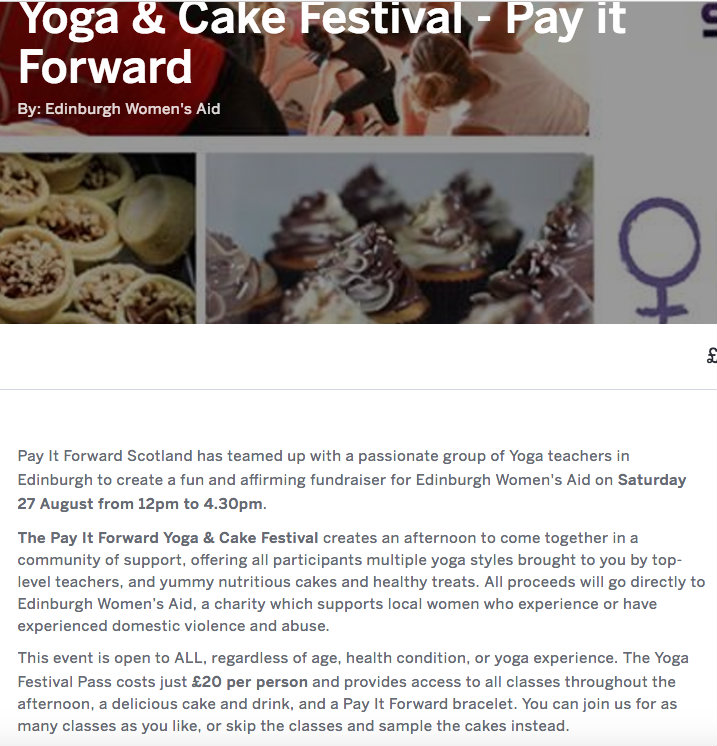 Firstly, this event had me at the name. Yoga and Cake are an unusual but beguiling pairing (I'm envisaging people in the downward dog position munching cupcakes) and the suggestion that you can benefit someone other than yourself by indulging in these two things is even better.
The main copy for this charity event strikes an equally feel-good tone and aims to make everyone feel welcome, talking of 'support', accessibility for all abilities and freedom of choice i.e. do as many classes as you like or simply come for the cake. Expressing inclusivity – especially for a fundraiser – is a good tactic to maximise your event's appeal.
Conclusion
Words can compel your audience into action and push them through to ticket purchase, so it's worth spending some time getting them right.
Using these best practice examples as inspiration, have a play with different styles of copy and experiment until you find the right 'voice' for your event. The more you practise the easier it will become!
And don't forget to grab our complete guide to copywriting to help you really master your skills as an event manager who can write to sell.