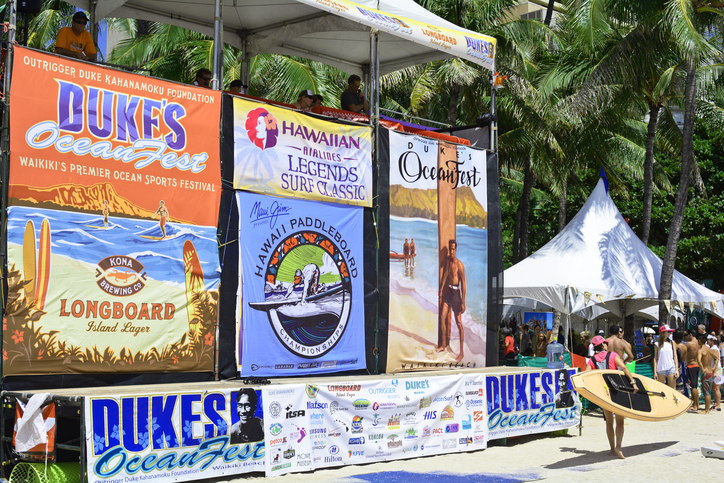 10 Event Sponsors Reveal Why They Chose To Support Events
Attracting a sponsor can help take your event to the next level, but with so many events vying for support, it's not always easy.
To help guide your approaches to potential sponsors, we thought we'd ask those people controlling the purse strings what it is they actually look for in an event sponsorship opportunity.
Hear right from the horse's mouth why these 10 event sponsors chose to support events and discover how to tailor your own offering to make it more attractive.
1. Paul Stanley, Cloven Hoof Rum
"At Cloven Hoof HQ we get asked to sponsor tons of events but we say no to most straight away especially when all the organisers are after is a stack of cash. We look to sponsor events with a similar ethos to ours, like Breaking Bands Festival, where we can support each other and both benefit in a decent, honourable way.
"We do events where the organisers have a like minded passion and this normally revolves around heavy music of some description. We sponsor events where we have control on the price of Cloven Hoof – there's nothing worse than being stitched up by a big corporate brand and paying over the odds for a cheap drink.
"When it comes to the size of festivals we tend to prefer the smaller ones as they look after the bands better and do their best to give something back. It stinks that at some of the bigger festivals the headliners can command huge fees and as a result, some of the smaller up and coming bands end up paying to perform.
"We can't wait to Raise The Hoof at Breaking Bands – everything about it has the right vibe and is in keeping with our brand and morals."
2. Laura Jamieson, Lookers
"We have worked with Metro Radio NE for a number of years, mostly through booking radio time for the brand. When the opportunity to support their Live From Times Square music festival in Newcastle came around, we jumped at the chance.
"The headline sponsorship position would allow us to support one of the region's biggest musical events while generating more awareness of the brand at the same time. It's a lot easier when you have a good working relationship with the event organiser, as it makes sorting out the details so much easier.
"The event ran across one weekend and attracted over 15,000 music fans who turned out in force to see artists like Fatboy Slim, Maximo Park, and Ocean Colour Scene. The sponsorship position also included promotion by Metro Radio, both on air and online in their coverage of the festival. We made use of promotional items, such as beach balls and sunglasses, which were printed with the Lookers logo.
"We also promoted Live From Times Square with a competition to win tickets to the Friday night Fatboy Slim set along with overnight accommodation, which was circulated through our Facebook, Twitter, and Instagram accounts. This got a great response, and it was nice to be able to send one of our followers to such a great event."
3. Martin Woods, SALT.agency
"Getting out of the office to attend meetups and events is very important for us at SALT.agency. As a technical SEO company, we're in a continually changing and fast-paced industry. Having an event scheduled well in advance leaves us no excuse for not keeping our knowledge levels up to date, and ensuring that we're always learning.
"Sponsoring Take It Offline Leeds, a free digital marketing roundtable, was an excellent opportunity to meet up with old friends as well as making new ones, to discuss the latest industry changes.
"As well as experts in the industry, the event is attended by local businesses and heads of marketing for large corporations, therefore it was a chance for us to explain our skills and key areas to potentially interested parties.
"We had the chance to present our business and got to help run the actual questions, which helped us to point in certain directions with the topics. We were also promoted on all email contact, highlighted on the website and had a large banner setup at the event."
4. Amy Kilvington, Blinds Direct
"Every year our local town has a Duck Race. Hundreds and hundreds of plastic ducks are raffled off and then released into the river, and then followed downstream to the finishing line. The winning duck wins its owner a huge hamper of goodies. It's a big community event with lots of stalls, food and games on offer – but of course, the main feature is the ducks! Local businesses have the opportunity to sponsor a duck, but we decided to go all-out and sponsor the whole event.
"As a business we are dedicated to our local community, providing employment opportunities, work experience placements and giving something back to charity. And though our company works on a national scale, with a 200-strong team, we still see the value in the smallest gestures to the community.
"In return for our sponsorship, we received a dedicated page on the website, were mentioned on social media, and our logos were featured in artwork across the event (as well as being emblazoned on some of the ducks!). The whole day was great fun and we received lots of positive feedback. We also received three job applications for our manufacturing department the following week, and all applicants lived in our local town – we like to think the Duck Race played a part in this!"
5. Mark Bechtholt, FameMoose
"We chose to support Startup Weekend when it came to our city because we thought it was a great community event that could attract a lot of potential tech talent to our brand. I had participated in a Startup Weekend previously and had made some strong connections there and thought we could get great product ideas as well as build relationships with talented engineers, product managers, and designers.
"From my experience at Startup Weekend I actually reached out to their team to see what was possible if we were to sponsor the event. The organisers gave us a lot of options of how we could sponsor the event including our own table at the event and the option of providing a prize to participants.
"We opted to let our own employees go to the event and participate and provided prizes for any teams that worked on products that could help our brand. It turned out to be a really successful event for us as we were able to get some great product ideas that made their way into our roadmap and were even able to hire one of the participants from the event!"
6. Chris Gronkowski, Ice Shaker
"My company Ice Shaker sponsors the Rob Gronkowski Football Clinic. It's organised by ProCamps and taught by my brother, who plays for the New England Patriots. I am a former NFL player too. We sponsor this event because we love the kids and feel that athletics is not only fun for the kids but also a great way to learn leadership skills and live a happier and healthier life.
"We reached out to ProCamps and asked them if we could donate proceeds to the camp. They offered to put our product and banners up during the camp and also an announcement to the entire camp about the features of our product."
7. Cristian Rennella, elMejorTrato
"elMejorTrato is the biggest online comparison tool for financial consumer products in South America. We sponsor all developer events in our city. This allows us to be very close to the community of programmers and eventually be able to hire the best talent.
"The best event planners contact us first directly by LinkedIn or Facebook. Then we coordinate a meeting and receive them in our offices where we define how to work together.
"They offer us the possibility of providing a small presentation of our technical challenges (with new technologies) that we are working on. This allows us to see if anyone in the audience can help us or are interested."
8. Shannon McKinley, TicketCity
"TicketCity is a secondary ticket market located in Austin, Texas. We primarily sell sports, concert and theatre and often focus on some of the larger events like Super Bowl, Masters, Hamilton and Coachella. However, we wanted to align ourselves with the city we call home, Austin.
"Austin locals pride themselves on shopping local and supporting local. So, our goal was to show the people of Austin, Texas that although we are a large brand who sells for major events, we appreciate our city.
"Events we have chosen to sponsor include Blues on the Green, which is an outdoor concert series at Zilker Park, and Amplify Austin Day, a city-wide day of giving where for 24 hours local non-profits, companies, and individuals work together to raise money. Last year we raised almost $10 million dollars.  
"We also sponsored SXSW, where we threw a free party in a historic home, which included a panel session with members from major companies like HomeAway and Uber. Our panel was titled: 'Power to the People' and discussed 'The Modern Marketplace' for tickets.
"The idea was that you get into a car with a stranger you met from the internet and let them drive you, you stay in the house of someone who listed it online, you buy an airline ticket from an aggregate site only affiliated through an API. However, when you utilise the same infrastructure for event tickets it carries a negative connotation. Our goal is to restore trust to our buyers by positioning ourselves as a trustworthy and convenient source for consumers.
"The one-hour panel and Q&A was followed with a party where two different performances occurred. These performances were shown on Facebook live as part of the award-winning Austin 360 Studio-Sessions – a brand new music series sponsored by us and Bud Light. The concert included The Wild Now and Julian Acosta."
9. Wyatt Jozwowski, Demio
"We recently sponsored an internet marketing event held in Las Vegas called The 10 Pillars of Wealth. We chose to sponsor this event after they reached out to us with the opportunity to speak to 700+ business owners.
"Since the event was filled with higher level business owners looking for more ways to market their products, we figured it would be the perfect audience for Demio, which is a webinar platform built for marketing and sales.
"In exchange for a percentage of all sales we made during the event, we were given a speaking spot and a booth near the entrance. This event allowed us to get dozens of new customers in a single weekend, as well as capture 100+ qualified leads that we were able to follow up with afterwards. It was a huge success!"
10. Damon Gochneaur, Aspiro Agency
"My company, Aspiro Agency, sponsors both conventions within our industry as well as multiple charity events. Our event sponsorships are a perfect opportunity for us to create brand awareness with new audiences, as well as to solidify our relationship within our community.
"With our last charity event, the Do it For Durrett foundations' Night at the Ballpark, we were approached because of our involvement with other events, and offered an exclusive chance to partner with a local MLB sports team, as well as with an excellent local charity.
"Ultimately we chose to sponsor the event because we felt like it was a great opportunity to create increased brand awareness for our organisation within both our local community, as well as with our target audience in that community, local business owners."
Conclusion
If these sponsors are anything to go by, they're looking for meaningful ways to connect with their target audience, whether that's through their passions, their professional expertise or community spirit.
This means creating opportunities for sponsors to educate, network with, or otherwise authentically engage with your attendees. Now you know, find out how to structure a successful event sponsorship proposal (and download a free event sponsorship proposal template).