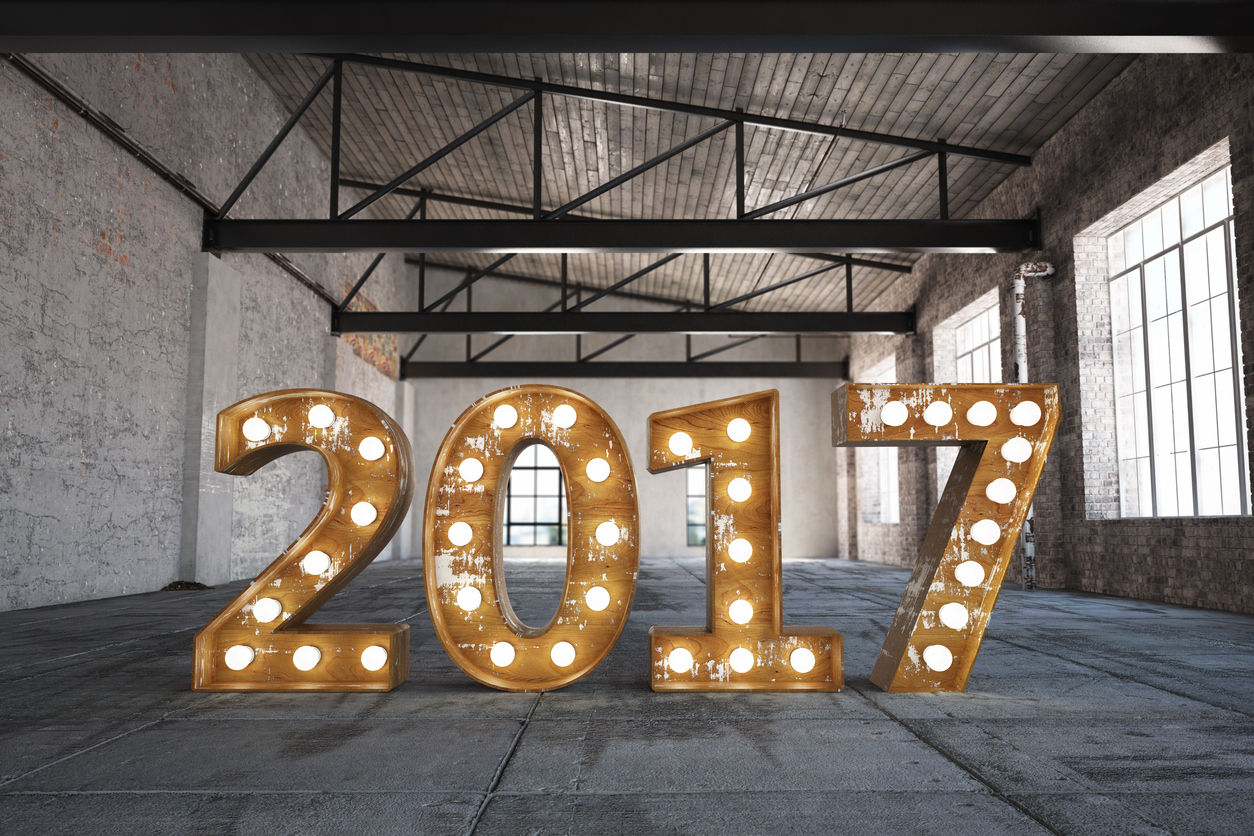 The Event Trends That Will Shape Your 2017
What event trends should you be keeping an eye on next year? What new marketing or technology innovation will impact your job the most?
Do you already have a clear idea about the key event trends, opportunities and challenges that will affect your business?
If you've been scratching your head, even just a little, as you plan for next year and try to anticipate the continuing changes impacting events and those who work in them…you're not alone!  And don't worry, you don't have to call in the mystics to find the answers.
To help you out, and paint a picture of what's in store for you and your events in 2017, we canvassed even more of the most influential, well-connected and innovative people we could find across the industry.
We asked everyone the same question: 
What one trend, challenge or opportunity are you predicting will impact the events industry most in 2017?
It's bigger than ever for 2017, so settle down and dig into their answers as you see the future flash before your eyes! And for EVEN MORE trends talk, join the discussion over on event industry forum EventTribe.
Liz King, CEO, Liz King Events and TechsyTalk
"One of the big trends we're going to see a lot in 2017 is live streaming for events.
While live streaming has been possible for many years, the new Facebook LIVE and Instagram LIVE videos allows event organisers to create great content in a more accessible way. Live video is challenging for many events, but it presents many possibilities.
The key is to design a live stream experience that drives interest in face-to-face attendance and to capture your event in unique ways. Think 360 video or photos, time lapse and drones. These possibilities for photo and video at events is unparalleled and will really help planners create a more awesome experience for their attendees and sponsors!"
Simon Burton, MD / Owner, Exposure Communications
"In 2017 event organisers will begin to fully realise the opportunities to marry their live and digital communities. Social will be at the heart of marketing campaigns for both audience acquisition and content amplification. This in turn will lead to greater personalisation of messages and content."
Alistair Turner, President, ILEA UK Chapter and Managing Director, EIGHT PR & Marketing
"One of the main trends for 2017 will be the growing dominance of event production and experience production agencies. We're seeing a raft of dynamic and exciting new agencies entering the market, winning business and working with amazing brands that value what this industry does best; create amazing experiences.
Look out for some of the younger agencies, they are doing great work and are going to grow regardless of how tough the trading environment gets."
Paul Colston, Managing Editor, Conference News
"With the UK seeking a new trading relationship with the EU and the world, much resource will need to be devoted to getting out the marketing message that UK events business are still accessible and keen to trade in 2017.
Companies will need to ensure their supply chain is sound and to stay even closer to their customers. Strengthening our industry associations' voice to lobby on our behalf should also be a key goal for the New Year.
Economics, trade and security will be the big elephants in the room. Event apps will continue their march and a new practical form of sustainable event reporting should emerge.
Drones may move from delivering little luxuries to HM Prisoners, to contributing more than novelty value on the show floor and to outdoor events."
Joel Crouch, General Manager, Eventbrite UK & Ireland
"Distributed commerce is going to grow in importance to event organisers and consumers alike in 2017.
We're currently piloting an integration with Facebook in the US that allows fans to buy and receive tickets without ever leaving Facebook. This is a step up from "just" publishing events on Facebook with a link to a ticketing page. Bringing the shop to where the fan is reduces the amount of steps and therefore lowers friction in the ticket booking process.
Initial results indicate that this results in higher ticket sales for our organisers. Facebook is our first partner of what we will grow into a distributed commerce platform for our organisers."
Ed Poland, Co-Founder and COO, Hire Space
"This'll be the year of data playing a big role in determining the effectiveness of events. Marketeers are better equipped to calculate ROI than ever before, and there'll be new technology emerging in 2017.
Gamification is particularly interesting, as a way to involve and engage delegates as well as track participation, particularly when combined with social listening. Event producers will do all they can to grow that participation."
Alan Newton, Co-Founder and COO, Eventopedia
"We see Personalisation & Customisation increasing through the broader use of technology and – specifically – data. There has been an explosion in event technology in the last 2-3 years with the value of event tech estimated to be worth £28bn with over 300 companies in the US alone.
Planners are looking at how technology can solve problems across the life-cycle of events, with a number of different pain points requiring a bespoke tailored solution. Many technologies have the capability to collect data at different points in the planner, supplier and customer journeys, which can provide increasingly important insight and analytics to improve the efficiency & value of events for a whole range of stakeholders.
We are seeing some exciting developments in terms of technology broadly and we're only on the precipice of how such innovations can be adapted for the events industry. There are some very exciting developments ahead and Personalisation & Customisation are going to be key drivers for product development."
Lisa Vecchio, Head of Marketing, Givergy
"We definitely can anticipate that VR will play a big role in events in 2017. As more experiential events take place, it's only natural to see it introduced to help them stand out and offer something different. In fundraising in particular, galas are moving further away from live auctions to interactive fundraising technology which demonstrates that technology will continue to be the way forward."
Stan Mcleod, Co-Founder and CEO, Headliner
"From a music perspective, traditional (music) venues and pubs are becoming more sparse. This is giving rise to corporates and consumers putting on events in their own private spaces. It's a fantastic opportunity for musicians and other forms of entertainment to perform in front of audiences they may not have considered before. It also provides a more immersive and intimate experience for the viewer."
Juraj Holub, US Marketing Manager, Slido
"Live streaming is gaining its momentum and I'm convinced that it will have a major impact on the events industry in 2017 and beyond. We can see more and more event profs and participants jumping on the bandwagon.
To illustrate the scope, Facebook reports 8 billion video views from 500 million users every single day and Livestream powers over 6 million events each year.
But it doesn't come without its own challenges. The battle for audience attention will only get fiercer. In order to keep people at their screens, event planners will need to have an engagement strategy in place. As our friend and experienced moderator Gerrit Heijkoop explained: "Three elements will be critical: a dedicate moderator, engaging storyline, and space for interaction."
Marino Fresch, Marketing Director, Eventbrite UK & Ireland
"In 2017, a big trend that we'll see continue to impact the industry is the importance of, and reliance on, data.
In fact ticket selling has partly become data science – at least if you want to sell out your events efficiently. It is our job to make sure organisers don't have to become data scientists to reap the benefits of big data.
Analysing data and acting on it can improve the overall event experience, help organisers focus their marketing spend, and ultimately boost ticket sales. It can make a real difference to any events business. And we allow all this in real time and on the go. You could even monitor how many people have checked into your event on your smartwatch, if that's your thing."
Joanne Egan, Director, Hotel Desk
"Albeit, a bit of a boring prediction, but the most significant trend that will change the landscape of UK events is the impact of international uncertainty that has evolved in 2016. With fluctuating exchange rates the UK is becoming a much cheaper and more attractive destination for international based companies to host events.
Equally, UK companies are finding it more expensive, if not prohibitive, to host events overseas. UK event planners will have to be far more savvy about pricing and exchange rates when comparing international and UK options. Many corporates are also likely to scale back on events in 2017 whilst they cautiously consider the international impact to their own organisations."
Jim Curry, Founder, Exhibitor Smarts
"Visitors with smart badges. Exhibitors with lead capture devices. Venues with wifi networks. Exhibition stands with smart cameras. Seminars capturing audience engagement. Entry. Exit. Revisit. Pre. Post. No shows. Dwell times. Email opens. Retweets. Links. Registration trends.
By their very nature exhibitions can accumulate a lot of data, very quickly. I think organisers and suppliers are struggling with the sheer volume, scale and frequency of new data.
Anything that can translate the data waterfall into new insight how exhibitions can be planned, managed, marketed and implemented must be the focus.
2017? Data visualisation for me."
Maricar Jagger, Events Officer, University of Portsmouth
"ABBA's announcement that their reunion tour will be a 'virtual and live performance' caused a bit of a stir in the entertainment industry with speculations on what form that may take. Trudy Barber, Senior Lecturer in Media Studies at the University of Portsmouth has been in the news giving her insight into how virtual reality may soon change gigs forever.
Portsmouth is one among 30 former polytechnics which gained university status in 1992. The events calendar will be full of these institutions probably using the 25th anniversary to gain an edge in the ever more competitive Higher Education market. Given the anniversary and the increasing interest in VR, I think our Virtual Reality department will be very busy indeed!"
Jerome Maas, Co-Founder and CEO, The Flash Pack
"Our world is changing. We spend more time on social media every day (2hr 13 mins) than we do talking to our partners (1hr 37mins). We post a staggering 1.8 billion photos to social media every day, 17 million of which are selfies. We are, as a nation, photo and social media obsessed. Media, PR, Digital, Events & Social Media are no longer considered standalone verticals. They must all form part of one strategy, and being an expert in one field means being an expert in all. Whilst the lines continue to blur, focus will increasingly shift towards enhanced, personal and unique experiences, with content creation and social amplification forming a key component and identifiable trend throughout 2017."
Irina Trofimovskaya, Founder, The MICE Blog
"I think that next year Convention Bureau, venues, DMCs and other event industry suppliers will increase their focus on content led events. Until now it was enough to get the best venue, catering, entertainment and goodie bags to get qualified buyers in the room. But event planners have seen it all by now and there's the opportunity to attract the right people with good content, speakers and thought leadership."
Maria Schuett, Head of Marketing, Central Hall Westminster
"For many 2017 will be a time of uncertainty, however, I think the new year will present many event professionals with a great opportunity to expand into a wider market with an influx of new business from the EU and US.
If the weak pound continues into 2017 it would only be natural for the events industry to turn its attention to international business. We work in a robust industry that is incredibly adaptable to change and many professionals already have strong relationships across Europe. Now is the time to utilise these relationships to their full potential to help drive future business opportunities.
In 2017 I also think we will see a huge shift in the way event professionals capture and manage data at events. With so many sophisticated registration and event management tools available in the industry I think more professionals will begin to take advantage of the plethora of data available.
This will not only enable professionals to analyse data and build better events but also to provide customer centric experiences. I am very excited to see how 2017 will take shape and have no doubt it will be a year of great success."
Mike Piddock, CEO, Glisser
"The use of technology to support events really exploded in 2016 – it underpins so much of what we do now. Just take two of the fastest growing companies in the world – Uber and AirBnB – disrupting transportation and accommodation, which are both critical elements of the events industry.
So for me the next big thing is integration of different technologies. We're seeing this starting to happen – we're already integrating Glisser into other event apps for clients – as event planners want a more seamless experience for their delegates.
After this, the next stage is integration of the data that all these technologies are creating – making it more manageable, digestible, and actionable."
Will Curran, Founder & President, Endless Entertainment
"As an outside AV company, I think one of the largest challenges facing the events and meeting industry is internet connectivity and wifi at events. We're at a stage where with more intensive media, more live streaming, more elaborate event apps and everyone being encouraged to share on social media that Wifi is no longer an "optional" thing to have at events. Event venues and in-house internet companies know this and are trying to make a fortune off of it, so now planners are revolting. I think we will see the growth of third party internet providers and the increase of outraged planners so hopefully in 2017 we see a massive decline in internet costs and a massive increase in internet speeds."
Mark Walker, Head of Content, Eventbrite UK & Ireland
"Personalisation is a trend that has impacted many industries – particularly eCommerce – and it's going to make an impact in the events industry in 2017.
People are busy, and so the more companies can help surface what they like and care about to the top of their radar, the more they appreciate it – and the more likely they are to act on that personalised recommendation. It's almost like having a friend you know and trust tell you about an event or experience you're sure you'll enjoy.
Our personalised event picks newsletter is just one example of how Eventbrite will be staying ahead of the trend as we look ahead to 2017."
George Taylor, Director, Creative Industry Hub
"As the events' industry is becoming increasingly more competitive, my view is that if people want to launch new events, going niche is the key to success. Long gone are the days of generalised tech and beauty events. Organisers should find a niche area within their market and zoom in more closely on that area. As for trends, I would say that virtual reality will be much more prominent in the industry across the globe, so get in on the action if you can, as it's a race to the top in 2017!"
Chris Powell, Director, The Event Expert 
"The challenge for 2017 is to be more business-like. Too many organisations seem to think it's acceptable 'to have a go' at events…without conducting what I call a thorough market and financial analysis.
This analysis needs to be pragmatic, purposeful and not too emotional (i.e. stop finding things and people/facts that support your idea and ignoring those that don't). You need to know that there is really a market for your event – one that has the cash and the authority to attend? Do the benefits actually out way the costs.
Deep down you know it makes sense and done well, it will certainly increase your chances of providing successful and rewarding events your audiences actually want and value."
Monica Wolyniec, Marketing Communications Manager, Boomset
"Branding is taking on some new and interesting ways at events by way of technology. We're living and operating in an Experience Economy, and desires are going on-demand. It's no longer about having a pen on hand or business card to send off with attendees, but rather giving them something that will heighten their in-the-moment experience and later continue to connect emotion with the event/brand.
Software and technology already play an integral role in event marketing and branding, especially mobile event apps and on-demand services. Combining branding with the ever-evolving world of technology at events will continue to expand management and marketing efforts well into 2017 and beyond."
"With over 9.1 million ethnic minorities live in the UK, no wonder that's why more than 1,000 ethnic events happen every year across the country. These range from family festivals, food sampling, tasting, to sold-out music and comedy shows in some of the UK's biggest arenas.
Thanks to those events some of today's biggest brands also get opportunities to promote themselves and sell their products and services directly into a new market worth over £300 billion. This is the spending power of the ethnic communities living in the UK.
Some of London's biggest venues such as Wembley Arena, indigo2 at the o2 and Troxy Theatre to name a few. All hosted events and attracted 1000s of non-British's people into their venues in the last 12 months.
If you're looking for acquire new customers and want to stay ahead of competition, perhaps you should consider tapping into the ethnic market?"
Carina Bauer, CEO, the IMEX Group
"Artificial Intelligence (AI) and Virtual Reality (VR) were the future. Then, in the last two years, when the first VR headsets showcasing destinations and venues by early adopters appeared at IMEX events, they were emerging. At the end of 2016, they have emerged and becoming established as reality.
Grip, the world's first artificial intelligence (AI) event networking solution won the #IMEXpitch competition at IMEX America in Las Vegas and AI is the 'driver' of a 3D-printed, driverless minibus that toured the show floor and gave passengers restaurant recommendations at IBM's World of Watson conference.
WorldViz, a behind-the-scenes virtual reality company that's been working on large-scale VR solutions for the enterprise and industrial sectors, has recently launched its new platform for business communication. The project, codenamed "Skofield", allows remote users to make cross-platform presentations in VR. I'm sure many more real applications of AI and VR are on their way."
Jason Allan Scott, The Eventrepreneur
"Virtual & Augmented Reality will create Virtual Augmented Events or VE.
Virtual reality (VR) and augmented reality (AR) will transform the way individuals interact with each other and with software systems creating an immersive environment that will bleed into immersive events. For the first time in history, it's about living inside an experience with endless possibilities to participate and create. Utilizing a layering of real-time interactive environments, and blending the real world with the digital, people will be placed into hyper reality experiences.
This will be what I am calling, Virtual Augmented Events, VAE or VE for short. Consider this phrase coined ( Jason Allan Scott)
VE will blend the real and virtual worlds, through our mobile phones. This means businesses will be able to overlay graphics onto real-world spaces. We will enter spaces or ""VE bubbles/Spheres"" where virtual events are set up and prepared much like todays pop up events in public spaces.
Later, as immersive experiences with AR and VR reach full tipping points in terms of price and capability, AR and VR will expand beyond visual immersion to include all human senses. Enterprises should look for targeted applications of VR and AR to create VE through 2020."
Richy Muirhead, Founder & Creative Director, Scottish Alternative Music Awards
"Events are everywhere, they are in all industries, so I think the main challenge is being able to step out and produce something remarkable in what you do. My challenge will be increasing event production for an award ceremony, HD live streaming, and keeping sharp with the ever changing digital marketing platforms!"
Charles Boyd, Director, 8 Northumblerland Avenue
"2017?? What a year to try and guess what is going to impact us next year, I have used the word guess because that's my prediction, we can only guess what's going to happen after the events of 2016 everything is now different.
I hope for some stability: politically it's going to be a roller coaster, this time next year we still won't know what Brexit looks like. What will the pound look like? in theory up a bit but the euro and dollar could both have terrible years.
It's probably wishful thinking but I predict London will have a flat year but we are going to have to work really hard to get, I predict if you don't up your game business will side.
In 2017 Technology will impact events ever more, you're going to need more broadband speed and Wi-Fi connectivity and the customer won't want to pay for it
My motto for 2017 as Billy Ocean said to me; the going is going to get tough the tough are going to have to get going, try and enjoy the ride, life's too short not to. Good luck."
Adam Azor, SVP Integrated, Jack Morton
"The biggest opportunity for events in 2017, will be capitalising on VR/MR/AR and 360 content.
Next year is still very early on in the technology's lifecycle, however as hardware and software costs continue to decrease and the technology becomes more sophisticated you will see more people being able to cost effectively incorporate it into events and experiential activity.
This will provide the much needed scale that will kick start the behavioral change required to make this technology mainstream for consumers. By the close of 2017, live 360 broadcast will be a reality for the mainstream events industry which will put the industry on a path that will change its commercial structure forever."
Andrew Needham, CEO, Headbox
"Given the increased demand for space in our cities, here at HeadBox we believe the big opportunity in 2017 exists in repurposing spaces, venues and locations to use for different events.
From coffee shops that host drinks receptions in the evenings and nightclubs that transform for conferences in the daytime, to empty meeting rooms in busy offices where visitors can brainstorm for an hour or two, there are so many innovate ways we can think about venue hire.
We believe there is a need to be smarter about how we use space – in turn making venue hire cheaper and bringing unusual and inspiring spaces to life."
Andy Parker, Digital Marketing Manager, Custard Factory and Fazeley Events
"Live Video is the term on everyone's lips around social media at the moment. Facebook has made significant inroads with Facebook Live in terms of mainstream popularity, but I think that it's the Facebook-owned Instagram that may be a real player within the events industry in 2017.
Instagram Live – which has just been announced – will have Snapchat-esque video that disappears as soon as the broadcast ends that's not available to replay. This tool will be a great way for brand awareness and promoting free events in real-time, though this means that the planning and implementation of event management needs to be impeccable for the watching world!"
Scott Hope, Commercial Director, AR Experiential
"The Experience Economy will really come to fruition in 2017. As brands acknowledge the relentless appetite for authentic experiences, driven by an evolved consumer demographic, they'll go beyond 'experiential marketing' to place brand experience at the heart of brand strategy.
We'll see a change in commercial behaviour too as brands look to enrich their product portfolio with experiences. The events industry will benefit across the board, from the delivery of internal communications to support this organisational change through to a broader agency remit, to support brands in the staging of their experiential products.
The importance of integrated technology will become clearer as the physical and digital worlds converge, for brand and consumer alike."
Damian Oracki, Founder & CEO, ShowSlice
"A positive trend the events industry will face in 2017 is where "like a baby beginning to walk", it'll find the best way for the key corporate players to put sustainability at the core of their event operations. It's not just about "being green" but also what makes good business sense in terms of company profit and giving back to the community as well.
I predict a growing trend where companies report on their events' sustainability and share it with the rest of the industry.
Transparency and connectivity in our industry is forever growing and I see 2017 the year that the industry seriously gives itself a kick up it's own backside."
James Morgan, Founder, Event Tech Lab
"For corporate events we are going to see conventional conference formats change to allow much more participation in the delivery of content – that's the attendees making more contributions both before and during the event.
Newly launched applications like SharedXP that allows an organisers networks to contribute and comment on ideas and suggest content before the event takes place are going to become more popular. Conference formats such as the tech industry's Unconference is going to become more popular.
In the leisure sector there is going to be more aggressive marketing and new leisure products created by bonded tour operators in partnership with media partners, destinations and resorts to 'package' festivals and other cultural experiences, such as SnowBoxx.
More applications that make use of machine learning like the Grip networking application.
Then there are Chatbots that will offer event attendees a personalised experience.
Biometric applications such as facial, fingerprint, palm print and iris recognition that will create another secure layer for event entry and that also be used to personalise attendee experiences by recognition of individuals. Sensum an application that measures emotions at events will come to the fore so that event professionals can measure attendee reactions in realtime.
Using machine learning coupled with biometrics is the 'holy grail' but at this point in time we are eagerly waiting an inspired developer to join the dots."
Ricardo Molina, Director, BrightBull
"The biggest opportunity I see for the events industry is Video. Currently video is focusing on the wrong areas and exploring opportunities within attendees and members of the organiser's team as well. If events people struggle to create content, video comes to save the day""
Stephane Doutriaux, CEO, Poken
"The biggest trend that will continue to grow in 2017 for me, is the shift towards participants dictating their personal event journey. Throughout the year I have seen a number of organisers adopt new technologies, such as NFC and RFID smart cards, which allow participants to determine the type of content they are interested in at an exhibition or trade show.
Over the next year this will not only play a significant role in how participants plan their schedules and meetings but also how they interact with information channels through immediate questioning, polling and survey features. Technology such as this is beginning to bridge the gap between the physical and digital event space and create a more interactive event experience for delegates."
Dahlia El Gazzar, Tech Evangelist + Idea Igniteur, DAHLIA+ Agency
"Two things that will impact our experiences at events are AI and chatbots.
Imagine delivering more personalized interactions, and we all know our event participants loved to be 'understood' – insert AI, and they demand information delivered that is quick and relevant – insert chatbots here.
The power of tapping into IBM Watson's cognitive technology makes our event profs tools to get be more proactive with the needs and desires of their stakeholders. And with chatbots, well imagine, having an event concierge and info desk that caters to all event participants in the palm of their hand. It's mindbending what you will be able to do. "
Tim Groot, CEO, Grip
"Self-driving taxis at events will soon be introduced. In 2017 I think we will start seeing event organisers being able to provide VIPs with an exciting extra service, being picked up at the airport and or hotel by self-driving taxis.
Human readable AI is fast becoming a reality. Chat bots will become increasingly sophisticated. With Samsung acquiring VIV, we will start seeing an increasing amount of AI assistants. For events, this means potentially badging by having a conversation with such an assistant, information poles that have some kind of SIRI like assistant behind it. But also, for example, there will be human readable sentences as reasons to meet someone.
Grip will be pushing the boundaries in this area for events.
Augmented Reality is an area which will take off in 2017. Think google glass but not as invasive. This will provide an extra information layer over and above the event experience itself. We have heard of some of this already happening in this area.
NFC (Near Field Communication) is very likely to be used soon as Apple will most likely open up its NFC chip in 2017. This means a common reliable standard for checking in without the need for a specific badge as devices such as smartphones will be able to talk to one another. This will facilitate an easy exchange of contact details and other information."
Alexander Amosu, Founder, Lux Afrique
"People are looking for more than just events, they are looking for experiences.
I see a shift in 2017 where event organisers are looking more at the details, rather than just hiring a venue, and giving a talk. In my opinion, and looking at some of the events I have run in 2016, people are getting more selective with the events that they attend, so in 2017, I can see event organisers responding to the demand, and looking at every aspect of the event, from the speakers, to the venue and location, and even down to things such as goody bags, lighting and scents.
I also see a rise in the amount of luxury events. People are getting less nervous about spending money, the shock from Brexit is over, and there are people who are willing to pay for quality events, that leave an imprint."
Daniel Caleb, Event Spaces Manager, Wellcome Collection
"I think many will agree that 2016 has been the year of many uncertainties, and this unknown will definitely be something that will carry on into 2017.
Only time will tell what the vote that was cast in June will bring. Yes, next year will be more challenging for the UK business travel market but what we must remember is that London will remain as a global hub and hold an enduring appeal to event organisers, who are now looking for more when it comes to a conference; they want added value and return on experience.
There is no doubt the event industry will see an increase in overseas bookings, with international delegates flocking to the capital to take advantage of the weaker sterling and the variety of venues and culture London has to offer."
Kursha Woodgate, Managing Director, Mexia Communications
"What I would love to see in terms of a trend next year is an increase in crowdsourced content to optimise the experience for every delegate.
There are great apps out there to help with engagement, Q&A, gamification and more, so we are better positioned than ever to tailor the content according to feedback and interaction.
What I think we will actually see in 2017 is an increased scrutiny of email data, nothing new there, but with the EU GDPR set to come into force in May 2018 and the UK still likely to be part of the EU at that point, B2B event marketing is going to become increasingly challenging.
Event marketers will need to do the groundwork in plenty of time to ensure compliance with the more stringent, explicit opt-in requirements and this is likely to significantly reduce email marketing lists for event marketers. If it's not on people's radar in 2017, it should be."
Moya Maxwell, Head of Venues, RIBA Venues
"In the coming year I think there will be a lot of talk and uncertainty around the impact of Brexit on all industries.
Whilst there are clear threats to business I believe Brexit has the potential to create new opportunities for the events industry. Whilst some companies and associations will move their events to the EU, I believe others will see the UK as a more relevant destination for their events.
I foresee that the industry will continue to be price conscious and seek value for money. This highlights the need to place emphasis on the overall event experience and selling the value of delivering high standards. Through delivering a high quality standard of service to clients and exceeding their needs I'm sure we will have a prosperous 2017."
Nick Kenton, Head of Sales – Meetings & Events and Hospitality, Marylebone Cricket Club
"A topic that is currently being debated is how the Brexit vote will affect the outlook for 2017 in the events industry. At Lord's Cricket Ground, our confirmed revenue is 30% up compared to this time last year, when looking at the year ahead. Our outlook is positive.
There was certainly some apprehension prior to the vote but since the decision was made our enquiry levels have been higher. However, venues should not be complacent and should ensure that they can still offer the flexibility and value for money which is integral to a client's requirements.
We are fortunate at Lord's that we are a world renowned venue and work with a range of industry sectors. This places us in a stronger position should there be more challenging economic times ahead."
Paul Duggan, Venue Director, Beaumont Estate
"Typically favoured for teambuilding events, the incorporation of nostalgic gamification will be applied to networking events, breakout sessions and incentive events in 2017.
This year the Pokémon Go phenomenon ignited a passion both in and outside the industry. I believe this was down to the combination of nostalgia and the new – the essence of catching Pokémon remained the same but the evolution from playing cards to the digital and real world created a familiar, yet new experience.
Planners will be on the lookout for nostalgic options with a new edge as they desire shared game experiences which will break the ice, connect, engage and create a lasting impression. Making a possible comeback: Sonic the Hedgehog, Space Invaders, Pac-Man, Twister and Connect 4."
Lorraine Thorne, Head of Sales, Peyton Events at the Imperial War Museum London
"Food really is the cornerstone of an event, with organisers demanding something memorable; poor catering is a bitter pill to swallow.
Interactive food stations continue to be popular, but organisers are always on the lookout for the next big thing! 2017 will see more RAW food stations – we're not talking live sushi rolling – that has been done. Think nutritional mocktails and libations made with super fruits served alongside eats such beef carpaccio and tuna tartare.
Interactive food landscapes will come to the fore. Picture a 3D forest scene or underwater oasis where every item is a delicious morsel to be devoured. New serving options will include canapes suspended from fixtures – creating a mesmerising focal point and allowing another level of interaction between guests and food.
Immersive food stations with a kitsch or throwback quality will be in demand as people crave nostalgia. Our knickerbocker glory interactive station with kitchenette façade went down a treat at our launch event for our new BRITAIN menu range, which champions the use of small independent British food producers."
Angela Tupper, Marketing Director, 8 Northumberland Avenue
"Identifying one trend is a challenge as there are so many influences affecting our industry at the moment. I've focused on four; health and wellness, technology, experiential and politics.
Health and wellness: One of Mintel's top European consumer trends for 2017 caught my attention; "The sweet hereafter: a growing challenge for brands will be how to deliver the future of sweetness going forward". As the 'fat capital' of Europe, obesity is estimated to affect around one in every four adults in Britain. Will event organisers take a keener interest in what they serve up at events or is attending an event considered a 'treat day'? Furthermore, with consumer demand for wellness services and products higher than ever, our testing of light up alarm clocks, is just the tip of the iceberg.
Technology: Martha Lane Fox's Doteveryone campaign is certainly thought provoking but it was her 2010 Manifesto for a Networked Nation that caught my attention. Even in our capital city too many of our competitor venues struggle to provide reliable wifi.
Experiential and educational events: We have so many demands on our time, so attending events isn't just a nice day out. Events are no longer passive occasions, but two way conversations. People want to be entertained and educated. Rather than accumulate more stuff in our homes, people are investing in a lifetime of experiences. What a great opportunity for our industry!
Politics: As for political influences and their impact on our economy, Charles references Billy Ocean, I'll mention Elvis: "It's all shook up!"
Simon Hunter, Head of Brand & Venue, Chelsea Football Club
"One key trend for us in 2016 was the increased demand for healthy eating options. More and more people are becoming aware of what they are consuming, and how food impacts their energy levels and productivity levels.
As a venue, we have supported this by introducing a number of healthy eating options to our menu. All signs point to this trend continuing, so we're developing our menu with our catering partner Levy Restaurants to create a diverse offering throughout 2017, starting in January with the introduction of a Juice Detox option as part of the Day Delegate package."
Craig Bennett, Venue Manager, The Birmingham Conference & Events Centre
"We expect to see Birmingham poach more business from London in 2017. The city was recognised as the country's favourite business tourism destination outside of London by UK-based event organisers in this year's British Meetings & Events Industry Survey.
Indeed, since soft opening the BCEC on 3 October 2016, enquiry levels have exceeded our initial projections, with present mid-week bookings at 67% occupancy. We're confident that an upward trend in bookings will continue.
Given its central UK location and its high-speed rail links connecting the city to all major UK routes, Birmingham has established itself as a cost effective and accessible proposition for event bookers. We're right in the heart of the country so it's no surprise that we're seeing more and more event planners from London and other areas across the country looking at alternative destinations such as ours."
Hasham Soliman, General Manager, InterContinental London – The O2
"Whilst there is still much uncertainty as to how Brexit will affect the events industry, we have seen some positive signs since June's referendum and we continue to see a good level of interest across the spectrum of our dedicated meeting spaces.
One area in which we've noticed an influx of enquiries is in our smaller meeting spaces. This comes from a range of business sectors and bookers, all with a common desire to host a meeting in a professional, serviced environment whilst being able to tap into the wider facilities on offer here at the hotel and in the immediate area."
Richard Mansell, General Manager, Principal York
"Local culture and regional influences are important to our current generation of delegates who come to us not looking for a 'one size fits all' approach but to be part of the destination.
Ultimately, they're looking for an experience, not just a venue. There will always be a market for big blank canvas neutral spaces that can be temporarily re-branded and transformed, but the market for authentic heritage meeting spaces that reflect modern British culture with a nod to the past, is more buoyant than ever.
Whilst we are a historic building, there is no compromise on technology and new innovations here as we have all the equipment delegates want but what they need is changing and arguably it's much simpler. Quality space, fantastic Wi-Fi signal and download speed, really great coffee and a personalised service – that's what delegates in 2017 will be looking for."
Anne Atkinson, Head of Catering and Events, Middle Temple
"Slido is one live response tool for conferences and events that is sure to take pride of place among venues and organisers next year.
Although not brand new to the tech scene, the web-based Q&A and polling platform gathered much momentum in the industry this year; announcing its new slides feature which addresses the demand for presentation decks post event.
The new slide feature easily allows organisers to distribute presentation decks to their audience. In turn attendees can view all slides, bookmark favourites and download the entire presentation to a preferred device. This, on top of its easy to use platform for planners and attendees will make it a top go to tool for both venues and organisers.
The events team at Middle Temple is well versed in the benefits of Slido in preparation to recommend it as a platform to enhance live audience participation at conferences and events hosted at the venue."
Alicia Duncan, General Manager, The Mermaid
"Following the announcement of Brexit, The Mermaid has not seen a decline in enquiries or bookings. Our revenue target for 2017 from confirmed bookings are ahead of this time last year, a positive indication that the outlook for the remainder of the year is set to be on, if not above, our target.
Throughout 2016 we have seen a rise in demand for flexibility from event bookers to enable organisers to custom build their event and maximize the spaces within a venue to best showcase their brand. Looking into 2017 we predict that this trend will continue to grow and as a result we have introduced flexible pricing and interchangeable catering options that can be tailored to suit their event specifically."
Alison Griffin, Sales and Marketing Director, Southwater Event Group
"Sitting is the new smoking. As we move into 2017, I think there will be an increasing awareness of the importance of getting the national workforce outside with health recommendations for meetings on the move.
We are lucky enough to be able to offer event organisers outdoor space in the form of the adjacent Queen Elizabeth II Arena, as well as the use of 15,000sqm of flexible indoor space, so clients have the opportunity to mix their meetings up with a combination of seated and active elements.
Fresh and fast eating. I think healthy eating will be a big theme in 2017. Event organisers will seek delicious catering options that deliver nourishing brain food in a fast food dining environment making the overall event more productive for delegates.
Meticulous planning. As the role of an event organiser becomes ever more professional, we foresee a continued trend to perfect the art of impressive theming alongside powerful content. Events need to prove themselves as a means to deliver organisational objectives and the challenge and thrill is in creating a visual spectacle with verbal and communication messaging to match.
Tech and live events fusion. We anticipate emerging technologies will continue to be weaved into face-to-face live events. For example, we have recently launched a venue tour using virtual reality and 360-degree filming which has had an excellent effect. Blending the best of technology with the power of human interaction makes for incredible event opportunities."
Rosa Davies, Events Manager, Victory Services Club
"As we move into 2017, I think that we will see an increase in event spaces, not just in London but throughout the entire country. This will give buyers an advantage as there will be more venues than demand requires leading to a rise in the negotiation of rates, with buyers being able to get the best value for money.
This, I think, will be one of the main factors for both buyers and venues that will influence the events sector in 2017. I do believe this will eventually even itself out with just the best and adaptable venues surviving.
When it comes to planning meetings and events in 2017 I believe that service will be at the forefront of client's expectations. We are in a competitive industry where customer satisfaction is key to what we do and nothing can be seen to be more influential or important than delivering a five-star customer service.
I think venues will have to invest time, education and money into their staff to ensure their clients are receiving a quality of service that fits with their expectations.
With busy work schedules and delegates looking for faster solutions that deliver the same quality results, I think in 2017 we will continue to see the rise of virtual meetings. I have noticed that whilst face-to-face meetings are still the most favoured option, there has been a lot more interest from clients in teleconferencing.
In my opinion, it is something all venues will have to adapt to and find ways around in order to keep themselves up to date with what delegates are looking for."
Jenny Freestone, Head of Corporate Events, Somerset House
"Event organisers are integrating technology like VR more than ever as they see it become a 'must have' rather than a 'nice-to-have'. This means venues will have to work even closer with agencies to ensure they can deliver these larger and more advanced technological requirements.
Event professionals are looking for that personalised event experience, and we are already seeing a demand for this, but with shorter lead times to deliver these high-production events. This looks set to continue into 2017."
What are you event trend predictions for 2017? Share them in the comments!