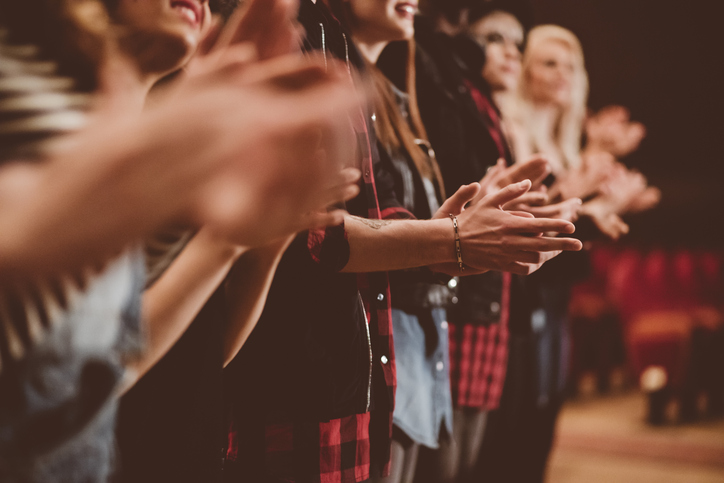 72 Events for Event Planners in 2018
Made a new year's resolution to attend more industry events this year? Want to network more with colleagues and increase your professional knowledge?
Then you'll be spoilt for choice because there are 72 event industry events taking place in the UK and Europe featuring a vast array of educational and social opportunities.
With so many events planned, covering every sector of the business, there should be one to suit you, regardless of the type of events you're involved with. Our comprehensive event calendar includes gatherings concerned with: meetings and conferences, brand and experiential, festivals, gigs and concerts, education and sport events and much more besides.
January
What: Eurosonic Noorderslag
Where: Groningen/Holland
When: 17-20 Jan
Web: https://www.eurosonic-noorderslag.nl
The 2018 Eurosonic Noorderslag conference for music industry professionals boasts a programme featuring 150 sessions and workshops, including a keynote by David Marcus, Head of Music at Ticketmaster North America. He will discuss how high-demand tours like U2, Ed Sheeran, and Hamilton ensure fans – as opposed to scalpers or bots – have the best access to tickets. The session will take an in-depth look at the road to planning a sales campaign, from the economics of a tour to fan identification and engagement using the latest technology like Verified Fan – all with the end goal of putting the fans first.
What: London Summer Event Show
Where: London
When: 23-24 Jan
Web: https://www.londonsummereventshow.com/
The London Summer Event Show is a boutique exhibition that brings together a mix of the best summer venues and suppliers with hundreds of top event buyers. The 2018 event includes an Agent's Evening on Tuesday 23 and a Corporate Buyer's Day on Wednesday 24, featuring seminars on topics such as creativity, the Millennial mindset, event tech and new venue openings.
What: Bett Show
Where: London
When: 24-27 Jan
Web: http://www.bettshow.com/
A must-visit for anyone involved in education events. This year will see reduced but better quality content, presented on four larger stages and theatres. Each will have improved A/V and theatre production.
What: British Media Awards
Where: London
When: 25 Jan
Web: http://britishmediaawards.com/
The British Media Awards, organised by Campaign magazine, celebrate the media industry and include awards for events run by publishing companies. Last year's Gold winner in the Event of the Year category was The Economist for New Science Live.
What: ISPO
Where: Munich
When: 28-31 Jan
Web: http://munich.ispo.com/en
The world's largest multi-segment sports exhibition, those wanting to find out more about health and fitness trends will find all they need at ISPO MUNICH. The 2018 event includes more than 2,700 exhibitors, presenting their latest sports products from segments such as Snowsports, Outdoor, Health & Fitness, Urban and Teamsports.
What: B2B Destination Showcase
Where: London
When: 30 Jan
Web: https://www.surveymonkey.co.uk/r/Jan-30-Exp-of-Interest
Moulden Marketing presents a free-to-attend, one-day destination showcase, designed to connect domestic and international event planners to key suppliers. Meet with 70 international suppliers; a fantastic mix of convention bureaux, dmcs, hotels and venues, all specialists within the mice industry.
February
What: CONFEC Red
Where: Marrakech, Morocco
When: 1-4 Feb
Web: http://www.confec.com/red
In an exclusive and intimate results-oriented business setting, CONFEC Red 2018 will bring together the UK's top agencies, corporate and incentive organisers to meet with international major and emerging hotel chains, individual properties, unusual venues, convention bureaux, tourist boards and DMCs to participate in a series of one-on-one meetings over two days.
What: BNC Event Show
Where: London
When: 14 Feb
Web: http://bnceventshows.com/
The BNC Event Shows are bi-annual networking exhibitions for event planners to meet leading UK and international event suppliers in the heart of the City of London. The February edition takes place at The Brewery, while a second show occurs in July.
What: Fast Forward
Where: Amsterdam
When: 15-16 Feb
Web: https://www.fastforward.xyz/
FastForward is a boutique music business conference aimed at connecting the next generation of music industry leaders. Now in its third year, the event returns to iconic contemporary music venue Muziekgebouw for two jam-packed days of keynotes, panel discussions, FastFifteen presentations, and intimate networking with the UK and European music business.
What: Event Buyers Live
Where: Sutton Coldfield, West Midlands
When: 21-22 Feb
Web: http://eventbuyerslive.com/
Taking place at The Belfry Hotel & Resort, Event Buyers Live is a specialist meeting for live event organisers and agencies. If you need to source suppliers, event equipment or services for your next event, and you meet the event's qualifying criteria you can register for free.
What: ACE of M.I.C.E Exhibition
Where: Istanbul
When: 21-23 Feb
Web: http://ameistanbul.com/
Meet with the exhibitors representing PCO's, event management companies, hotels,technology and event support companies and make new connections. The event offers a hosted buyers programme for corporate meeting and event bookers.
What: Confex
Where: London
When: 28 Feb-1 Mar
Web: http://www.international-confex.com/
Discover over 350 exhibitors ranging from UK and International venues and destinations, event tech companies and a full range of event suppliers. Education and knowledge sharing plays a pivotal role at International Confex with content spanning five theatres as well as across the show floor. Visitors will be able to choose from keynotes, panel discussions, workshops and seminar sessions covering every element of event planning and management.
What: Event Production Show
Where: London
When: 28-1 Mar
Web: http://www.eventproductionshow.co.uk/
Co-located alongside Confex at London Olympia, The Event Production Show is for organisers of events of all shapes and sizes. At the heart of the show is an exhibition showcasing over a hundred of industry's best suppliers. Running alongside the exhibition, EPS boasts a comprehensive and thought-provoking seminar programme. The diverse content includes keynotes, panels and workshops, which provide solutions to some of the key challenges faced by organisers.
March
What: M&IT Awards
Where: London
When: 2 Mar
Web: http://www.mitawards.co.uk/
Join over 1,200 event professionals at the biggest industry awards of the year. Organised by Meetings & Incentive Travel magazine, the awards event brings together the various sectors of the business to celebrate excellence and enjoy fantastic cuisine, live entertainment and raise funds for charity. There are a number of awards voted for by the readers of Meetings & Incentive Travel magazine, plus a special award: M&IT Personality of the Year.
What: ILMC
Where: London
When: 6-9 Mar
Web: http://www.ilmc.com/
International Live Music Conference (ILMC) ILMC is the leading annual gathering of professionals involved in the global touring, festival and live entertainment industries. 2018 session topics include 'BREXIT 2025: Looking back', 'Gender: Calm down, what's all the fuss?' and 'Venue's Summit: Corridors of power', which looks at the power venues have over things like ticket inventory, concert dates and merch rates.
What: Marketing Week Live
Where: London
When: 7-8 Mar
Web: http://www.marketingweeklive.co.uk/
MWLive brings the marketing that matters to life, through an interactive exhibition floor, curated expert content programme and a variety of networking opportunities. Covering everything from brand storytelling, data & analytics and social to content creation, programmatic and mobile, MWLive showcases leading solution providers from the entire spectrum of the marketing mix.
What: SITE + MPI Global Forum
Where: Rome, Italy
When: 12-14 Mar
Web: http://www.cvent.com/events/site-mpi-global-forum-2018
The SITE + MPI Global Forum gathers the best and brightest across the meetings and incentive travel industries to power expanded connections, education and destination exploration. Keynotes include 'A Day in the Life of Rome' by Alberto Angela, 'The Medici Effect by Frans Johansson' and a talk by Julie Cottineau, author of the best-selling book 'TWIST: How Fresh Perspectives Build Breakthrough Brands'.
What: DMX
Where: Dublin
When: 14 Mar
Web: https://www.dmxdublin.com/
A Marketing Institute event, DMX Dublin celebrates the crossover of marketing, digital, design and media. Every year it brings together top international and Irish marketing leaders, marketers from multinationals and start-ups, advertisers, creative agencies, digital agencies. There will be more than 30 world-leading speakers in multiple presentation streams, and over 800 marketing professionals joining together in a full day of sharing, learning and networking.
What: Associations World Congress 2018
Where: Antwerp, Belgium
When:12-14 Mar
Web: http://www.associationscongress.com/
Now in its 11th year, the Associations Congress series is the largest conference for employees and officers of professional, scientific and trade membership organisations in Europe, with over 400 delegates.
What: British Travel and Tourism Show
Where: Birmingham
When: 21-22 Mar
Web: http://www.tourismshow.co.uk/
Taking place at the NEC, British Tourism & Travel Show offers opportunities to meet with 280 exhibitors promoting destinations, attractions and hotels across Britain & Ireland. Running alongside a central exhibition will be an extensive free keynote programme featuring big name speakers and industry experts.
What: EventIT
Where: Glasgow
When: 22 Mar
Web: http://www.eventit.org.uk/
The annual showcase for the business events, meetings, incentives, hospitality and festivals industries in Scotland. Join over 1,500 industry professionals and 120 exhibitors and suppliers for an inspirational day of education and learning opportunities and unrivalled networking.
What: AIPCO Business Tourism Conference
Where: Kilkenny
When: 22-23 Mar
Web: http://aipco.ie/new/about-your-conference/
The 6th AIPCO Business Tourism Conference will take place at The Great Southern Hotel, Killarney. The event is powered by the Association of Irish Professional Conference Organisers, in collaboration with SITE Ireland. The annual AIPCO Business Tourism Conference is a must-attend event for anyone involved in Business Tourism in Ireland. This year's theme is Engage – Evolve – Succeed.
April
What: Running Awards
Where: London
When: TBC
Web: https://therunningawards.com
The Running Awards identify and recognise the best in running every year, including live events. Categories include Best New Event, Best 10k, Best Fun Run, Best Charity Event and more. Winners will be announced at The 2018 Running Awards at indigo at the O2 in April 2018.
What: Ticketing Business Forum
Where: Manchester
When: 17-18 Apr
Web: http://www.ticketingbusinessforum.com/
TheTicketingBusiness Forum is a high-level networking and knowledge exchange event designed to address the specific needs of key executives engaged in the development and implementation of entertainment ticketing solutions. Drawing a crowd from 40+ countries, the Forum features two days of live debate, discussion and demos, and an evening of celebration at TheTicketingBusiness Awards.
What: Wide Days
Where: Edinburgh
When: 20-21 Apr
Web: http://www.widedays.com/
Wide Days brings the the full spectrum of music industry professionals together to discuss a range of topics, present new initiatives and highlight some of the most forward-thinking work being carried out across the business. The convention aims to give a platform to new industry speakers, with a more diverse and balanced line-up than most other conventions.
What: Music Week Awards
Where: London
When: 26 Apr
Web: https://www.nbmevents.uk/musicweekawards2018/
The Music Week Awards are the UK's only music awards that recognise all parts of the music industry including live music events. Taking place at Grosvenor House Hotel in London, more than 900 of the industry's leading figures will be in attendance.
May
What: Academic Venue Show
Where: London
When: TBC
Web: http://www.academicvenueshow.co.uk/
The show is organised by Venuemasters, a marketing consortium promoting over 60 academic venues, and offers event organisers the opportunity to meet representatives from a broad cross section of UK universities.
What: Liverpool Sound City
Where: Liverpool
When: 5-6 May
Web: http://www.liverpoolsoundcity.co.uk/
Liverpool's annual two-day music festival and conference (Sound City+) featuring keynotes and workshop sessions from key digital music industry figures. Includes sessions like 'The no nonsense guide to putting on a festival' and 'Rave-o-lution'.
What: Meeting Industry Association Annual Conference
Where: TBA
When: 10 May
Web: https://www.mia-uk.org/Calendar
The mia Conference 2018 will encourage the meetings, conference and events industry to take the lead in the marketplace while empowering and equipping delegates with the tools to act on the commercial insight offered by the numerous sessions.
What: London Christmas Party Show
Where: London
When: 15-16 May
Web: https://www.londonchristmaspartyshow.com/
The London Christmas Party Show is a boutique exhibition that brings together a mix of the best Christmas venues and suppliers with hundreds of top event buyers. The show's split event format consists of an evening event exclusively for Event Agents (5pm-9pm, May 15) and a full day event dedicated to Corporate Event Buyers (8.30am – 6.30pm, May 16). Now in its 5th edition, it will take place at central city venue Plaisterers Hall – London's largest livery hall.
What: IMEX
Where: Frankfurt, Germany
When: 15-17 May
Web: http://www.imex-frankfurt.com/
Dive into the heart of the global meetings industry over four action-packed days in Frankfurt. Meet exhibitors from across the world, gain insight and inspiration from industry experts and innovators, and join your peers at countless networking events. Includes the opportunity to do business with 3,500-plus destinations, venues and suppliers from 150-plus countries in one place, as well as the chance to learn from 180-plus educational events.
What: The Great Escape Convention
Where: Brighton
When: 18-20 May
Web: http://greatescapefestival.com/about-the-great-escape-convention/
The Great Escape is a festival for new music featuring more than 50 artists performing alongside a music industry convention attracting 3,500 music industry professionals from all over the world to Brighton. The TGE Convention programme helps these industry delegates learn, network and discover, to identify new talent and business partners to work with, and to explore and understand how to get more out of the business of music.
What: International Music Summit
Where: Ibiza
When: 23-25 May
Web: http://www.internationalmusicsummit.com/
IMS Ibiza is for anyone involved in electronic music, offering three-days of live seminars and debates amongst the leaders of the international music community. The 11th edition of IMS ibiza examines the most crucial issues that face the electronic music industry, placing special attention on health and wellness for mind and body. New for 2018 is a three-day Wellness retreat, taking place before the main IMS summit.
What: Event 360
Where: London
When: 31 May
Web: http://www.event360forum.com/
Exclusively for event professionals with a purchasing power of at least £100,000, Event360 is the leading annual creative forum for event and brand experience professionals. Fuelled by the collective power of C&IT, Event and Campaign, this thought provoking day fuses inspirational speaker sessions with tailored supplier meetings and multiple networking opportunities to help you maximise your budget and take your events to the next level.
June
What: Midem
Where: Cannes
When: 5-8 Jun
Web: http://www.midem.com/
With four days of music conferences, competitions and networking events, Midem is a leading business event for the international music industry. Midem provides the opportunity to make significant business connections, learn how to promote music internationally, source talent and get inspired by upcoming trends in music.
What: CONFEC Blue 2018
Where: TBC
When: 7-10 Jun
Web: http://www.confec.com/blue
A key component to a successful business is the ability to develop a network of industry partners. CONFEC creates the platform to foster relationships between buyers and suppliers  by combining a forum of one-on-one meetings with great networking activities.
What: AEO Excellence Awards
Where: London
When: 15 Jun
Web: http://www.aeoawards.org/
The AEO Excellence Awards is the Association of Event Organiser's flagship event, celebrating organisers' achievements, standards of excellence from venues and service quality by suppliers and contractors throughout the industry. New categories for 2018 include 'Technology Service Supplier of the Year' and 'Most Influential Company of the Last 25 Years'.
What: The Meetings Show
Where: London
When: 27-28 Jun
Web: http://www.themeetingsshow.com/
The Meetings Show will welcome over 4,800 meetings and events professionals for two jam-packed days of meetings and networking opportunities. Meanwhile, a free programme of education features content delivered by industry experts across a variety of formats. Sessions will look at the latest industry trends and dealing with challenges currently faced by the industry.
What: Conference Awards
Where: London
When: 29 Jun
Web: http://conferenceawards.co.uk/
The Conference Awards recognise, celebrate and encourage achievement in conference and events. Established for nine years, these awards represent the pinnacle of professional achievement for event professionals.
July
What: Fundraising Convention
Where: London
When: TBC
Web: http://www.fundraisingconvention.uk/
Join over 2,500 other fundraisers at the largest professional fundraising event in Europe. The conference aims to inform, refresh and engage through a programme of talks, workshops and features.
What: Higher Education Academy Annual Conference
Where: Birmingham
When: 3 Jul
Web: https://www.heacademy.ac.uk/training-events/hea-annual-conference-2018-teaching-spotlight-learning-global-communities
We are delighted to announce the return of the HEA Annual Conference, this year focusing on what we can learn from higher education practices from across the world. Structured over three days, the conference will provide a platform for higher education professionals to share their experiences, ideas, research and good practice in a community of their peers and learn from internationally respected speakers.
What: National Union of Students
Where: TBC
When: 5 Jul
Web: http://event.nusconnect.org.uk/nusevents/detail/2/1530781200000/1
NUS Trade Show is the only show dedicated to the £200 million student market. The show is for operational managers and staff at students' unions in catering, events, entertainment, licensed trade and retail.
What: BNC Event Show
Where: London
When: 11 Jul
Web: http://bnceventshows.com/
The BNC Event Shows are bi-annual networking exhibitions for event planners to meet leading UK and international event suppliers in the heart of the City of London. The July edition takes place at Central Hall Westminster.
August
What: c/o pop convention
Where: Cologne
When: 30-31 Aug
Web: http://c-o-pop.de/en/convention/
Taking place alongside the c/o pop festival, the convention will bring together label operators, music managers, festival organisers, media experts and agency chiefs to hear top speakers. Current case studies are presented and discussed, with a wealth of networking opportunities to boot.
September
What: International Festival Forum
Where: London
When: TBC
Web: http://www.iff.rocks/
The International Festival Forum (IFF) is an invitation-only event for booking agents and festival bookers. IFF is held in early autumn, as conversations about next years' festival line-ups begin, and it provides a dedicated platform for buyers and sellers to network.
What: C&IT Awards
Where: London
When: TBC
Web: http://www.citawards.com/
The C&IT Awards recognise and celebrate companies applying best practice to the creation, planning, production and management of innovative and successful events within B2B sectors. The Awards are open to all companies running events both in the UK and overseas.
What: Reeperbahn Festival
What: AEO Conference
Where: TBC
When: 6-7 Sept
Web: http://www.aeoconference.org.uk/
The Association of Event Organisers Conference is the definitive business networking forum for event industry professionals. Offering a combination of leading industry speakers, cutting edge content and top-line peer-to-peer networking, the AEO Conference attracts an impressive delegate profile of CEOs and senior event teams from across the organiser, venue and supplier communities.
What: Square Meal Venues & Events Live
Where: London
When: 19-20 Sept
Web: http://www.venuesandevents.co.uk
Taking place in central London in the stunning surroundings of Old Billingsgate, the show features five floors of event inspiration. With over 250 venues and event suppliers to meet, plus a jam-packed programme of workshops, masterclasses and SquareMeal Sessions, Venues + Events Live will give you a world of ideas to create exceptional events.
Where: Hamburg
When: 19-22 Sept
Web: https://www.reeperbahnfestival.com/en/conference/about
The Reeperbahn Festival is Europe's B2B platform for the music and digital industry. The Reeperbahn Festival Conference offers industry professionals a programme that includes more than 300 sessions, networking events, meetings, showcases, and award shows. We expect around 4,700 professionals and media representatives from 56 countries attending.
October
What: Live UK Summit
Where: London
When: TBC
Web: http://www.liveuksummit.com/
Stopping ticket touts and festival innovation were among the topics of debate at last year's LIVE UK Summit. The 2018 edition promises a host of speakers heading up equally engaging sessions.
What: Live Music Business Awards
Where: London
When: TBC
Web: http://www.livemusicawards.co.uk/
The only event committed to presenting awards to the business people who drive the country's contemporary live music industry. Now in their 9th year, the awards recognise excellence and talent among promoters, venue operators, festival organisers and agents, through to artiste managers, tour managers and show producers.
What: ADE
Where: Amsterdam
When: TBC
Web: https://www.amsterdam-dance-event.nl/about-ade/
ADE's multiple conference tracks offer the ultimate annual business and inspiration platform in the field of electronic music, featuring dedicated programming for business professionals, start-ups, aspiring producers and musicians, students, VJs, visual artists and stage designers. In 2017 the conference welcomed 550 speakers and 7200 representatives of the worldwide electronic music industry.
What: Scottish Alternative Music Awards
Where: Glasgow
When: TBC
Web: http://officialsama.squarespace.com/
The Scottish Alternative Music Awards (SAMAs) are an independently ran music award, which currently take place in Glasgow. The awards are run by a small team of creatives based in Glasgow who have a great passion for music, events and collaboration. The SAMAs really care about the Scottish scene, and want to shout about it.
What: EVCOM Clarion Awards
Where: London
When: TBC
Web: https://www.evcom.org.uk/awards-entry/
The EVCOM Clarion Awards are the leading event and communication awards that recognise performance in CSR and sustainability, including: environment, diversity, equality, community, charity initiatives, education, ethical, health and welfare issues.
What: Higher Education Show
Where: London
When: TBC
Web: http://he-show.co.uk/
The UK's largest free-to-attend higher education business show, bringing together all key stakeholders to discuss issues that matter.
What: Showman's Show
Where: Newbury, Berkshire
When: 17-18 Oct
Web: http://www.showmans-directory.co.uk/showmans-show/about-the-show
The Showman's Show is the only outdoor show of its kind in the UK, attracting 4,500 visitors over two days and with in excess of 350 exhibitors, who show the most sophisticated structures, equipment, technology and entertainment demanded by the event industry at large.
What: Event Organisers Summit
Where: London
When: 22-23 Oct
Web: http://eventorganiserssummit.co.uk/
Taking place at Grange Tower Bridge Hotel, The Event Organisers Summit will celebrate 10 years of bringing together senior event professionals and the suppliers who service them. The event includes one-to-one business meetings, interactive seminars and valuable networking opportunities.
What: WOMEX
Where: Gran Canaria, Spain
When: 24-28 Oct
Web: http://www.womex.com/
WOMEX is an international networking platform for the world music industry. The annual five-day event comprises a bustling Trade Fair, Showcase Festival, Conference, and Film programme, as well as festive Opening and Award ceremonies.
November
What: Association of Festival Organisers Conference
Where: TBC
When: TBC
Web: http://www.festivalorganisers.org/content/conferences-training
If you work in festivals or events the AFO Conference is the place to discuss the hot topics affecting our industry today. From Friday evening to late lunch on Sunday, the session rooms and stages are buzzing with headline speakers, presentations, discussions, 'how to do that' sessions and panel debates. There are numerous opportunities to share your knowledge and experience with others.
What: AIF Festival Congress
Where: TBC
When: TBC
Web: http://aiforg.com/festivalcongress/
Festival Congress is AIF's annual flagship event, a two-day conference, Independent Festival Awards and celebration of the festival industry. The event is the largest gathering of independent festivals in the UK, over 400 industry delegates attending each year. Festival Congress is a unique networking event, attended by many of the 'difficult to reach' decision makers and offering unique insight into the vibrant festival sector.
What: UK Festival Awards and Conference
Where: London
When: TBC
Web: http://www.festivalawards.com/
Since its inception in 2004, the UK Festival Awards has been dedicated to recognising and celebrating the collective accomplishments of the nation's most beloved industry. Across its 21 categories, the Awards acknowledges the achievements of organisers and suppliers in the fields of programming, production, innovation, emerging talent, marketing, hospitality, catering and more.
What: EventTech Live
Where: London
When: TBC
Web: http://www.eventtechlive.com/
Event Tech Live 2018 is free to attend and will take place in November at The Old Truman Brewery, London. The multi-strand conference and exhibition is Europe's only show dedicated to event technology. Event professionals have access to over 50 educational sessions, 100 exhibitors and 1600+ industry peers.
What: NOEA Annual Convention Day
Where: TBC
When: TBC
Web: http://www.noea.org.uk/events.asp?pageId=52
National Outdoor Events Association Convention and Awards is for anyone involved in outdoor events and features a range of industry speakers heading up topical sessions. Last year's event was all about commercialisation; making money from outdoor events, and 2017's content promises to be equally useful.
What: The Meetings Industry Marketing Awards
Where: London
When: TBC
Web: http://www.mimaawards.com/
The Meetings Industry Marketing Awards (MIMA) was launched in 2002 to raise the standards of marketing in the meetings and events industry and to recognise the event marketers. Last year it was staged in conjunction with the EVCOM Industry Awards.
What: EVCOM Industry Awards
Where: London
When: TBC
Web: http://www.evcom.org.uk/awards-entry/
Organised by events industry association EVCOM, the EVCOM Industry Awards bring together the best of the best of all sectors of the industry – live, film and digital – for a gala night encompassing the most prestigious categories of the EVCOM Live, Screen and Clarion Awards, along with new categories reflecting the integrated communication industry.
What: The Destinations and Travel Management Summit
Where: London
When: TBC
Web: http://venuesanddestinationssummit.co.uk/
A highly focused event that brings together event and travel buyers and suppliers, The Summit consists of one-to-one business meetings, interactive seminars and valuable networking opportunities.
What: World Travel Market
Where: London
When: 5-7 Nov
Web: http://www.wtmlondon.com/
World Travel Market London offers the opportunity to discover the world under one roof, and be inspired by industry leaders discussing trends, issues and innovations in the travel industry. Over three days, almost 5,000 exhibiting destinations, technology and private sector companies come together to network with 51,000 travel professionals, key industry buyers, journalists, digital influencers, students and tourism Ministers.
What: Venue Expo
Where: Liverpool
When: 7-8 Nov
Web: http://www.thevenueexpo.co.uk/
The Venue Expo provides MICE industry buyers the opportunity to do business with suppliers from around the UK as well as networking and learning from specialists from within the industry.
What: IBTM World
Where: Barcelona
When: 27-29 Nov
Web: http://www.ibtmworld.com/
IBTM world delivers three inspirational days of business, networking and education to a community of international suppliers and buyers, helping drive their business into the future. Join over 15,500 industry professionals and enter a world of business opportunities.
December
What: Associations UK Congress
Where: London
When: TBC
Web: http://www.associationscongress.com/uk
The Associations Congress UK is the largest two day conference for employees of membership organisations in the UK, with over 350 delegates attending.
What: The Drum UK Event Awards
Where: London
When: TBC
Web: http://www.ukeventawards.com/
The Drum UK Event Awards recognise and reward the very best of Britain's events industry- now with more of a focus on the experiential element of the marketing world. The awards are open to event organisers, suppliers and marketers. The evening kicks off with a networking drinks reception followed by dinner, the awards presentation and after-party.
What: Mudstacle Awards
Where: Surrey
When: TBC
Web: https://www.mudstacle.com/mudstacle-awards
The Mudstacle Awards are the 'Oscars' of obstacle course racing, where the industry and community join together to celebrate the very best events, brands and inspiring individuals in the obstacle racing world.
Are you an event organiser? Download our on-demand demo to learn how to use Eventbrite to grow your events, or contact us directly.