How to Run a Facebook Contest
Facebook contests are a great way for event creators to promote their events while clocking up new fans and likes.
If you've ever wondered how to run a Facebook contest, in this article we'll explain how to use Facebook's Contests for Pages feature, as well as the different types of contests and how to craft an eye-catching competition.
We'll also look at the steps you can take to promote your Facebook contest, ensuring you maximise your entries and continue to enjoy a return on investment – even after the contest is over.
How to Run A Facebook Contest in 5 Steps
Step 1 – Decide on the prize for your Facebook contest

If you're trying to promote an event, it makes sense to offer a ticket giveaway. However, there are variations on the theme for you to consider. Maybe you want to offer a family ticket or the opportunity for someone to come along with a group of their friends?
You can make your prize more attractive by including VIP benefits such as queue jump, premium seating, meet and greet or access to the pre-event drinks reception/ after party. Get creative and you can offer all sorts of exclusive extras that won't cost you much to give away, or team up with sponsors to offer more valuable prizes. Good options include overnight hotel accommodation, complimentary meal/drinks, merch or relevant products.
Step 2 – Decide what type of Facebook contest you want to run
There are three main types of Facebook contests you can run:
Open entry – simply provide name and email address
Conditional entry – answer a question
UGC entry – provide user-generated content
Which one you choose will depend on how easy you want to make it for people to enter and, of course, your key objectives. If you simply want to attract as many participants as possible in order to grow your mailing list, then you may go for option number 1. But don't forget that you cannot automatically add competition entrants to your database.
To comply with data protection rules, you may only add those who explicitly give their permission. Facebook makes this straightforward by automatically including mailing list opt-in as part of the contest entry process (although you can delete this or edit the text). Many entrants may exercise their right not to be marketed to, while the quality of other sign-ups might not be as high as you'd wish for.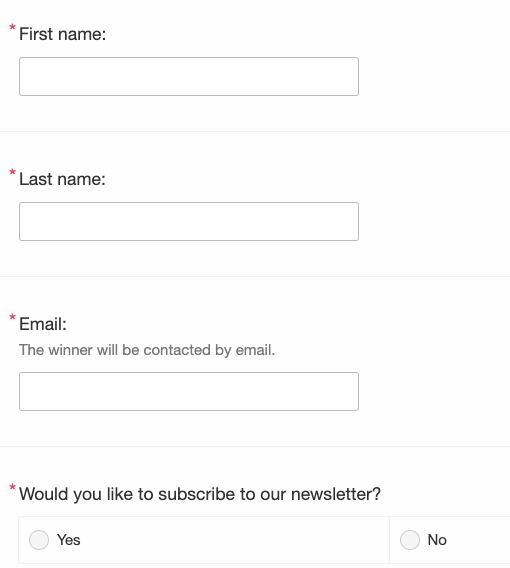 Requiring entrants to complete an action in order to gain entry to a competition can help weed out those not really interested. You might ask them to correctly answer a quiz question, which could relate specifically to your event. For example, "how many food stands will there be at the XYZ food festival?" This requires wannabe entrants to read up about your event and maybe visit your website.
Alternatively, you could ask for additional customer data, such as, "what are your favourite foods?" Answers can be free text, multiple choice, rank options in order of preference or rank on a scale of 1-5. Remember that you should only ask for the information you require for the competition and don't ask for too much or you'll risk deterring people.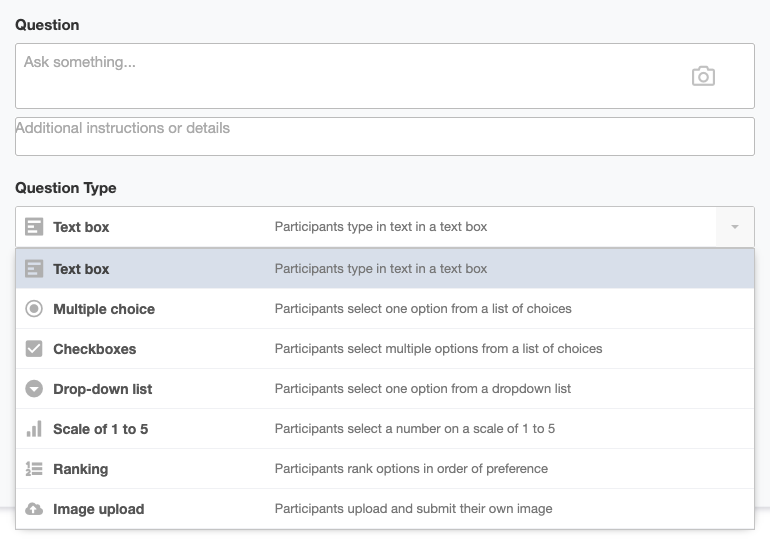 A fun option is photo vote. You could get people to vote for the food they'd most like to try at your food festival, for example. Results can be shared publicly for greater engagement. However, if you really want to get people involved, select option 3 and make your entrants submit their own content. This could be a photo or poem or you could ask them to explain why they want to come to your event in 50 words or fewer – be as creative as you like in your request!
Gathering user-generated content (UGC) provides you with further promotional opportunities, since you can publish the best entries (ensure you get permission during entry) and get people to vote with likes or via Facebook's Polls for Pages in order to choose a winner.
Step 3 – Set up your Facebook contest
It only takes a matter of minutes to set up your Facebook contest using Contests for Pages. In the contest builder, you simply enter a contest title and a brief description of what the competition is and how to enter.
Keep it short and sweet but make sure you provide all the important information and get people excited about entering, for example: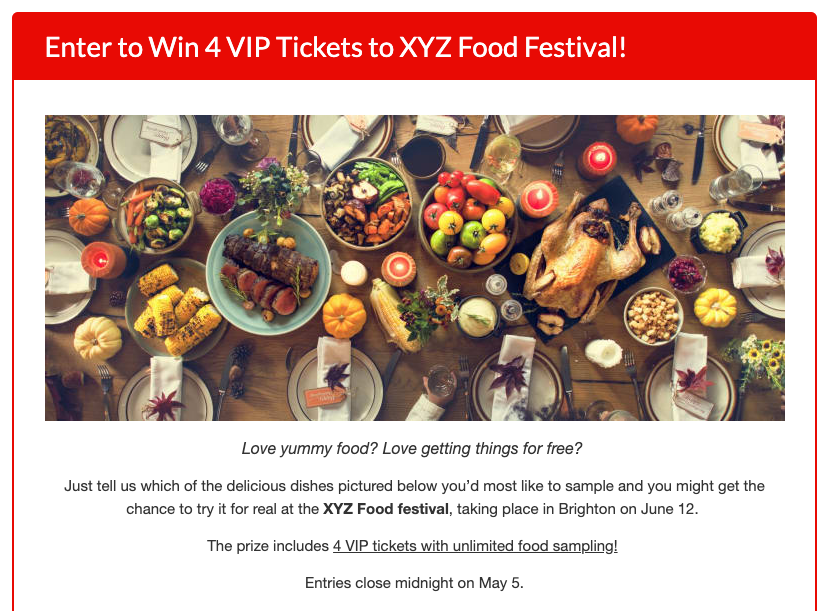 Play with the layout and design of the text to draw in the eye. You can also add a photo, customised header, or even a video – if you've got a jazzy promo video you could include it here or, if it's a UGC contest, maybe do a piece to camera giving detailed instructions about what you're looking for from entries.
You can also customise the text people will see after entering and once the contest is closed, and upload a pdf of your contest's terms & conditions (a link to which will appear in the footer). T&Cs should include who is eligible to enter the contest, full prize details, how and when the winner will be selected and notified and how you will use personal information collected.
In the next section you can edit the details you require entrants to submit on the entry form and add custom questions. The example below is a multiple choice question with photos uploaded as options. You can decide whether a question is mandatory or not.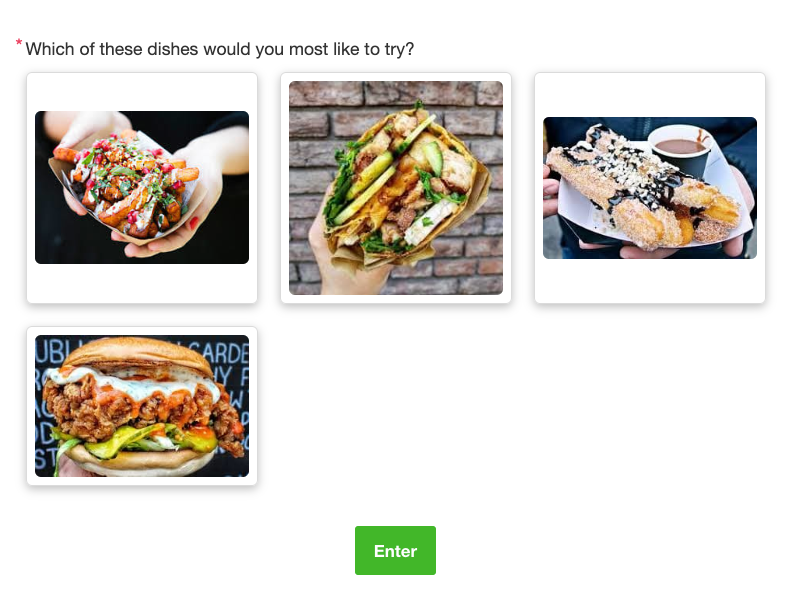 The next step is to preview and publish your contest. Before you do, customise the timeline post by replacing the default image with one relevant for the competition. Next, post the contest on your timeline by copying and pasting the URL. Add a status with a call to action encouraging people to enter and be sure to pin the post to the top of the page so everyone who visits sees it.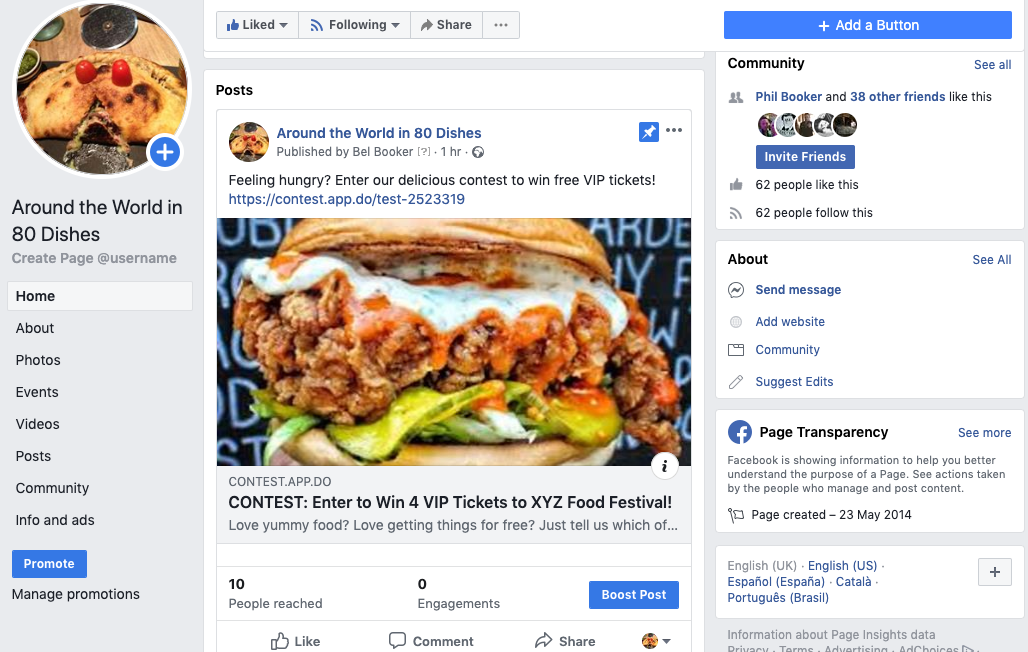 Step 4 – Promote your Facebook contest
It's important to note that unless you upgrade to one of Facebook's paid-for contest packages you will only be able to collect a maximum of 40 answers. This might be fine if you have a small scale event and don't want or need hundreds of entrants. On the other hand, if you're aiming for maximum exposure, you'll need to pay for one of the premium options.
You can either pay a per-contest fee or an annual subscription, but the annual subscriptions represent much better value. There are three levels – 1,000 entries, 10,000 entries or unlimited. Other benefits include the option to directly install a contest on your Facebook page and embed it on your website. The option to have entrants upload photos is also a premium feature.
Tools provided by Facebook to help you promote your contest include the ability to directly invite friends to participate and a referral function. After people have entered your contest they will see three options for sharing it – post to Facebook, directly invite friends or copy link. Each time someone enters the competition through a share, the referrer will receive another entry to the contest. Make sure everyone knows that the more people they tell about the competition, the greater chance they will have of winning it!

You can boost your contest post just like other posts you make to your Facebook page, selecting the audience you want to target. This can either be people who have liked your page, people who have liked your page and their friends, or any custom demographic of your choosing. It's an effective and reasonably priced way to raise awareness among people most likely to be interested in attending your event.
Outside of Facebook, you should send an email to your database to let them know to take part. You can also promote it across your other social platforms – it's a great way to make fans aware of your presence on other networks.
If you're not paying for a premium plan and can't embed your contest on your website, a workaround is creating a banner for your homepage that links to your Facebook contest. Another little cheat is making a custom cover image for your Facebook page promoting the contest and directing visitors down to your pinned post for further information.
Step 5 – Choose the winner of your Facebook contest

Facebook will keep you updated on how your contest is performing, sending you a notification (or an email if you prefer) each time someone enters. If you're expecting hundreds of entries you can disable this function and simply see the number of entries on the Results page.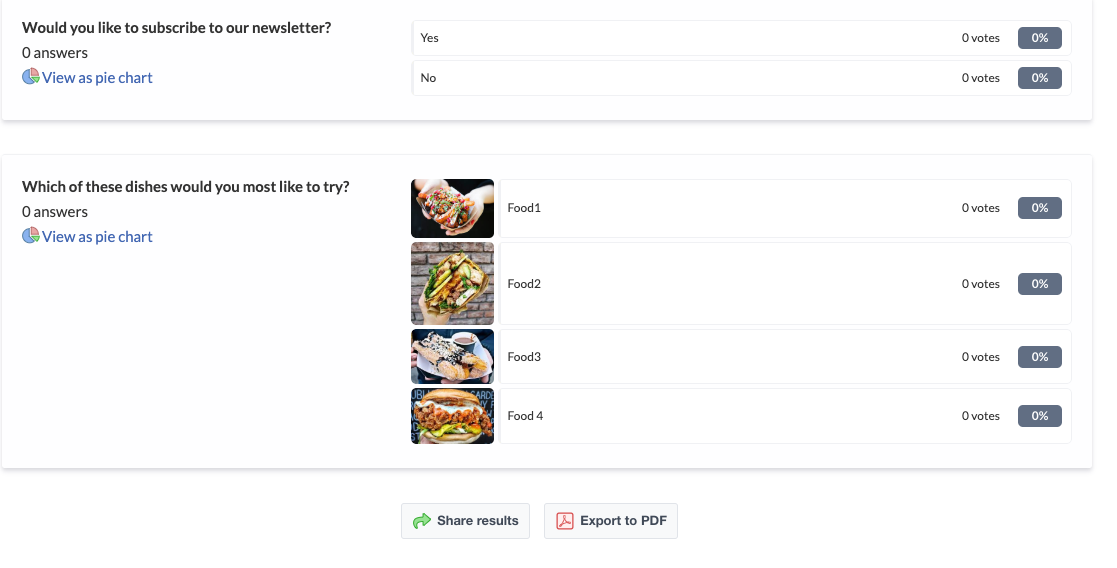 On the Stats page, you can view the number of total visitors your contest had, percentage of participants who shared your contest, the participants' countries and more. The Answers page lets you view and export entries and draw a random winner.
As discussed earlier, you could make more out of choosing a winner by getting your Facebook fans involved in the process, or you could put it to an offline judging panel and make a video of them deliberating as a teaser.
Be sure to make a fanfare about the announcement by profiling the winner and their winning entry. As well as doing this on Facebook, do it on your own blog and put it in your email newsletter.
If applicable, create a gallery of all the entries on your page. Email the participants (if they gave their permission) to let them know they can view them and take the opportunity to thank them for entering with an exclusive discount code for tickets. This will hopefully encourage them to convert and then everyone's a winner!
Conclusion
Now you can see how easy it is to run a Facebook contest, why not integrate them as a regular feature of your event marketing strategy? Running repeat contests will help build momentum in the run-up to your event and make sure everyone's talking about it on social.