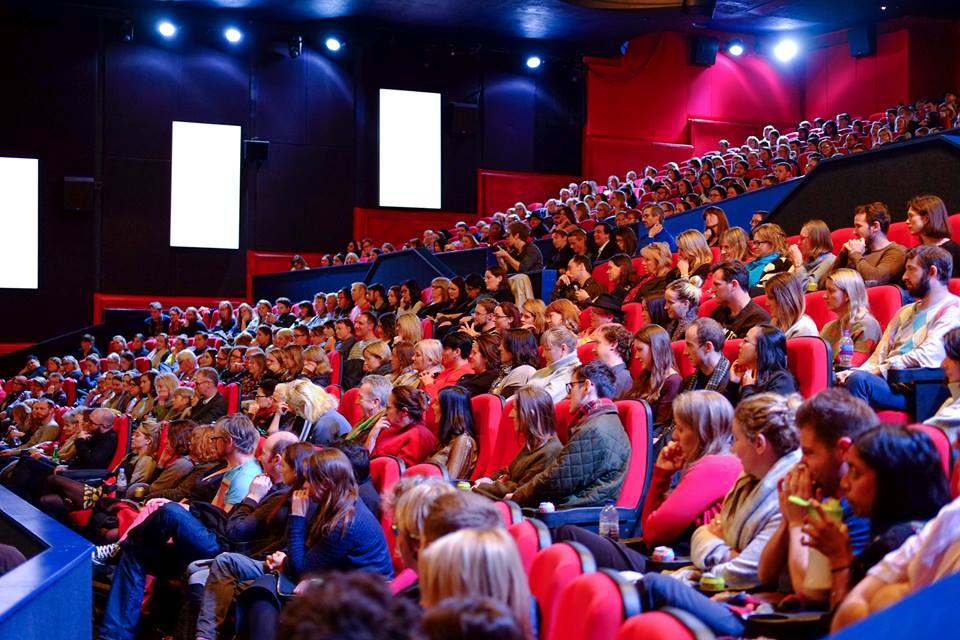 Selling Out Your Event: A Guide for First-Timers
Guest blogger (and ex-Eventbrite team member), Mark Kelliher, talks us through the steps to take to ensure that your first event is a sell-out.
Organising an event can be a daunting task, particularly when you are a novice in the field. It can also be one of the most satisfying achievements you'll ever experience if you succeed.
I want to share my experience of how I sold out my first event and encourage any first-time event organisers to get involved in the wonderful world of events. I organised a film screening in London last year and this was my first venture into event production. I was initially doubtful about my ability to produce such an event, due to my lack of first-hand experience – if this sounds familiar, read on.
Budgeting
You've got your event concept ready to go and now you need to know if it makes financial sense.
Firstly, work out your fixed costs. Using my film screening event as an example, these were things like cinema hire, DCP (film file), licensing fee – all the costs that enable you to put on the event.
Secondly, look at your variable costs. Using the same example, this includes marketing, volunteer fees, director flights and accommodation (for Q&A), photographer –  basically, any costs that you predict you'll need to make your event a sell-out. You'll need to make estimates for these costs and I can only urge you to over-estimate when creating your budget.
Fixed costs + variable costs = Total costs
Once you have your total costs, it's time to work out how much you should charge per ticket.
Ticket price
Setting your ticket price is important and should not be taken lightly. Set your price too high and you might find yourself looking at an empty room on event day. Too low, and although you've filled the room, paying off those fixed and variable costs could prove difficult.
I adopted a great pricing strategy called value-based pricing which allows you to both maximise profitability and customer satisfaction using data to calculate your price.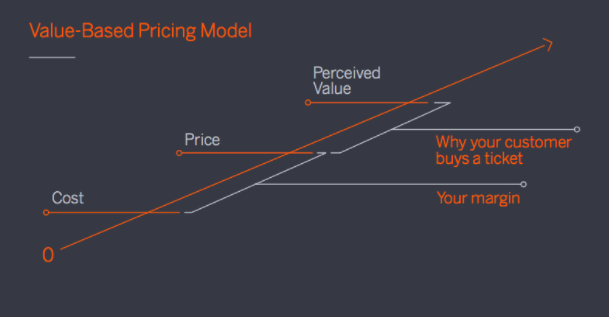 Source: The Event Pricing Strategy Guide to Help You Sell More Tickets
Firstly, work out your break-even ticket price (i.e. the amount you need to charge per ticket to cover total costs). I worked off a 50% of tickets sold rate when calculating break-even so that I had an opportunity to generate profit.
Take your total costs (£2500) and venue 'break-even capacity' (50% of total capacity – for this example let's use 250).
£2500/250 = £10 (ticket price to break-even at 50% sold)
This is the absolute lowest ticket price you should set.
"So what is the highest price point you can set? Only one way to find out – ask your friends and colleagues!"
Present your event concept to a cross-section of people (no less than ten) and ask them what they would be willing to pay for a ticket. The price they give you is their perceived value of your event, i.e. how much your event is worth to them. If it comes in at £8, you may want to think about making your event offering more appealing before pushing the green light.
Let's assume you get back an average of £17.50 for a ticket. Whilst your friends have indicated that this is what they would pay, they are actually indicating what your event is worth to them and would be more likely to buy a ticket below their perceived value. Remember, everyone loves a good deal!
By doing this survey, you now have a price range to experiment with: £10-£17.50. If you're happy making a smaller profit (it being your first event), then choosing a price of £12-13 could work. Or if you're feeling confident of your event offering and want to reward yourself for all the hard work you're about to put in, why not go with £15-16? It's up to you but at least now you have a framework to work with as opposed to pulling numbers out of thin air.
For more on value-based pricing, check out Eventbrite's comprehensive guide.
It's time to go on sale!
Now that you have a solid budget framework and a data-led ticket price, it's time to go public with your event. This is where your marketing plan comes into play so that you can reach as many interested people as possible.
In the case of my film screening event, the best place to start was with the existing community of Facebook fans. I requested admin access to the official film Facebook page and from here I was able to do something that was critical to selling out my event; sell tickets directly on Facebook.
With a simple click of a button, I was able to create an official Facebook event and start selling tickets to an existing network of interested people, all from the Eventbrite platform.
"This was a game-changer, plain and simple. I ended up selling 40% of total tickets through Facebook."
If you take one thing away from this blog post, let it be the application of this exclusive Eventbrite partnership.
Track your progress
Although I managed to sell a good chunk of tickets through the Facebook network, I did still have to work for the remaining 60%.
I used six different marketing partners, each of which helped generate awareness through their existing databases and networks.
The best part? I was in total control of generating and monitoring discount code activations, as well as URL tracking codes so that I could see how effective each partner's e-newsletters or Facebook posts were. Recognising partners who were generating sales was clear and gave me the confidence to double down with a performing partner. Or if a partner was unable to generate ticket sales, saying no to further marketing expenditure was a breeze. Simply present the data.
So where and how did I manage my marketing so easily? All from the 'Invite & promote' tab on the left-hand side of your Eventbrite 'Manage' dashboard. The confidence these tools gave me when dealing with marketing partners was immense and put me in a position where I was calling the shots. This is where you want to be.
Organising my first event was one of the most rewarding achievements in my professional career.
"The feeling I got from bringing a group of like-minded individuals together to share an experience was nothing short of amazing."
Bonus tip: Use the Organiser app to manage your sold out crowd. On game day, you can track your entry numbers and communicate this information accurately with your venue manager.