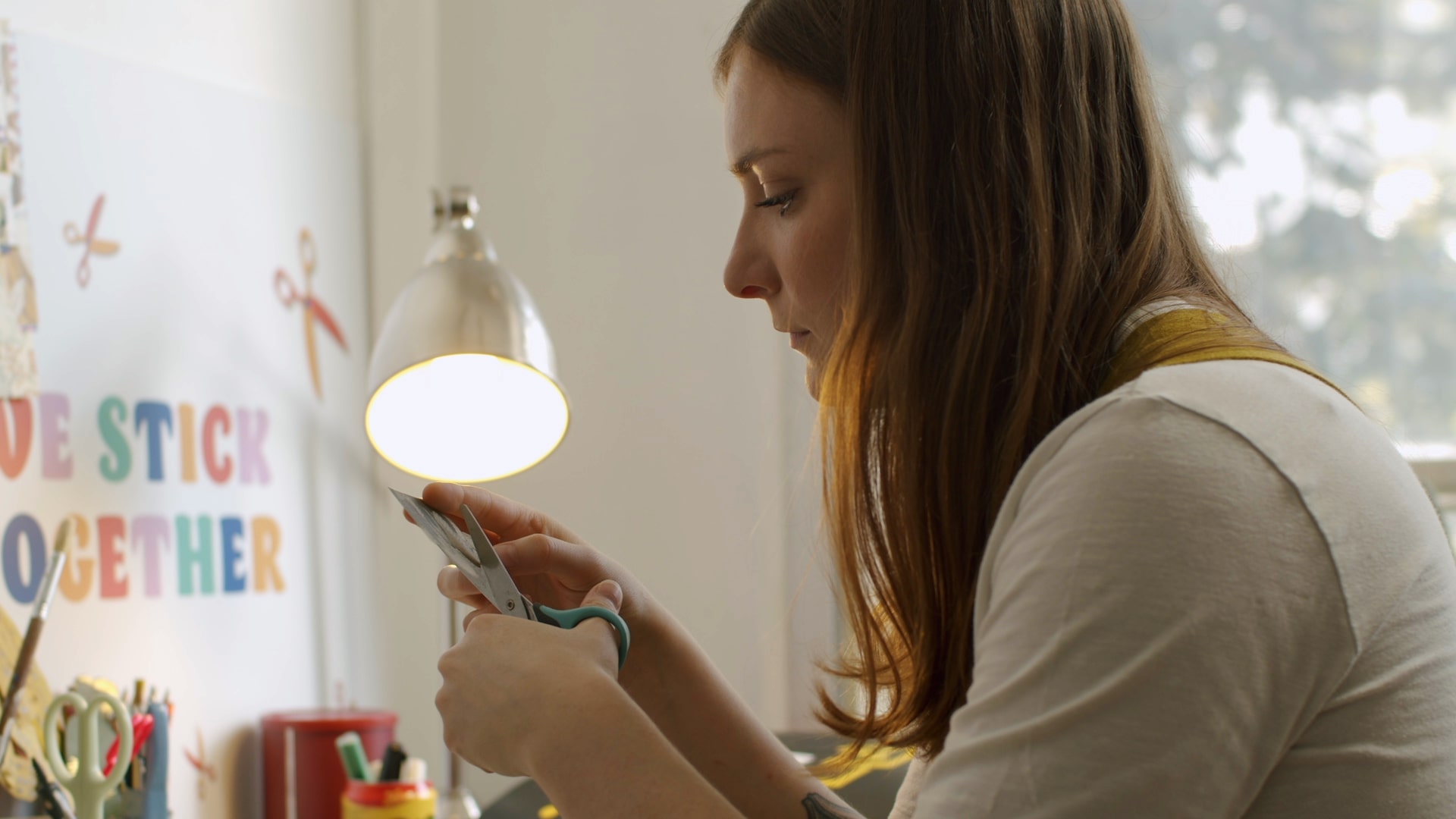 From Glass-blowing to Bra-sewing: Generation Z shun their smartphones in favour of DIY
Gen Z Brits are reigniting the UK 'maker movement' with two thirds (61%) attending a craft-based class in the past year.
Over a third (38%) say the desire for a digital detox is fuelling their interest, and one in five (21%) cite the need to be more eco-conscious.
Basic D.I.Y classes are tipped to be the next big trend for 2020.
boom in classes, training sessions, and workshops, with the number of events in this category more than quadrupling from 2014 to 2018.
New Eventbrite data suggests that Brits are going crazy for a specific type of classes.
Last year alone, more than 7,500 hobby and special interest workshops were posted on Eventbrite. Featuring all sorts of weird and wonderful artforms including glass-blowing and underwear-making, collaging courses and Japanese Kintsugi – the figures indicate a boom in people seeking out new ways to learn creative skills and craft things with their own two hands.
To understand what's fuelling the trend, we spoke to 1,000 British adults about their crafty habits. A staggering 22 million people have participated in a crafty class over the past twelve months – with the vast majority falling into the Gen Z bracket.
When asked about their motivations, more than a third of the UK population (39%) revealed they've taken up a craft class in order to challenge themselves to something new – and Gen Z are particularly motivated by a desire to immerse themselves in tech-free hobbies (38%), as well as bonding with other like-minded people (33%).
While unusual and quirky workshops are cropping up in their thousands, most Brits admit that mastering basic DIY skills is top of their agenda for 2020, with a quarter (26%) planning to attend a home repairs workshop in the new year – closely followed by upcycling furniture (25%), photography (22%), candle making and jewellery making (18%).
Paul McCrudden, head of marketing at Eventbrite UK and Ireland, said: "According to our data, the maker movement has been gaining pace rapidly over the past four years, with classes for quirky, hands-on hobbies leading the way.
"You can now find a masterclass to teach you how to create pretty much anything – whether it's learning how to turn discarded items into works of art, mastering the art of pottery or even getting to grips with making your own chocolate.
"It's also fascinating to see that Brits are starting to break away from relying on tech to enhance their lives – our survey data shows that almost a third of adults (29%) want to take part in an activity that doesn't involve digital tech. Instead, learning to create something from nothing is becoming increasingly important – especially amongst Gen Z who are more likely (38%) than any other age group to choose a craft-led workshop to escape digital tech."
People are striving to learn new talents, and it's now so easy to learn from like-minded experts – whatever you're into.
Claire Hemsley, founder of crafting company Dotty By Design runs regular Japanese Kintsugi classes. Speaking about the crafting movement she said: "Kintsugi is the traditional Japanese art of mending broken pottery with a golden seal. It's a traditional technique that has been around in Japan for hundreds of years but is really starting to take off in the UK and we've had a lot of interest in it. Most of the people that come to our workshops do it because they love the thought of learning something new and experiencing the satisfaction that comes with creating something amazing with their own two hands.
"Nowadays, we live in such a digitally-focussed world and we're used to having everything we need at our fingertips. If something breaks, it can be replaced in just a matter of clicks on your smartphone. So many people are starting to realise it doesn't necessarily give them the satisfaction that crafting does. Plus there's a real social side to the crafting movement too – it's a great way to meet new people and try new things together."
We've compiled a list of some of the most interesting crafting classes happening this year across the UK:
Sugar Craft Rose Workshop, Nottinghamshire
Set in a wonderful vineyard estate nature is made edible. The workshop is led by an Award Winning Cakemaker Sue Shuttleworth, who will teach you how to create incredibly realistic sugar roses using sugar paste and edible colours. The workshop is open to everyone, including those new to the world of sugar crafting. A two course lunch served with a glass of local wine is also included in the experience.
Kintsugi Workshop, London
Learn how to mend your own broken china and earthenware in 2 hours at this Kintsugi workshop. Kintsugi is the Japanese art of embracing imperfections. This workshop teaches you how to apply golden resin glue to the broken sections of your china, simultaneously encouraging you to appreciate the history of the object and symbolising fragility, strength and beauty.
Beginners Lingerie Sewing Masterclass, London
Aimed at those with very little to no sewing experience, this masterclass will have you leaving able to make panties, a thong or a bralette. Taking you right back to basics, you will be taught how to use a sewing machine, how to attach elastics and fine laces and many more sewing tips and tricks. Once you've mastered the basics, further classes are offered in all sorts of lingerie such as corsets, swimwear, and suspender belts.
Paper bird making with Zack Mclaughlin of Paper & Wood, London
By the end of this five and a half hour workshop you will be able to create beautiful and lifelike paper birds. Zack teaches you how to create lifelike feathers with just paper and scissors. There is a choice of either a hummingbird or a mini barn owl to create within the session, but this class gives you the skills to continue crafting all kinds of paper birds from home.
Chocolate Truffle Making Workshop, York
York is a haven of well-loved and respected chocolatiers, and York Cocoa House are offering you the chance to learn how to make your own. They will teach you how to professionally temper the chocolate, hand dip and decorate them. You will then beautifully package your gorgeous set of twelve truffles to take home. As well as truffles, workshops are also offered in Chocolate Caramels, Ganaches and Savoury Chocolate.
For more information, please visit: eventbrite.co.uk/l/talent-to-tickets/