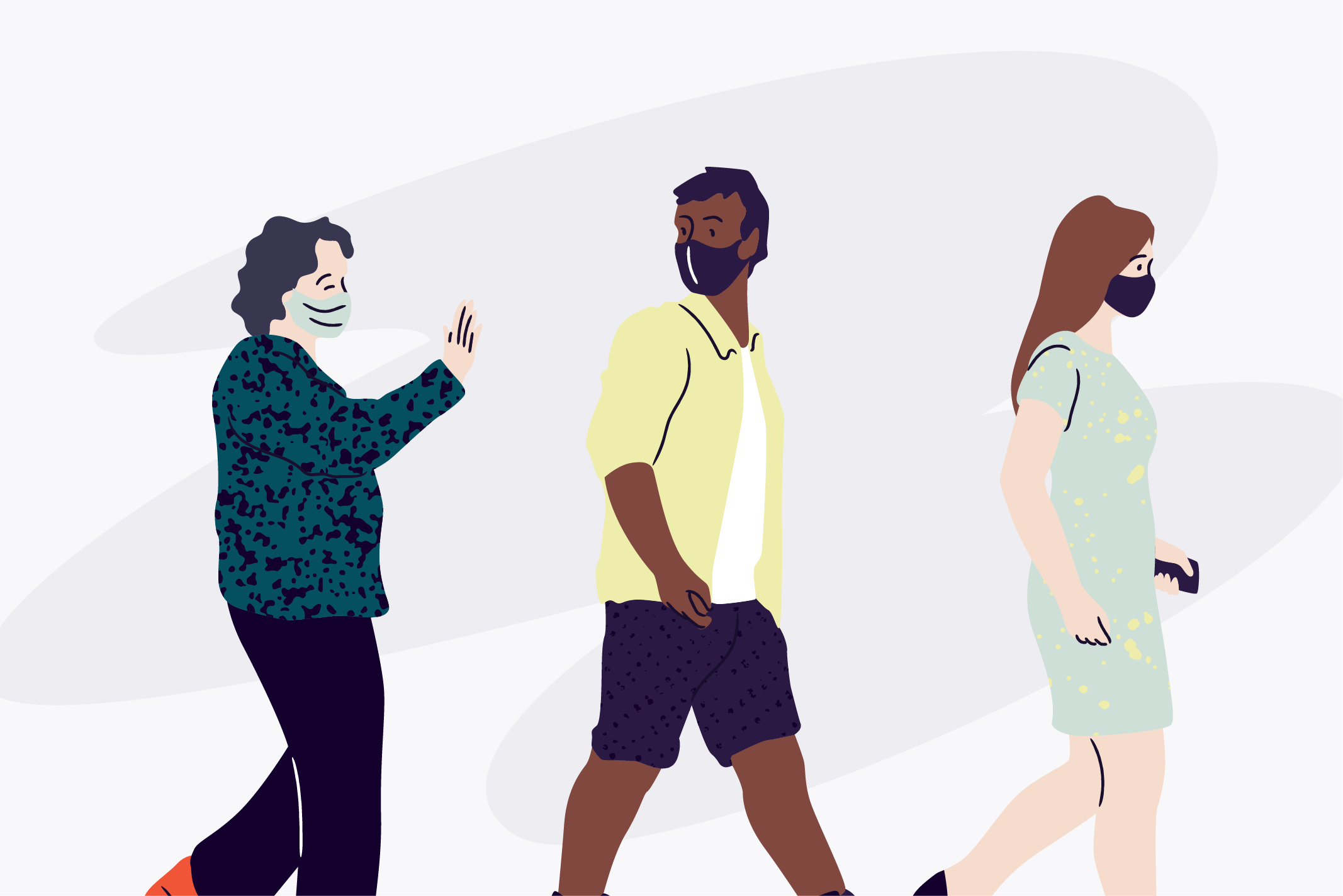 The Grand Reopening Event Planning Checklist You Need to Bookmark
While most creators have a trusty event planning checklist that they consult in normal times, organising a post-lockdown event comes with a whole host of different factors to consider. Whether it's ordering PPE supplies for staff or ensuring that social distancing measures are being adhered to, you'll want to make sure that your event complies with all the COVID-19 safety regulations.
If you're wondering how to plan an event once the restrictions have lifted, then here are some of the things you'll need to tick off to get started.
1. Set your objectives
When organising an event, the first thing you'll need to do is decide on its format. For example, is it a sponsored half-marathon, food festival, or outdoor gig? While this is the time to determine what your event will look like, it's also a good idea to put together a backup plan in case government regulations change. This might include having an alternative venue on the back burner or even figuring out how your event could be held online instead.
Whatever event format you decide to go with, you'll need to take the following into account:
What is the purpose of your event? Is there a current demand for it?

Can it still achieve its purpose if certain restrictions are in place?

How many attendees are allowed at an event in line with government restrictions?

What will your attendees be looking to get out of the event?
2. Carry out a risk assessment
Conducting an event risk assessment is a critical step in the planning process. It's your responsibility to ensure that you've done a thorough assessment of all the health and safety risks and found ways to mitigate them.
To ensure that you comply with event safety rules, you will need to produce an event management plan that takes into consideration the latest COVID-19 guidance from the government, the World Health Organisation (WHO), and the local authority.
Ask yourself the following questions:
Have you conducted a risk assessment and written a method statement that encompasses all COVID-19-related risks?

Does this take staff, speakers, and visitors into account?

Where can you remove or reduce the risk of close physical contact between attendees and staff?

What first aid measures will be in place?

Will you have hand washing or sanitiser stations in place?

Do you plan on regular cleaning and disinfection of the site and facilities?
3. Work out a budget
Once you're aware of any risks and mitigation measures, balancing your budget is the next necessary step. Here are a few financial questions to consider:
How much will you need to put aside for PPE, cleaning supplies, and contactless technology?

With fewer people attending due to social distancing and limitations, how can you offset costs? Could you increase ticket prices or

secure a lucrative sponsor

?

How can you manage your cash flow to soak up any losses if the event is cancelled at the last minute?

Have you confirmed funding from sponsors and partners?

What are your contractual obligations with suppliers like caterers? What have you agreed with them if the event is cancelled?
4. Decide on a date
Once you've figured out how your event will go ahead, you can choose a date. Give yourself enough time to plan, taking into account all the new COVID-19 measures. It's good to be aware of which types of events are going to be allowed and when, then plan accordingly.
And don't forget to think about the following:
Is there sufficient time to plan the event for you, your suppliers, and sponsors?

Do you have a tentative backup date in case you need to cancel your event?
5. Find a venue
The next step is finding a venue that has enough space for planned attendee numbers with social distancing measures in place. Depending on the type of event, explore both indoor and outdoor options and think about transport to the venue.
Here are some other things to consider when finding a venue:
How will people travel there? Attendees might not feel comfortable using public transport.

Are there separate entrances and exits?

Are there enough access points to minimise crowding?

Is there adequate ventilation to reduce the risk of transmission?

Is there space for socially distanced queues and seating or a one-way system?

Do the facilities, including toilets, cloakrooms, green rooms, and catering spaces, comply with health and safety regulations?
6. Look after talent
There will also be a number of new things to consider when booking artists, speakers, and performers for your event:
Will people feel comfortable performing or speaking in the current climate?

How will talent travel to the event? Will they need to be tested and quarantined?

What happens if a travel ban is put in place at the last minute? Do you have local talent lined up just in case?
7. Hire people to help
Surround yourself with an event team that has experience in health and safety. Make sure that speakers, sponsors, and staff are up-to-date with current restrictions and provide them with information about COVID-19 symptoms, so they know when to isolate and not come into work.
For staffing requirements, check the following:
Are there skilled and legally competent staff, including contractors and suppliers, in place to plan the event safely?

Are there enough members of staff to ensure safety measures, like face coverings, are implemented and adhered to on the day?

Have your staff been trained in how to minimise the transmission of COVID-19?

Where will staff be travelling from? Do you have enough local helpers in case of transport disruptions?

Do you have contingency plans in place if staff become symptomatic before or during the event?
8. Think about your refund policy
There is a much greater chance of issues cropping up in a post-lockdown world, so you'll want to prepare for the worst. Set up a clear and flexible refund policy that instills confidence in your attendees when it comes to purchasing tickets. They'll want to know that they'll get their money back if the event isn't able to go ahead due to government restrictions, or that they can use their original ticket to access a future event.
9. Come up with a communication strategy
The more you communicate with your guests about your event and the measures that will be in place, the more comfortable they will likely feel. It's worth having a list of FAQs on your event page to ease any anxieties your attendees might have. Sending out emails is also a good way of communicating with attendees, as well as updating social media platforms.
Keep your attendees informed of the following:
General information

General health and safety measures

COVID-19-specific messaging (ensuring any links you give to public information are up to date)

Cancellation timelines or last-minute changes

Refund policies (if applicable)
10. Sell tickets online
In the current climate, contactless entry is often preferred. Selling tickets online in advance can help you to achieve this in a more streamlined way. Online ticketing is useful for:
Helping to limit attendee numbers in line with restrictions

Promoting contact-free entry on the day

Collecting attendee data for track and trace

Boosting guaranteed sales income
11. Set your venue up
As the big day draws near, it will be time to set up your venue. As well as the usual things to do, like building infrastructure and installing signage, you'll want to make sure all the COVID-19 measures are in place. These will depend on the type and capacity of your event, as well as the size of the venue. For instance, an outdoor concert planning checklist will be different to one for an indoor theatre performance.
Whatever the event is, you'll want to think about the following:
Is there adequate signage at the venue?

Are there enough sanitation facilities?

Do you have spare PPE at the entrance for attendees if needed?

Has the venue been deep-cleaned before the guests arrive?

Where will people buy food? Will there be food stalls or table service?

Have you considered offering meal deals or hampers to minimise queueing?

How will queues be managed?
12. Carry out final checks on the day
On the day of your event, there will be a number of final checks to do:
See that all staff are wearing the correct PPE

Ensure that staff are properly spaced out throughout the venue to remind attendees of social distancing measures

Have a rota in place for cleaning certain areas during the day

Make sure staff know what their duties are and who to go to if any issues arise
Be prepared for all eventualities
This is by no means an exhaustive list. But once it's ticked off, you can feel much more prepared to hold an event in the post-lockdown age. There's always a chance that things may change, so staying organised, checking local guidelines, and having a back-up plan are crucial to making a successful return to in-person events.
For more help determining your event's risks and ways to mitigate them, check out our COVID-19 Safety Playbook.