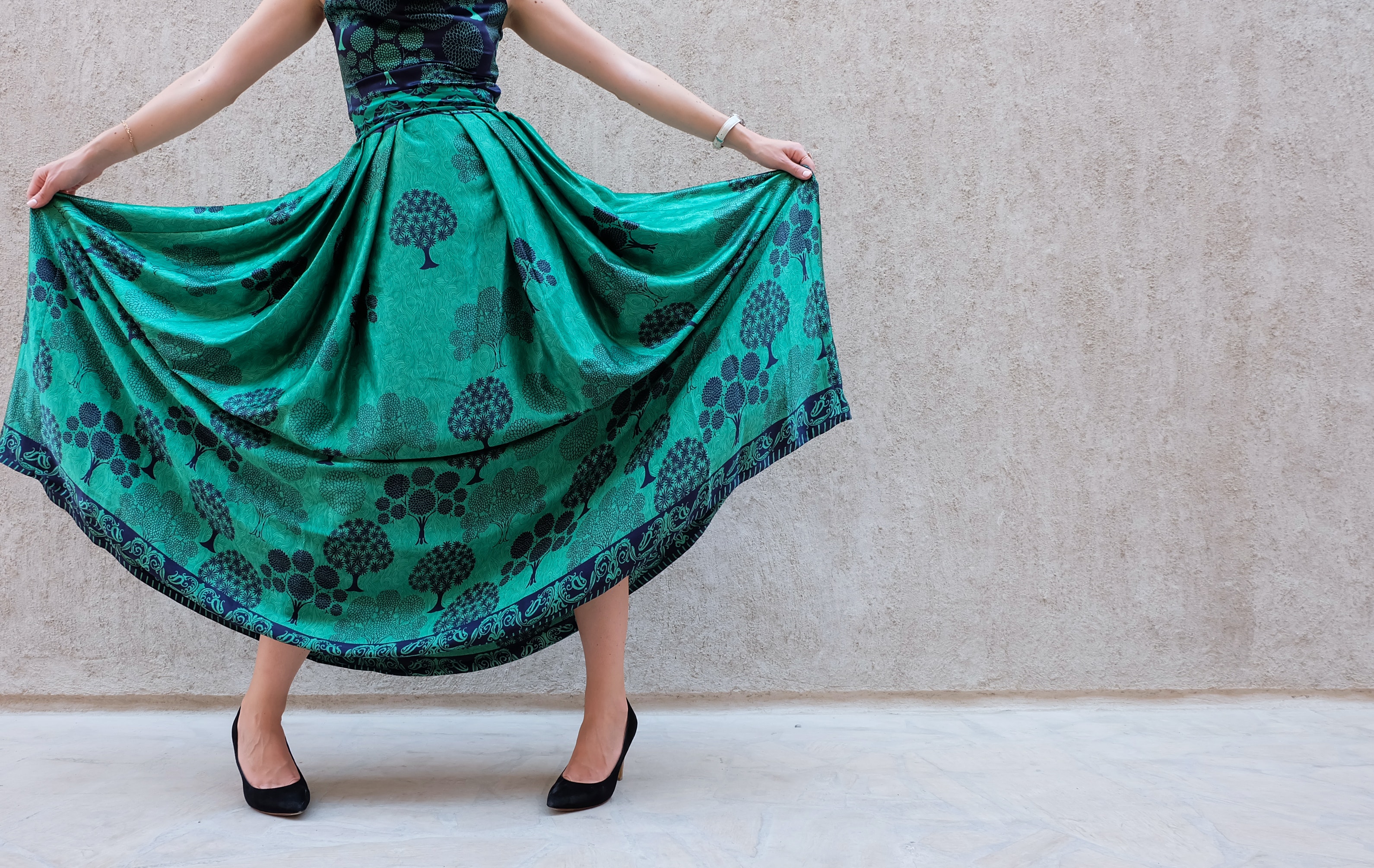 How To Host A Fabulous Clothes Swap Party
Chances are, at least some of your clothes still have their tags on, while others have begun to bore you. The anti-fast fashion movement is growing and you're trying to save money, but the urge to shake up your wardrobe is strong. 
Enter the clothes swap!
It's simple: you bring along your unwanted clothing and swap it with other people. Only clean, good quality items are accepted, so you're guaranteed to leave with an outfit that's second-hand, but new for you.
The resurgence of the 'make do and mend' philosophy is a response to worrying statistics revealing the harm that the fashion industry – the world's second-largest pollutant – is doing to our planet. 
Oxfam's figures are particularly shocking. The charity recently reported that 11 million items of clothing end up in our country's landfill sites every week, while the volume of clothing sent there every year weighs as much as the Empire State Building.
You might be looking to raise some money for a good cause, or simply want to encourage your local community to think more ethically. But for eco-minded brands, or businesses looking to adopt a more sustainable ethos and reputation, clothes swaps are a smart way to engage and grow your customer base.
Michelle Wright, a former events manager, runs vintage shop Raindrops & Ribbons in Milton Keynes. She has hosted a number of successful dress swaps in Buckinghamshire, so we got in touch to ask her for some tips.
1) Find the perfect venue
"Steer clear of cheap places or bars with sticky floors as they won't set the right tone," says Michelle. "I opt for stylish pubs with function rooms so that guests can enjoy a glass of wine and make a sociable evening out of it."
2) Do your market research
Michelle asked her customers what day and time would be most convenient for them to attend a clothes swap. Sunday evenings came out on top among her following, who are chiefly in their late thirties.
"It's important to keep talking to people," she says. "Put the feelers out among your customers and friends and ask what items they're most interested in, be it dresses or shoes. I find sticking to dresses saves the swap from looking like a jumble sale."
3) Set up an attention-grabbing Eventbrite page
"Eventbrite is easy to use both for organisers and customers," says Michelle, "but give your page a snappy title and a colourful photo to help it stand out while scrolling."
She recommends making all the practical details clear, such as transport links, parking, and if they need to bring cash. "I list my pricing – £5 in advance or £10 on the door – along with my FAQs and a few do's and don'ts. That way, everybody knows what to expect on the day, which minimises the risk of complaints."
4) Choose your wording carefully
 "Language matters," says Michelle. "Using the phrase 'pre-loved' in my promotion materials excites much more interest than 'second-hand' because it doesn't have a stigma. It gives people confidence that they're going to get something that has been looked after."
5) Get creative with your sales tactics
Michelle generates buzz for her clothes swaps by including extras for the first 30 guests to buy tickets, such as pre-swap talks by personal stylists. 
"These events are the ideal opportunity to be brave and try styles you wouldn't normally because you aren't spending lots of money," she says. "The complementary workshops have gone down brilliantly. I'm going to bring along an upcycling expert next."
6) Be social media savvy
Michelle posts regularly on Facebook and Instagram in the run-up to a clothes swap. She runs competitions encouraging customers to share photos of themselves at the last swap, using a designated hashtag, for entry into a prize draw to win free tickets to the next one. 
"It's hard keeping up a social media presence, but it's worth it," she says. "I run some Facebook ads and also go old school, putting up posters in coffee shops and hairdressers – anywhere my local ladies might see it!"
7) Stop the scramble!
Keep your swap from turning into Primark on Black Friday with clever crowd management. "I tell my guests to arrive at 6pm," says Michelle. "They hand over their dresses and we check them for stains and stamp their hand with the number of dresses they've brought, which is the number they can take home.
"They hang their dresses on the relevant size rail and head to the bar, while we get everything ready. The swap then opens at 7pm.
"Surprisingly, I find people are fairly orderly. They're often helpful, picking dresses out for others. It's lovely to see. But I do cap the numbers, usually at 50 for a decent-sized room, otherwise the experience wouldn't be enjoyable."
Michelle sets up dressing screens at the back of the room so that guests can try before they buy. She also makes it clear that they are welcome to use the loos for more privacy.
8) Promote your brand!
Michelle sets up a Raindrops & Ribbons stall at each swap. "I bring a rail of my best dresses, plus my range of lipsticks," she says. "I get into conversations with people about what they enjoy wearing and talk to them about sustainability. I usually sell up to £400 of vintage this way, as well as promoting other events I run."
9) Get feedback before they leave
"I print out feedback forms and ask guests to fill them in anonymously when they check out," says Michelle. "I ask them to tell me what they like, what they think could be improved, how they heard about the swap and where they live. This info helps guide my next event."
10) Collaborate to scale up
Michelle is busy planning a London clothes swap for early next year after teaming up with new clothes swap app Swapsy ("it's like Tinder but for clothes"). Consider partnering with other ethical businesses near you, perhaps to create VIP goodie bags. Shoreditch-based swap series The Haulternative Closet have sourced drinks from an ethical bar to serve at their next swap.
The next Raindrops & Ribbons clothes swap will be held in Milton Keynes on Sunday 17th November. Buy your tickets on Eventbrite here.