How to Make Thousands from Events as a Side Business or Hobby
Looking for a way to increase your income without having to change job? Organising events on the side can bring in significant profit, not to mention opportunities to develop yourself personally and professionally.
Be inspired by these eight case studies showing how people just like you have started their own events, while holding down a day job, and are making thousands in the process. Find out how Eventbrite can help you too!
Vhari Russell, Grub Club Cambridge
"I run food marketing agency The Food Marketing Expert as well as organising regular networking events for food and drinks businesses in Cambridge.
"I set up Grub Club Cambridge with Kelly Molson from design agency Rubber Cheese as a way to connect with other like-minded business owners. We have now held 16 events which have lead to great new friends and work opportunities.
"We have both been delighted with the leads, connections and exposure it has given us. We now write a monthly column in Cambridge Magazine, we are approached by new business in the area to help them source products. It feels a great platform to have created and we are constantly overwhelmed with the emails we receive after each event, from those who attend who are so appreciative of our work.
"The events have developed pretty quickly. We teamed up with Taste of Anglia which enabled us to talk to a larger audience very quickly, which was invaluable. We have been going for two and a half years now and have won two awards and have a database of 900 contacts. Each event on average has 60% new attendees.
"We hold six events per year and that seems to be a perfect balance for both Kelly and I and our attendees. The time spent organising the events is very evenly split between the two of us. We allow two hours per week and during the build up to the event this may increase.
"The week leading up to an event it can become difficult to manage everything but we have learnt to juggle over the years. We have also got better systems in place to ensure we communicate the numbers and dietary requirements in place. We love using Eventbrite as it has made hosting events so easy and straight forward."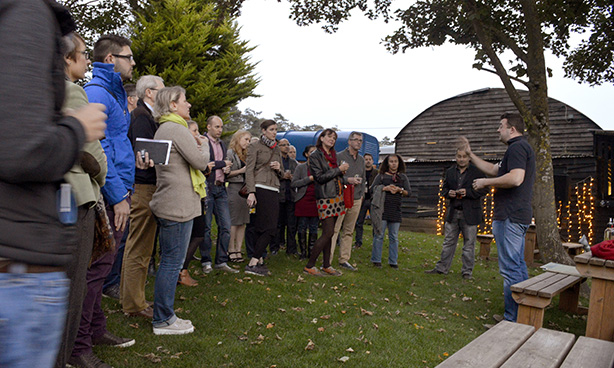 Related: How to start a networking group
Federico Dubini, Symposium Events
"I'm now the founder of tech start-up Yobs, but I started organising events back when I was at school. I wasn't able to ask my parents for the money to attend music events so I started selling tickets for other organisers. Because of the big numbers of tickets I sold they invited me to organise something together. I have been organising an event with international DJs for the last five years. It's a great side source of cash – I've grown the business from 0 to 5,000 tickets sold per event, and from 0 to $150k revenue per event.
"It is very time demanding. We do everything from A to Z: We select the best venue, we find a deal to rent it at the best price, we select the best electricians, the best sound system suppliers, all the decoration suppliers, we select the PR agencies to work with, we decide the prices, the design of the ads and of the tickets, we hire the staff, we organise the security and we also find the deal with the label and DJ agencies to let our guests come. They also require us to organise 5 star hotel and plane tickets in business class.
"However, we make a profit of $15/20k per event and there are also a lot of other benefits. Most of the time, we are invited for free to other events and festivals by the DJ agencies and labels. In the last two years, I have had free backstage badges for Ultra Music Festival in Miami, Ultra Music Festival in Europe, EDC Las Vegas, EDC UK, Milan Fashion Week after parties, NY fashion week after parties and many others.
"Organising events does have its challenges. Promoters often promise to sell you thousands of tickets and then fail to deliver. It is very difficult to forecast exactly how many tickets you are able to sell and therefore how much to invest in space, bottles, bar and personnel. Eventbrite allows you to have more precise data and sell a range of tickets so that you can minimise cost and improve your offer to the public."
Related: 4 Reasons why hosting an event can launch your DJ career
Carl Saville, The European Championships
"The European Championships is an annual CrossFit competition involving 5,000 athletes from all over the world. It started out in 2013 as a small in-house competition just for members of CrossFit Colchester.
"I had such positive feedback that a second event was held, this time with other gyms from the region, allowing us all to get to know one another. Following the huge success of this event, my team and I were swamped with requests from other UK affiliates asking to come and join in the following year. That's what led to us pulling out the stops and opening up the competition nationally.
"Managing the extra work alongside my day-to-day responsibilities was one of the hardest parts of growing the events side of the business. In the beginning, all of the members at CrossFit Colchester volunteered in running the events, which was a huge help, and a key reason behind their success. When planning and management began to take up over 40 hours a week, I knew something had to change. In order to cope with that growth, I started to build a management team of people who were as passionate about CrossFit as I am.
"Running the competitions for the first few years involved a large personal investment from me in order to facilitate their expansion. However, the events' growth has served to motivate CrossFit Colchester's members and stay committed to the gym. The competitions also caught the attention of Scott Panchik, 4th fittest man in the world, who has partnered with us to launch a training program. That association and recognition is obviously great for business, and for members' morale.
"We have used Eventbrite now since 2013. My team and I find the system extremely easy to use and safe, reliable, and functional too. Last year was the first year we introduced the tickets scanners at entry for spectators, and I was amazed at how helpful it was in making the entry process quicker and easier."
Krystal Covington, Women of Denver
"I lead a five-figure membership-based women's association while working as a PR director for a publicly traded grocer. I started out simply inviting people I met at networking events to come to small events I'd host at coffee shops, but eventually the needs of the women attending began to surface and I reorganised the group in order to give them the opportunities they were looking for such as working on their speaking skills, and learning how to market their businesses.
"I started with an investment of about $75 per month, which included the cost of meeting in a private room for two hours once per month and buying some pastries to share. The initial time investment was really just about 30 minutes of messaging people via email and LinkedIn inviting them to attend the next meeting. The events were free at first and I'd get about six attendees at the most.
"Once I turned the group into a fully-fledged association I had to get out and do additional networking and speaking engagements around the city to recruit people who were willing to pay for the program. When I started charging for the program I really lost all of the people who were coming to the free events and had to start from scratch, but it was worthwhile because it had become a financial burden as we had more events and offerings as well as a website to maintain.
"After about three months of haphazard organisation through a small email list I had created I moved to a combination of meetup and Eventbrite for posting events and started seeing between 15-30 attendees per event almost immediately.
"I have a virtual assistant who handles the event management on the back-end. She gets everything scheduled and in the event system. I also have a membership manager and several volunteers who help me to run the events.
"By no means is this an easy thing to do, but I'm happy that I get to be impactful for the women who participate in the group while leading a successful corporate career and I still have time to go shopping and binge-watch Netflix!"
Sam Boothroyd, Rymer Associates
"We have run tax seminars, which have been great for winning additional clients and increasing the revenue of our business. We started running the events as a way to connect with the local community. In Rymer's early days we were a local firm and would target new clients within Portsmouth and the surrounding area. We wanted a cost effective way of getting in front of lots of local businesses without taking each person out for lunch, which soon gets costly.
"We found a local venue that we could hire and fill full of people at a rough cost of £11 per head. We offered the event for free and provided tax updates and food and drink so local businesses would want to come. It also gave them a chance to network with local businesses at the same time.
"The initial investment wasn't too bad; we ordered a few roller banners and some promo material to hand out as people arrived, but there was an investment of time required too. We had to work quite hard to fill all the seats. We eventually reached out to a marketing client to approach local businesses and asked the local council to promote it for us.
"It paid off. We had an initial enquiry rate of 38% from the people who attended, of which we engaged 87% of these. The fee income more than covered the costs of the event and fees are repeated year on year, providing on going profit."
Shar Fuller, Mai Tai
"'I absolutely adore London and as a biologist with an entrepreneurial spark, I think that the city has so much to offer on a social and professional level.
"I wanted to create a convenient way for people in London to connect, share interests, ideas and experiences. Through my start-up business Mai Tai, I organise events that make it easier for like-minded people to come together and enjoy a better work life balance.
"It has taken a considerable amount of hard work. I spend every weekend working, which leaves my headspace a little cramped but fortunately ,my job allows me some downtime in the summer, enabling me to concentrate on planning the events.
"Each event takes about three months to plan, and we are growing our audiences via Facebook and Eventbrite. These days your followers on social media are basically currency and as that grows, we are looking to plan events with a larger space. Advertising via Eventbrite and the London Chamber of Commerce has given us great exposure without associated costs.
"As a brand, I have been very keen to promote the idea that Mai Tai does not believe that socialising is done behind a computer screen. So I was a little concerned about offering events which could be thrown into a digital shopping trolley! However, my experience has shown that this is not the case.
"Most people visiting the Eventbrite page were already looking to get off the computer screen and into the real world, these are totally the people Mai Tai want to meet. The site is user friendly and the website back office made data collection seamless."
Tom Bourlet, TakeItOffline
"I have a full time job in digital marketing but also run TakeItOffline, a free digital marketing roundtable, which first took place in The Globe pub in Brighton. I organise the event with two friends and we hold it every two months. It has grown way beyond what we predicted, to the point that we are now earning a decent amount in sponsorship.
"The success has meant we are going on tour, with the May event taking place in London and in July we will be in Leeds. The sponsors for the events have already ensured the venues, drinks and food is all covered for everyone attending, which means any extra sponsorship we attain for these events will be pure profit. Running the events via Eventbrite has meant we've been easily able to scale up."
Karla Jobling, BeecherMadden
"BeecherMadden is a recruitment company but for the past few years, we have also hosted quarterly breakfast seminars. We arrange three industry speakers, around a common theme, and invite customers to attend.
"We decided to start these events as a way to show our industry that we were knowledgeable and add extra value. None of our competitors do this so it's helped to set us apart.
"It is a great way for us to get face-time with our customers, some of whom may not be active at the time. We stay in their mind and show our commitment to the industry we operate within. Typically, the event generates at least one extra placement – around a 2,000% return on our investment.
"We only do them quarterly, as the amount of time that goes into each one would be too big of a commitment to do more often. Arranging speakers has become easier but making sure we have enough people attending still takes time. They are actually very cost effective to run and require limited equipment. It is just food and drinks.
"The benefits are financial and demonstrable, which is nice. The other benefit has been how our brand is perceived. People know about the events and they do see us as getting involved with our industry. It has improved their perception of the company and therefore, the likelihood that they will do business with us."
Conclusion
No one says events are easy to organise, but with enthusiasm and commitment, it is possible to get up and running while working a full time job.
Whether you're doing it to boost your existing business, indulge in a passion or work towards a new career, these testimonials show it can be well worth the time and effort.