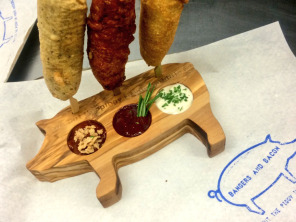 How to Start a Pop-Up Restaurant that Brings Home the Bacon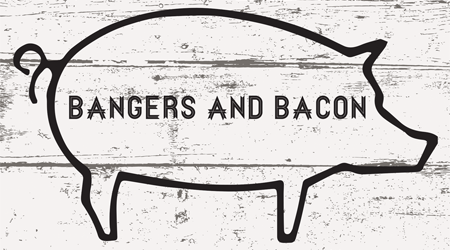 Have you ever thought about hosting a pop-up restaurant night? It can be a great way to have fun, test your culinary skills and earn a bit of extra money, or even act as a springboard for establishing your very own eatery.
Since hosting a pop-up event one year ago, Richard Brown, alongside his business partners James and Heather Taylor, has gone from feeding six people a night to 60 – and opened a restaurant in Manchester's trendy Spinningfields development.
We caught up with him on his return from a 'flavour finding' trip to Columbia to find out how Bangers and Bacon has grown from piglet to sow.
According to Richard, although his restaurant is still relatively new, his fascination with food is not. Aged just five he first dreamt of opening his own restaurant, which was to take diners on a culinary journey around the world (via a complex system of elevators, no less).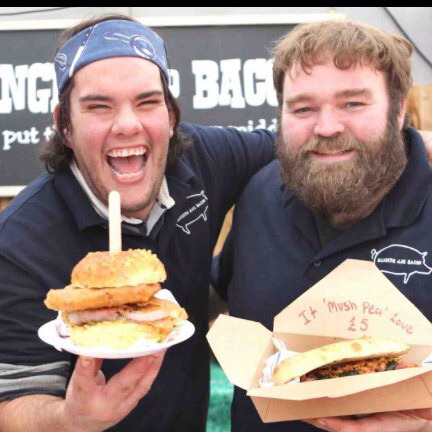 Richard went on to train at the Michelin-starred Juniper in Altrincham under Paul Kitching, and then at Paul Heathcote's restaurant in Manchester. But it wasn't until he took a three-month sabbatical to go travelling that he rediscovered his passion for foods of the world.
"This was the first time I'd been introduced to what is now commonplace street food. However at the time it was some of the most interesting and delicious food I had ever eaten," he says.
This inspired Richard to start his own street food business, Flavours Found. The idea was to create a range of concepts based on the cuisine of different countries and he began with Shake Moroc & Roll, serving dishes found in the bustling medina of Marrakech.
"I was taking stands at various events and I kept running into James from Bobby's Bangers, who produces sausages and bacon in unusual flavours," recalls Richard.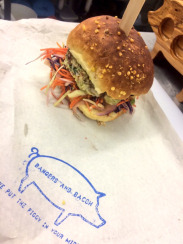 "In the end we said 'why don't we do something together?' One thing led to another and we started Mash Up which was a sausage and mash concept, but people weren't willing to go along with the concept because the combinations were too weird and wonderful."
The pair decided to rein in the flavour clashes and opted for bun-based classics, with a quirky twist – Bangers and Bacon was born.
"We came up with some fun dishes like 'Don't Go Bacon My Heart' and 'Mush-Pea Love' and had some success from the street food side of things. Then we did a two-month street food installation event called Guerrilla Eats where they also allowed us to organise our first pop-up dining experience."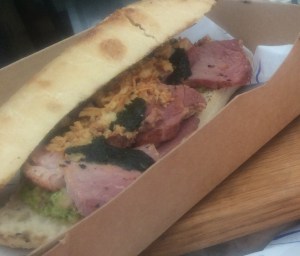 Richard explains: "I'd seen a guy, Ben Spalding, at an event in London doing a pop-up, serving a full fine dining style menu and this is what I wanted to try.
"We set up a little dining area in the middle of the event and the first week we did it, we did a five-course menu for six people. The week after we managed to do it for 12 people. We just carried on growing and growing and by the end we were doing two sittings. We finished that series on New Year's Eve with 30 people having a 10-course gourmet menu in an abandoned car park."
Bangers and Bacon was invited to return in March this year, when Guerrilla Eats took a 12-week residency in a former Manchester factory. This time, the team wasn't doing street food at all, but focused on serving fine dining dishes from a Chef's Table (which was actually two long tables, reaching off the sides of an open kitchen).
"We were doing two sittings of 30 people a night, every Saturday night. So it was 60 covers a night, serving a five-courses set menu, with every course incorporating sausages or bacon, including the dessert!"
Although it happened quickly, growing the pop-up with limited resources was not without its challenges, says Richard.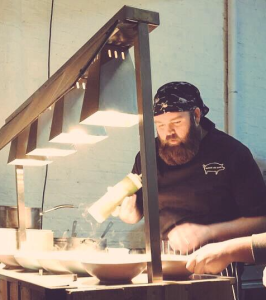 "At the original site, we were serving out of a three by three gazebo. It was a bit tricky trying to get the food out of this tiny little space. The preparation area was so small.
"When we built the next kitchen we purposely built it for being able to do the bigger numbers. That made it much easier to scale up – it was more the marketing and trying to get the word out that was the difficulty then. We'd gone from selling this to 150 people over a five-week period, to 750 people over five weeks to then trying to sell over 1000 tickets."
Richard uses a combination of Eventbrite and social media to promote the Bangers and Bacon pop-up events, while also relying on word of mouth and reviews by journalists and food bloggers.
He says: "Trying to access the market is the biggest challenge. There are millions of people in Manchester but it's trying to access them. A lot of people who do this on a big scale have big marketing budgets to do that with; we don't.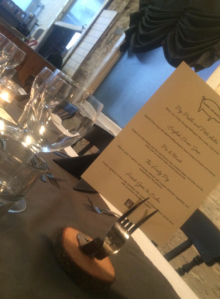 "The key ingredient for us is using Eventbrite. The support the platform offers is fantastic for what we do – the fact it links to Facebook, builds you a ticket sales facility for Facebook and integrates with mailing list tools.
"As we grow we're building a mailing list and it really helps with that side of thing. Every time we create an event we automatically send that out to our mailing list, which is around 300 people now. That's really important for our growth.
"Social media too is central to our marketing. We get on well with a lot of the bloggers in Manchester and they're normally quite happy to write about what we're up to.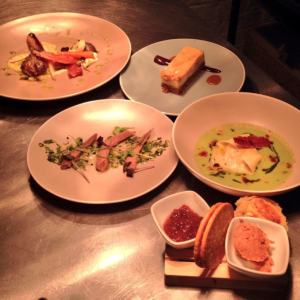 "We ran an offal club recently and a blogger, who eats a lot in London, wrote an amazing review. He said what's nice about what we do, is it's all on one table and it's a shared experience. He commented on how nice that was – as much as they were having a good dinner they were also meeting other people."
He adds: "We've got Sausage Week coming up next week where we have a whole week of events planned. We've got all of that on Eventbrite and already have lots of people writing about it. We think that's the best way of getting the word out there."
The Sausage Week events include a Sausage School, where James will teach sausage making; a Seven Wonders of the Sausage World themed Chef's Table and a sausage eating contest. All of the events are taking place at The Kitchens, in Spinningfields' Leftbank area, where Bangers and Bacon launched a permanent unit in June this year.
"There are six street food traders in The Kitchens," says Richard. "The venue has been initiated by Allied London which owns Spinningfields. The traders went through a Dragon's Den style process to win a place for 12 months and are still competing to win more investment and mentoring.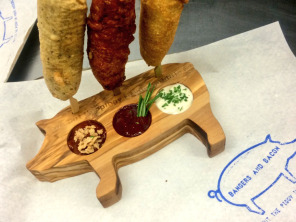 "We're open seven days a week, serving breakfast, lunch and dinner. It's a fantastic opportunity for us, helping to raise our status in the city."
Having their own venue has enabled Richard, James and Heather to take greater control of their pop-up events.
Says Richard: "With a lot of street food events you have to give away the bar to the people that own the event. Now we can run the bar, so that helps financially. It's well know that's where the money is."
Richard admits that, to begin with, the team didn't approach the venture with a business mindset.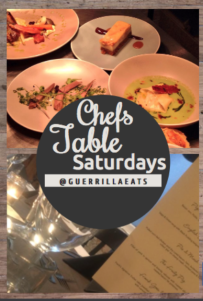 "Financial planning has been our biggest area of weakness. That's because it's genuinely been done because we enjoy it, more than being financially motivated.
"When we first started doing it, we were doing five courses for £15 and even now it's only £20 for five courses, so we don't make great amounts of money."
However, they have been able to invest in more equipment and professionalise the offering.
"Now we've got plates and bowls and are not trying to beg, borrow and steal from everyone!," laughs Richard. "The first time, we used plates from my house, cutlery from James' house and we were buying a little paper tablecloth, trying to make it as fine dining as possible without spending a fortune.
"We didn't know how it was going to go – were people going to like the idea or just think we were bonkers? We just genuinely didn't know. Luckily it worked and we made a bigger investment in March for the second Guerrilla Eats event.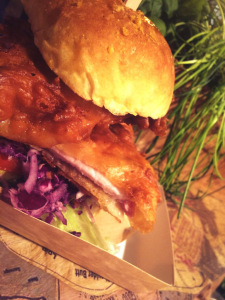 "However, even then, we used high quality plastic plates. Only recently have we invested in all the proper glassware and plates."
But while more money is being invested, the team has also had to scale back in order to fuel growth. Richard explains: "The biggest change we've made is streamlining the offering and not trying to be as avant-garde as we were. Trying to serve 30 people with 10 items on every plate is a lot more tricky than trying to serve six items on a plate."
Alongside its all day dining, Bangers and Bacon runs one to two pop-up events every month as well as catering private events.
"We do two or three private events a month, which is more than enough at the moment. We don't do much marketing for private events, apart from putting up a sign. If we put more focus on that we could probably grow that side of the business as well."
However, looking ahead, Richard and the team have plenty to keep them busy. If they do not win a permanent placement in Spinningfields, they'll be on the look out for a new home.
"We don't know in six moths time what's going to happen with this project. We could be really lucky and they let us carry on here – that would be amazing.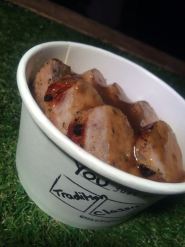 "Otherwise we'll look for another venue within Manchester or look at moving further afield. Our biggest focus is on growing the casual dining side of the business rather. The street food is lots of fun but it's good to have a permanent home."
But will that mean an end to Bangers and Bacon's pop-ups, where diners can enjoy such creations as Marmite bacon pate and black pudding wontons?
"No. So much of the fun we have is just doing crazy events in the middle of a field, and running a restaurant out of a gazebo. That will always be a core part of the business."