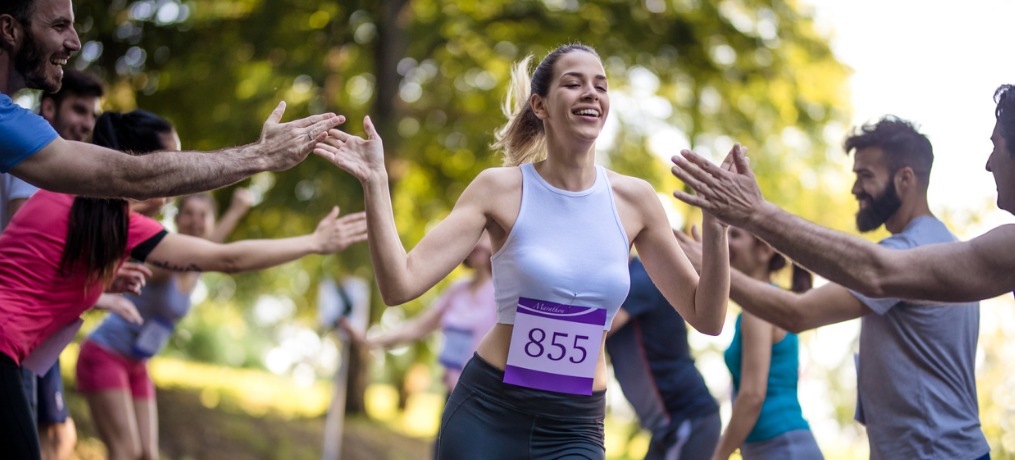 How To Stay Fit and Healthy as an Event Planner
It may often feel that all the juggling that goes with being an event planner has drained all your energy. And let's face it, in the weeks leading up to your event, and especially during your event, you're going to be on your feet and on the move – but hopefully not on the ropes!
With all the running around that goes on – coordinating acts, suppliers, vendors, and generally keeping the show on the road – it can be hard to pay too much attention to your own needs.  And so breakfasts can become nothing but a coffee (or four), you can't remember the last time you've needed cutlery to eat your lunch, and dinner comes from whatever food van is closest to hand.  
If you're already overwhelmed by your event, feeling guilty for not sticking to an unrealistic training plan won't help.  There's no need to put yourself under pressure, though – we've compiled these tips for balancing your role as an event planner with some healthy habits to keep you recharged and ready for whatever comes your way!
Take a Walk
You don't need to hit the weights to stay on top of your fitness.  Did you know, for instance that just 30 minutes of walking per day can bring significant health benefits? As an event planner, you've probably already got a pair of comfortable shoes for all that running around, so what more do you need?
Walking is also a great way to clear your mind – either with a podcast, some banging tunes, or the sound of the world around you.  There's no crime in taking a break every now and then, and switching off, even for a short time, will give you renewed energy to tackle any event issues you are facing.
Start the day well with breakfast
Remember your parents telling you it's the most important meal of the day? Well, just like every time they told you to bring a coat, they were right.  As an event planner, you already know how important it is to start on the front foot, so if breakfast isn't part of your routine it's time to make a change.
Eating breakfast reduces your chances of over-eating later in the day and gives your early-morning concentration and energy levels a boost. A quick smoothie (which can be taken on the go) is a perfect shortcut for the famous 5-a-day, while porridge or overnight oats will keep you fuelled until lunch!
Don't let the guilt get the better of you
OK, so you've just run an event and you've got another on the horizon.  Your fitness routine has fallen by the wayside and you're thinking, is it even worth starting again if the same thing is going to happen?
What you may not know is that everyone – even the pros – fall off the wagon every now and then.  Don't worry about what's coming down the line, focus on what you can do in the here and now instead of looking too far into the future.  Taking a realistic approach to what you can and can't do as your event gets closer is critical both for keeping you motivated and reducing any unnecessary stress.
Embrace snacking
Snacking has lots of negative connotations, and if your idea of a snack is a Lucozade and a Mars bar, then maybe it's time to have a rethink.  Keeping your blood sugar levels from dipping too much is all well and good, but try to move from the quick-fixes of energy drinks and chocolate bars to healthier options like nuts, fruit, and vegetables.
Preparation is key when it comes to healthier options, and these can have a lasting effect on your energy levels. They'll also help you avoid the rollercoaster of sugar highs and the resulting come-down.  Keep stocked up with a bag of mixed nuts and grab an apple or banana on the go to keep you going throughout the day.
Keep hydrated
Have you ever been hit with a pounding headache at the worst possible time? The chances are all the hustle and bustle has stopped you from keeping hydrated.  Drinking enough water is one of the easiest ways to lead a healthier life and feel better throughout the day, but it's also one of the easiest things to overlook.
If you need to, engage in some well-earned retail therapy by buying a trendy and sustainable bamboo water bottle and make it part of your daily routine.  You'll feel refreshed, save money, and ensure you are event-ready.
5 Event Trends You Should Know About
Make the most of any down-time
You're an event planner, so you don't need anyone to tell you to be prepared.  But on the off-chance that there's a lull in your day when you're out and about, wouldn't it be nice to use that time productively instead of flicking through Instagram?
Keep a yoga mat and some spare clothes in the boot of your car, or pop a pair of shorts and a light towel into your bag, and all of a sudden you're exercise-ready wherever you are.  Some light exercise during a quiet hour or two will allow you an escape from your crazy schedule and will energise you for the rest of the day.
However hectic your lifestyle is – and we know how hectic that can be – a few small changes can make a big difference.  Why not start with one and see how you go from there? And, if you are feeling stressed with an upcoming event, find out how we can help – our guide How Eventbrite's Onsite Solutions Create a Smooth Event Experience will walk you through available support for the day of your event