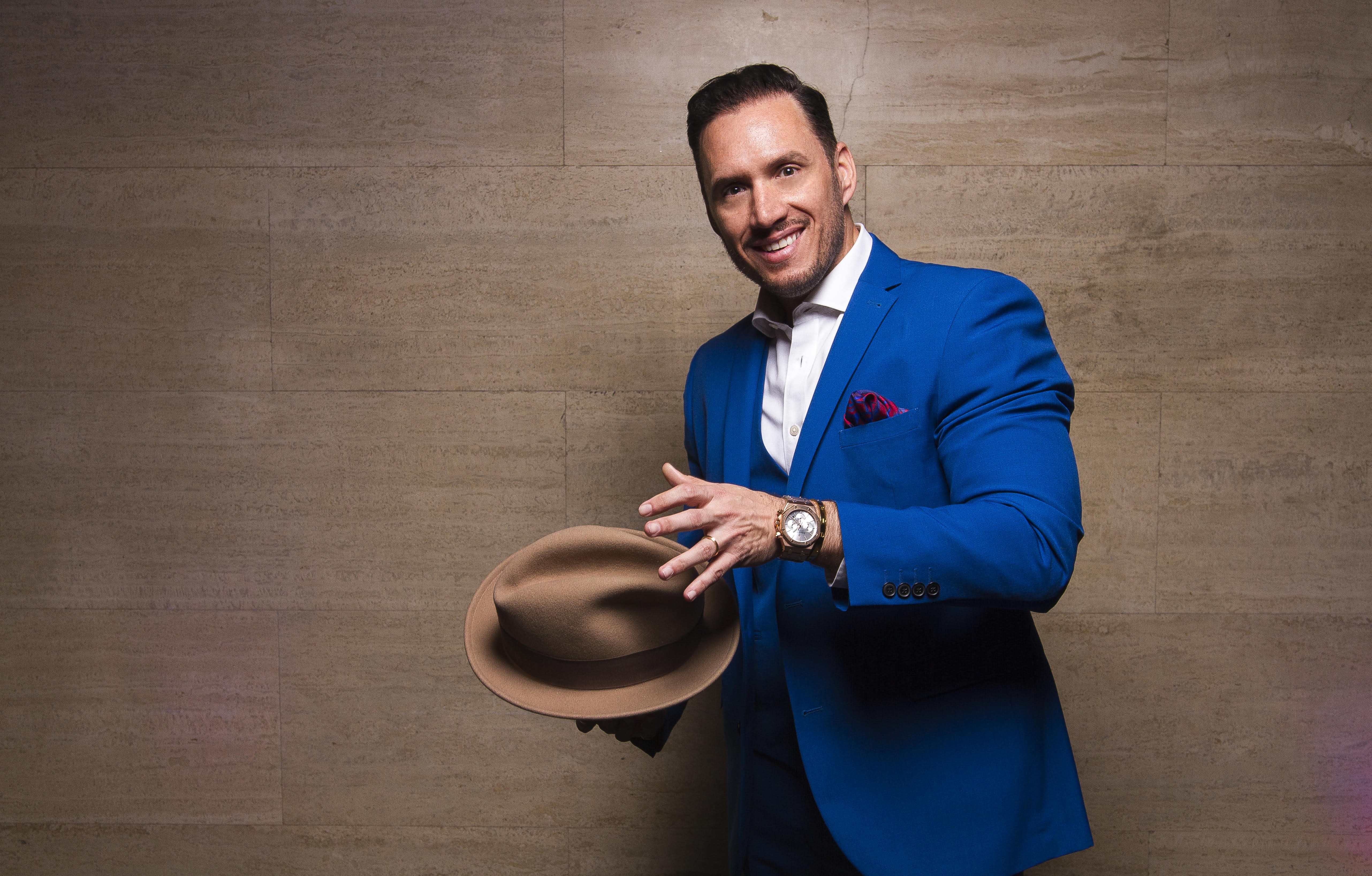 Jason Allan Scott: The Lord of Events
He's got more than 53,000 Twitter followers, presents a top-of-the-charts events podcast and has written three books on event management – and now he has a new achievement to add to the collection after being voted one of the 'Top 100 Movers and Shakers in Events' by his industry peers.
Jason Allan Scott has enjoyed a rapid ascendency to the top of the events industry – but luck has played no part in his success. Jason has made his own luck though sheer hard work, persistence, creativity and unwavering dedication and enthusiasm.
Just listening to him talk about his plethora of projects is tiring, and it's made all the more incredible by the fact he suffers from an autoimmune disease, which causes him to experience extreme fatigue.
"Some days it feels like someone has drained every single drop of my energy," he says. "But the fact I love what I do helps me to push through – that passion is my fuel."
His passion is clearly evident as he tells me about his '2016 plan', which he started working on in 2014, after he left his job to set up his own consultancy.
"One of the things I wanted to do was to prove my writing was good enough, so I got a writing gig with the Event Manger Blog – the biggest events industry blog – and it was incredibly popular, so I knew I had a market," he explains.
"I then started writing The Eventpreneur series of books – I've written two, and am about to finish a third. Since then I've been getting offered speaking engagements non-stop, which has been great. I've talked at Confex, at IMEX and lots of other big events around the world, and I became Marketing Director at Large for the International Special Events Society (ISES)."
In fact, on the day I catch up with Jason he's just finished a keynote for students at Falmouth University in Cornwall (in February Jason spoke for us on how to build your business with events).
He reveals: "I'm always surprised and delighted to be asked to speak. I get a kick out every single piece of recognition because I'm initially from a small council house in Cape Town, South Africa. I should never have travelled and never have got to do half the things I've got to do."
The fact that Jason is the author of his own success makes his story all the more interesting. He started his career in the UK in gym membership sales, where he immediately started making a name for himself.
He recalls: "I was working for Holmes Place. They were selling the concept of a gym in the City of London and had no idea how to tackle it because it didn't actually exist yet.
"I went in and restructured how they sold by selling to corporates based on an HR ideal i.e. if you joined the company you could get a gym membership, so it became an attrition tool. It meant we became the most successful pre-sale club in Holmes Place history, which was phenomenal."
The tactic generated £1.5 million in revenue in the first three months and, due to its success, the company was bought out by Virgin Active. Jason went on to work for Novus Leisure, the company behind Tiger Tiger and other London nightspots.
"I had a friend who worked there and she phoned me up and said 'If you think you did good in gym, you should try events. I think you'd be amazing.'
"At Novus I worked to get corporates into their worst location in London, Ruby Blue and I worked my butt off. I believed in Malcolm Gladwell's 10,000 hours – if I could do anything for 10,000 hours I'd be a master at it, so I became the most prolific worker in Novus history!"
"I just called. I called every corporate in the area. I worked with a traffic light marketing plan where I attacked everyone really close – who were the green – and then worked through the orange and the red."
Jason made a break through when he convinced the producers of 'The Dark Knight' movie to stage their pre-premier party in the venue.
"It became a lot easier after that," he says.
Having worked his magic, Jason left to start his own business, but his growing reputation meant he was a man in demand.
"I lasted three whole weeks and then I got a call from a guy called Alan Dugard who started Carphone Warehouse. He said, "I've heard you're amazing at events. I have this space and I'd love you to help me make it successful.' That space was No. 1 Leicester Square – The Penthouse."
As it transpired, this job was a tall order, even for him.
He explains: "The venue had a terrible reputation. Everything I Googled talked about a 'drug den', a 'den of iniquity', 'the place where Russell Brand used to take prostitutes' – it was awful! I couldn't get corporates to go there no matter how much I tried to reposition it."
They say necessity is the mother of invention, and it was amid this desperation that Jason had a light bulb moment and his online persona 'The Penthouse Lord' was conceived.
"I came up with this ridiculous idea to become the brand," he says. "To be 'the party guy'. The thinking was that people would come to me and then I would redirect them to The Penthouse.
"I would run all the press around me, and the brand around me, and if people Googled me they would only get good things, and they wouldn't get all the stuff about Leicester Square being shut down because of drugs, or the fact that the place was run by a Hungarian gangster, or Russell Brand."
It sounds like a good solution to a tricky problem, but in practice, how does one go about creating a brand around a fictional character?
"I had to create a lot of content and then turn that content into authority," Jason reveals.
"For me, that was about identifying myself with certain people. Working with Unilever on the Lynx 'Fallen Angel' launch campaign showed we could work with corporates, doing film premiers meant we could handle entertainment. I then went after theatre production companies and we did the afterparty for a Keira Knightly play called 'The Children's Hour'- that opened us up into the theatre market.
"I then went after certain weeks, so I did Entertainment Week, I did Fashion Week, I did Web Social Week and I went after Yahoo and Google and by having that cool-by-association ("he's worked with Google so he must be cool") I got more and more opportunities."
Forming strategic partnerships has also played an important role in Jason's 'five pronged attack plan'. He says: "By opening ourselves up by lowering our cost margins we got opportunities to work with great production companies. And then it was about telling people; I was one of the first few people in the industry to create a blog and one of the first on Twitter in 2010. I realised how you could use it to create stories, how it allowed amplification, how it allowed stories to continue long after the event had finished."
Jason left The Penthouse in 2013, but he retained his @Penthouselord Twitter identity, and social media continues to dominate his life.
"I work 10 hours a day, six days a week on social media," he admits. "Whether that's writing blogs for other people, writing content for other people, whether that's tweeting back, being on Instagram or talking to people that I think are influencers.
"I might be trying to get Lewis Howes to respond to a message and then he does. Then I utilise that to retweet it, so people can see Lewis Howes is responding, or James Altucher or John Lee Dumas – he's an influencer, so it shows I must be an influencer – it's utilising that cool-by-association again.
And with more than 53,000 followers, there's no doubt Jason is an influencer – he's in the top 10% most influential event-related Twitter accounts in the world. His secret, he says, is really engaging with his audience.
"Even when I only had 1,000 followers I was an influencer because I could tell those 1,000 people where to go and who to follow and what to read," he says.
"I think it's because I understood the medium – I understood that Twitter is a dialogue medium. For example, when Eventbrite has an a amazing piece of content I retweet it and then I comment on it so people see that I'm not only saying 'Here's a piece of content', but 'Here's a piece of content – it really resonated with me and it will resonate with you.'"
He adds: "I think I've become an influencer because I try not to put out anything that breaks away from the brand. My brand is creative, it's entertaining, it's funny and it's interesting, and I try to do everything within those four pillars."
I asked him if confidence – having the balls to approach top level companies and personalities – has also contributed to his success.
"Absolutely. I've been quoted as saying 'You have to fake it until you become it,' and I stick by that. Mohammed Ali called himself 'The Greatest' before he ever got into the ring and it's something we were told when we were doing sales calls.
"You had to believe your gym was the best gym and by phoning them you were giving them an opportunity to join the best gym in the world, and I still do that with events. I still make 25 calls every single day and I still try to pitch two things every single day."
As well as having the confidence to approach big names, however, you have to be able to handle the knockbacks…
Jason reveals: "A couple of years ago I got told that I didn't understand branding, which came as a bit of shock to me because I think I really do understand branding. However, I decided to take it on the chin and find someone who was brilliant at branding and learn from them.
"I applied to Caprice Holdings because I thought it did an incredible job at branding. Each of its restaurants, such as The Ivy and J. Sheekey, has it's own distinct brand.
"I went to work for them for what was supposed to be six months but which turned out to be 10 months. I learnt a lot from an amazing woman called Frances Dore.
"When I felt I learned as much as I was going to learn, I left and started back running my own company. I went to a venue that was underperforming, The Bloomsbury Ballroom and, with the help of an amazing team, took them from nothing to a million in five months."
I asked Jason how he managed to pull off such an impressive turnaround: "I've been asked that so many times that I've created a course called Supersize Your Venues Sales, which breaks down my step-by-step process of how I did it.
"It's coming into a space, working out what it did, looking at it's province, then looking at its legacy, then adding the two and adding new techniques and technologies. Were they using LinkedIn properly? Were they using social media correctly? Were they utilising partnerships? What were their key values? Their channels to market? These were all factors I looked at."
Naturally, this led to other venues wanting to work with Jason and he took on three more; two in Croatia, one in London and helped them do exactly the same. Wishing to help other venues increase their sales, Jason also set about creating a new mobile app, VenueMe.
"I thought about what hadn't I done. And I hadn't invented any technology, so I decided to create VenueMe. It's technology that connects venues to their audience, shows them who's looking in real time and gives them an answer to talk to one another."
Never one to waste an opportunity, at the same time as creating his app, Jason charted his progress via a podcast.
"I wanted people to learn as I was learning so I stared The Guestlist podcast, which showed my journey from coming up with an idea, to creating a video, to creating a minimum viable product.
"When I'd finished that, I wanted to carry on with the podcast by talking to people in events; people who were doing really really well. That's done incredibly well, better than I ever expected. iTunes added me to their 'New and Noteworthy' section, which is its top of the charts. I'm now working on season two."
On top of his podcast, Jason has a long list of other projects and ambitions, including continuing to champion women in the events industry. He teamed up with Fay Sharpe, Managing Director of events agency Zibrant, to launch mentorship scheme Fast Forward 15.
He says: "85% of women working in events are at the bottom and only 2.5% are at the top and I think that's disgusting. I want to keep helping women in events; my job is far from over, there's so much to do.
"I'd also like to keep pushing creative thinking in events. I'd like us to stop paying as badly as we do in the events segment, and I'd like to keep talking about how great the industry is."
The pace doesn't look set to slow down for this over-achiever any time soon, then?
"I have a plan that this will be my last mad year. I haven't thought of it yet, but hopefully something will come to me in the next nine months!"