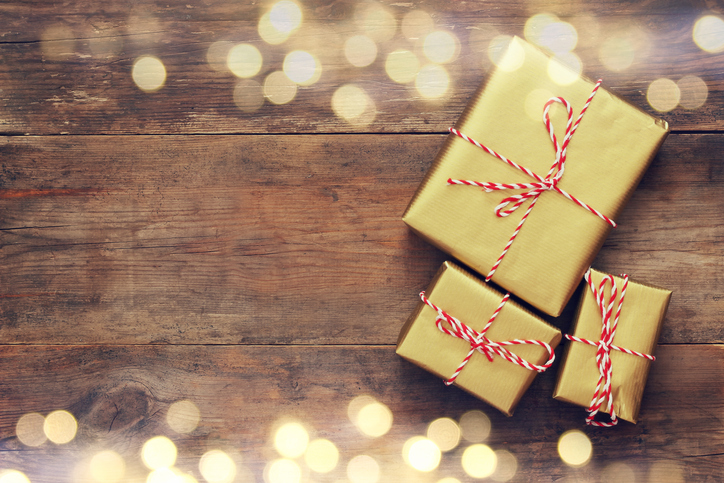 Make Your Tickets the In-Demand Gift This Christmas
Hoping for a prosperous new year? Then it's time to start a Christmas marketing push for your 2018 event tickets.
Encouraging people to buy early bird tickets as Christmas gifts for friends and family can kickstart your new year cash flow. Gaining advanced sales also means you can better project your final event costs and budget more effectively.
Meanwhile, those buying your tickets as presents get to give the gift of experience – something that's highly prized by the millennial generation. However, with a plethora of events to choose from, you'll need to give them a reason to select yours as the perfect present.
Here, we take a look at five tactics for securing festive ticket sales and making sure you have a very happy Christmas.
1. Put Together a Christmas Bundle
Everyone likes a full stocking on Christmas morning, so make sure your offering is a generous one by bundling bonus items in with your tickets. You can give gift-buyers more for their money by including additional items like merchandise, privileges or experiences.
Ideas for merchandise include stickers, posters, keyrings, baseball caps or T-shirts (you can create branded merchandise through Eventbrite's integration with TeeSpring). Books and CDs can also make great add-ons – these can also be provided as digital downloads. Privileges, meanwhile, could be things like priority entry, free drink tokens, premier seats and access to exclusive areas.
Offering special experiences for your gift buyers will really sweeten the deal; maybe a meet and greet with the stars of the show, pre-event drinks reception or an after party? You could even think about teaming up with a restaurant partner to develop a meal and event deal.
You can create a variety of packages at different price points to suit different budgets. Just be sure to write a detailed description of each ticket type highlighting exactly what's included.
2. Offer Christmas Discounts
Much like you would offer an early bird discount for encouraging advance sales at other times of the year, it's a good idea to incentivise Christmas buyers with a money-off deal. You can create a special discount code for people to use during December such as "XMASLOVE" giving them the opportunity to get tickets at a reduced price. You can choose to offer a fixed discount – £5 off or a percentage discount of 20% off, for example.
You can limit the number of tickets available at the discounted price and track the usage of the promotional code by exporting a promotion code usage report.
Because people prefer to go to events with a friend and wouldn't usually give a single ticket as a gift, creating a buy one get one free deal can work well. You can set this up by creating a half priced ticket and then requiring that it is purchased in multiples of two.
This gives people the option to either gift a pair of tickets or give one away to a friend and keep the other for themselves so they can attend the event together. This "shared experience" angle is a really nice one to push in your marketing – it's so much more meaningful than giving another toiletries gift set they probably won't use.
3. Create an Exclusive Christmas Ticket for Facebook
It's one thing creating a cracking Christmas offer, it's another raising awareness with gift buyers. It makes sense, therefore, to take your offer to the place so many of us visit every day (especially when we're off for the holidays) – Facebook.
Earlier this year, Eventbrite enhanced its integration with Facebook so that users could buy event tickets natively without ever having to leave the platform. So-called Facebook Events can enjoy twice as many ticket sales. That's not just because of the reduced friction that lets people buy in-the-moment, but also because of the platform's algorithms that highlight events to geolocated users who might be interested.
To grab the attention of those individuals and encourage them to buy there and then, you can create a ticket offer exclusively for people buying on Facebook. If users know they won't be able to get this special Christmas offer anywhere else, they're less likely to venture off to other parts of the web and get lost.
Add a time limit to the offer, throw in some paid promotion to widen your reach and you can get the tills ringing while increasing your social community at the same time.
4. Make it a Gift They Can Give
An email doesn't exactly scream "thoughtful Christmas gift", so if you want people to buy your event tickets as presents think about offering physical tickets. Eventbrite's integration with LeanTicket makes this easy.
You can design and order secure tickets for offline sales that are 100% compatible with the Eventbrite ecosystem. You can personalise the ticket by uploading your event logo and customising the information that appears on it. Each ticket is unique and scannable with the Eventbrite Organiser app.
If you want to create an even more enticing looking gift presentation, TicketPrinting enables you to print beautifully designed VIP passes, invitations, drink tokens, flyers, tickets and wristbands. All products sync with event and attendee information from your Eventbrite events.
5. Send an Early Christmas Card
A novel way to let people know about your awesome Christmas ticket offer is to send them a Christmas card. With EventKingdom you can send animated invitations and cards to your email database.
There are thousands of designer templates – including lots for Christmas – which you can customise. Alternatively, you can also upload your own creations, or hire EventKingdom to create an exclusive design for you.
Once you've created your event in Eventbrite, you can import the details and ticketing link to your card through a few clicks. Spend time on your marketing copy outlining why tickets to your event make such a great gift idea and how the special offer you've created will make your recipients' Christmas shopping a cinch.
Conclusion
Event tickets can make wonderful Christmas presents. Whether you're organising a concert, festival, workshop, talk or retreat, targeting the Christmas gift market can pay dividends. So, wrap up a deal, stick a ribbon on top and start promoting the gift of experience.