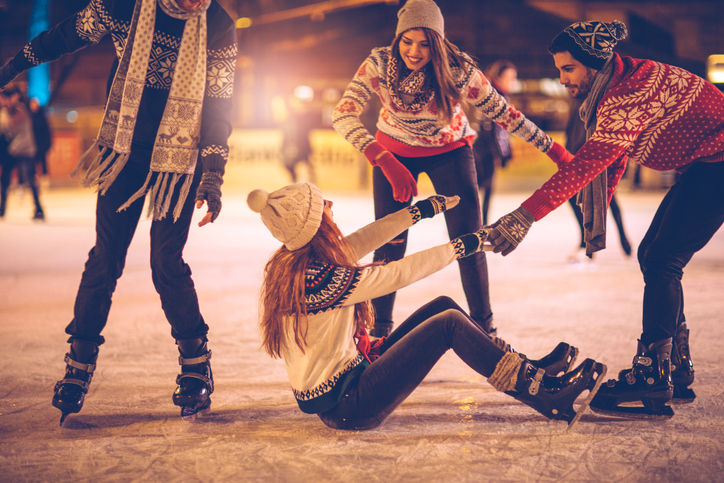 How to Organise a Fun, Family Ice Rink Event This Winter
Ice skating has long been associated with Christmas time – the Victorians were crazy about it and would flock to frozen lakes and rivers to take part in the sport – but with today's warmer winters it's harder to find natural ice rinks.
It's been 200 years since the last Frost Fair was held on a frozen-over River Thames, where Londoners would skate, sledge, dance, drink, dine and play games. Once, an elephant was even taken out on the ice!
Nowadays we have to make do with man-made, outdoor ice rinks, although they can still be found in some grand settings like Hampton Court Palace and Hyde Park. Meanwhile, developments in artificial skating rinks mean we don't even need ice anymore.
Anyone can hire an artificial ice rink and put on a pop-up skating event. It's a great way to raise money for your charity or non-profit organisation this Christmas. Here are 5 steps to staging your own ice rink event and triggering an avalanche (or at least a flurry) of extra funds!
Step One – Find a Suitable Location
Temporary skating rinks need to be installed onto a flat, firm and level surface – tarmac or concrete are ideal. The minimum space required is 8×8 metres, which is for a children's attraction, or 10×10 metres for a small, adult rink. It is also necessary to have access to power and water.
If you plan to sell tickets on the day, setting up your ice rink where there is already lots of footfall, such as the town centre or a popular park, makes sense. However, if you want to use an outdoor public space it will be necessary to apply to the local council for permission.
Perhaps you already have access to a suitable venue, such as your school's playground or church's car park? In which case, you can focus more on promoting the event in advance to get people to come along.
Step Two – Set a Date
You'll need to decide what type of event you want to run; whether that's a one-day winter fair or a multi-day pop-up skating rink. It's worth bearing in mind that if you hire a skating rink for more than one day you will have to provide security to protect the equipment overnight.
Before you set anything in stone and start promoting your event, it's worth checking that your preferred hire company can provide a rink on that date. Although it seems a long way out, confirming the booking in summer is prudent, since ice rinks will be in high demand later in the year.
Step Three – Hire an Ice Rink
When you hire a mobile ice rink through a professional provider such as Wonder Ice or Ice Adventure, the company will take care of delivery and setup. Hire normally includes ice skates in a range of sizes, a gazebo for skate distribution, bench seats for changing footwear and rubber matting to surround the rink. Some packages may also include rink lighting and music.
Check with the company about their health and safety and risk assessment procedures. Ask to see their public liability insurance and find out if you will need additional insurance to cover your event.
Hire of artificial ice rinks starts at around £850 + VAT for one day (8x8m) and £1350 +VAT for a three-day weekend hire. It's important to note that setup can take between 2.5 to 4 hours depending on size, so this will impact on the amount of skating time available.
When it comes to choosing a size, a 10×10 metre rink will accommodate a maximum of 33 skaters in one session, while a 10×15 metre rink will hold up to 50.
Step Four – Plan Additional Attractions
In the right location, like in a shopping centre, an ice rink by itself can prove a sufficient attraction, but elsewhere you'll want to build an event around it for maximum appeal. This means providing food and drink, perhaps having stalls selling Christmas crafts and bakes, organising a raffle and some festive carol singing? You could even give kids the opportunity to have their photo taken with Santa. The more attractions you have, the more money you can raise.
If you need inspiration for catering, why not recreate the flavours of the ancient Frost Fairs, where they would serve roast hog, gingerbread biscuits and gin? Sounds like a great combo! If you do decide to serve alcohol and your venue is unlicensed, you'll need to apply to the local authority for a Temporary Event Notice. Be sure to do this well in advance of your event.
Step Five – Promote and Sell Tickets
Set up a free event page for your ice skating event on Eventbrite and you can encourage people to register in advance. You can set up custom tickets for every skating session and limit how many are available. For example, you might create 40 tickets for the 11am-11.30am Saturday session, and so on. Selling tickets with a set time not only helps with your planning, it's also better for participants since they know they won't have to wait around for their go.
When it comes to spreading the word about your event, Eventbrite has smooth integration with Facebook so you can easily promote on the platform. Post it on your organisation's page for free and encourage your supporters to share it, or take advantage of Facebook's targeting capabilities to run low-cost adverts for people in your local area.
You can continue to sell tickets for your ice rink on the day using the Eventbrite Organiser app. It also provides the ability to 'check in' people who have pre-purchased tickets so you can make sure everyone who receives ice skates has paid. You simply scan the QR code on their ticket (either printed or digital) with the camera of your smartphone or tablet.
Eventbrite Organiser app updates in real-time with every ticket sale, meaning you can keep tabs on how many spaces are still available for each session. And when the skating is finished, you can see how much was raised for your charity or organisation, with the tap of a button!
Conclusion
Loved by adults and kids alike, hiring a mobile ice rink gives your event a star attraction. Throw in some hot chocolates, warming grub and festive music and you've got everything you need to lure people out of the house on a chilly winter's day. Don't forget to remind them that it's all in aid of a good cause too!