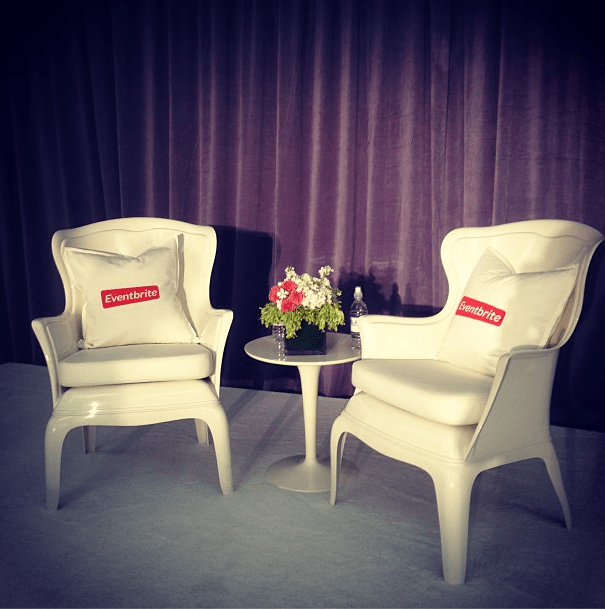 Promote Your Event With Instagram
Everyone uses Facebook, Twitter and LinkedIn to advertise and promote their events, but why not try something new?  Remember Instagram? This social media platform is often under-utilized when it comes to promoting your event, building your brand identity and gaining a stronger following for your company.
Here are a few tips on getting started:
1. Get Posting.  Just like other social media platforms, the key to being successful on Instagram is being active. This means taking lots of pictures or videos and posting them for your followers to see. Be sensible — don't spam your followers every 5 minutes, but decide on a posting schedule and stay on top of that, whether it's five times a day or five times a week. Study your past posts to see when they got the most audience engagement, then post at similar times so you don't miss out on these hot spots for activity!
Sneak peek of the setup at an event!
2. Be Creative. Have fun and play around with the filters. Establish a certain theme with your photos so your followers will start to recognize your work, or have a mix of photo types to appeal to different audiences. Using filters effectively will make people want to stop and take a look at what you're sharing.
3. Use the Extra Apps. There are lots of 'sister' apps that can give you great ammunition for promoting your event. For example, you can use Instamessage to privately engage with clients and potential customers. Use Instafollow to do some detective work and learn when and why you might be gaining/losing followers. Diptic also lets you showcase several different photos in one frame if you have multiple photos you want to post at the same time.
Use the app Diptic to display several photos in one!
4. Create a Story. Make your followers and audience feel involved in the event right from the start. Build excitement before tickets are even on sale by making your posts tell a story, updating them after each day of planning and preparation right through the aftermath of the event. Having regular updates will make people look forward to the next installment and keep them wanting more!
A behind the scenes look at a team setting up for an event!
5. Share the Love. What's the post in creating amazing visual masterpieces if they'll only ever be seen by your Instagram followers? Share your posts on all of your social media channels to increase the buzz around your event. Also, showcase photos taken by attendees at your event (credited of course) and make them feel like a special guest contributor.
6. #! Hashtag what's in the photo or create your own hashtag so you can search who else is talking about your event. Tag all of your posts with it, and encourage attendees to do the same. Consider organizing a contest and asking followers to submit their own photos/videos — the winner could win complimentary event tickets!
7. Take the Next Step. It doesn't have to just be about the photos! On Instagram you can make videos up to 15 seconds long in addition to snapping pictures. Put on your acting hat and get filmin'! Take short videos of event prep, setting up, or interview guests from previous events. Make sure you select an enticing cover photo for it, and use the effects and filters to make it an exciting 15 seconds. For some good examples, check out this article.
Any tips you'd add? Tell us in the comments below!
Today's post is written by Anna Pitts, a Marketing Assistant and Online Researcher at the Graduate Recruitment Bureau. Be sure to  follow her on Twitter or connect with her on LinkedIn.